Paris mayor calls on presidential hopeful Francois Fillon to call off rally 'against French values' as scandal continues
Anne Hidalgo calls conservative candidate's plans 'an act of gross moral and political failures'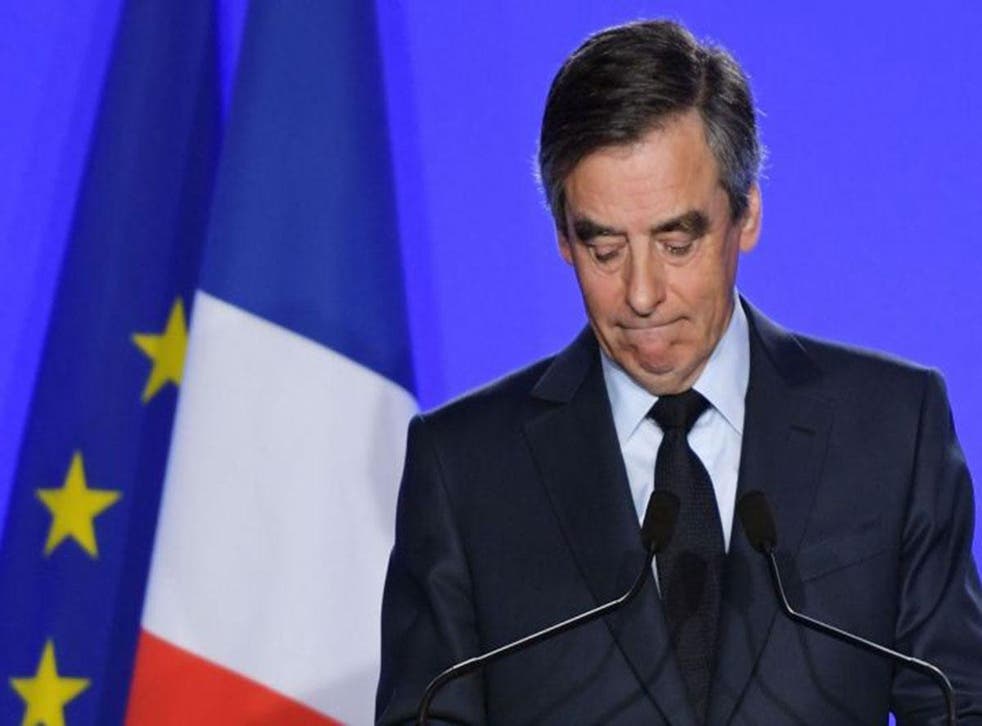 The mayor of Paris has urged presidential candidate Francois Fillon to call off a planned rally in the capital, accusing it of being "against the values" of France.
Anne Hidalgo told the conservative candidate to "get his dignity and his sense of responsibility back" and cancel a supporters' rally set to be held opposite the Eiffel Tower, on Sunday.
The short-lived frontrunner for the Elysee Palace has seen his campaign crumble amid a scandal over substantial payments allegedly made to his Welsh wife Penelope and his children for parliamentary work they never carried out.
Fillon announces he will not be standing down from the French presidential race
Mr Fillon has repeatedly denied any wrongdoing amid a judicial investigation into the allegations.
This week, Mr Fillon announced that he will be summoned for questioning over the allegations known as "Penelopegate" in the next couple of weeks.
It came as his campaign manager Patrick Stefanini announced his resignation, which is due to take effect on Sunday night - the third aide to quit in quick succession.
In a Facebook post, Ms Hidalgo, a member of the French socialist party, said: "It seems that this gathering has no other goal than to express opposition to the magistrates, the police and journalists, who for several weeks have worked, each in their own role, to reveal the truth."
She slammed the rally as "an act of gross moral and political failures" that are "against our values and which should not have the right to take place in Paris".
Ms Hidalgo, who is the first women to hold the office of Paris mayor, said the the French capital has been founded on a history of permanent search for justice and democracy and that its residents have always defended its institutions and its republican values, either through the ballot box or on the barricades.
World news in pictures

Show all 50
"Paris is respected across the world for it. And now some would like to walk across the forecourt of human rights to hold there a speech that his profoundly demagogic and harmful, questioning the republican institutions and the separation of powers," she wrote.
Mr Fillon has been under growing pressure to step down from the Presidential race but his rally on Sunday aimed to show the candidate still has support.
On his website, it is stated that only tricolour flags will be accepted and that demonstrators will be checked for security reasons.
Questions have been raised over Mr Fillon's integrity after he ran his campaign on the basis he was an "irreproachable" Presidential candidate.
During the Conservative primaries, the right-wing candidate said if he was to be formally investigated and questioned he would stand down from the Presidential race.
He made the comments in an attack against his rivals Nicolas Sarkozy and Alain Juppe, who were both investigated while they were holding public offices.
As Mr Fillon's campaign is mired in a confidence crisis and is lagging in third place in the polls, centrist candidate Emmanuel Macron received a boost - with one survey finding him the winner of the first round, ahead of Front National candidate Marine Le Pen.
Register for free to continue reading
Registration is a free and easy way to support our truly independent journalism
By registering, you will also enjoy limited access to Premium articles, exclusive newsletters, commenting, and virtual events with our leading journalists
Already have an account? sign in
Register for free to continue reading
Registration is a free and easy way to support our truly independent journalism
By registering, you will also enjoy limited access to Premium articles, exclusive newsletters, commenting, and virtual events with our leading journalists
Already have an account? sign in
Join our new commenting forum
Join thought-provoking conversations, follow other Independent readers and see their replies