'Humiliating' arrests of French students following exam protests condemned by politicians
Students forced to kneel with hands behind their heads outside school in western Paris suburb as demonstrations against proposed exam changes spread through country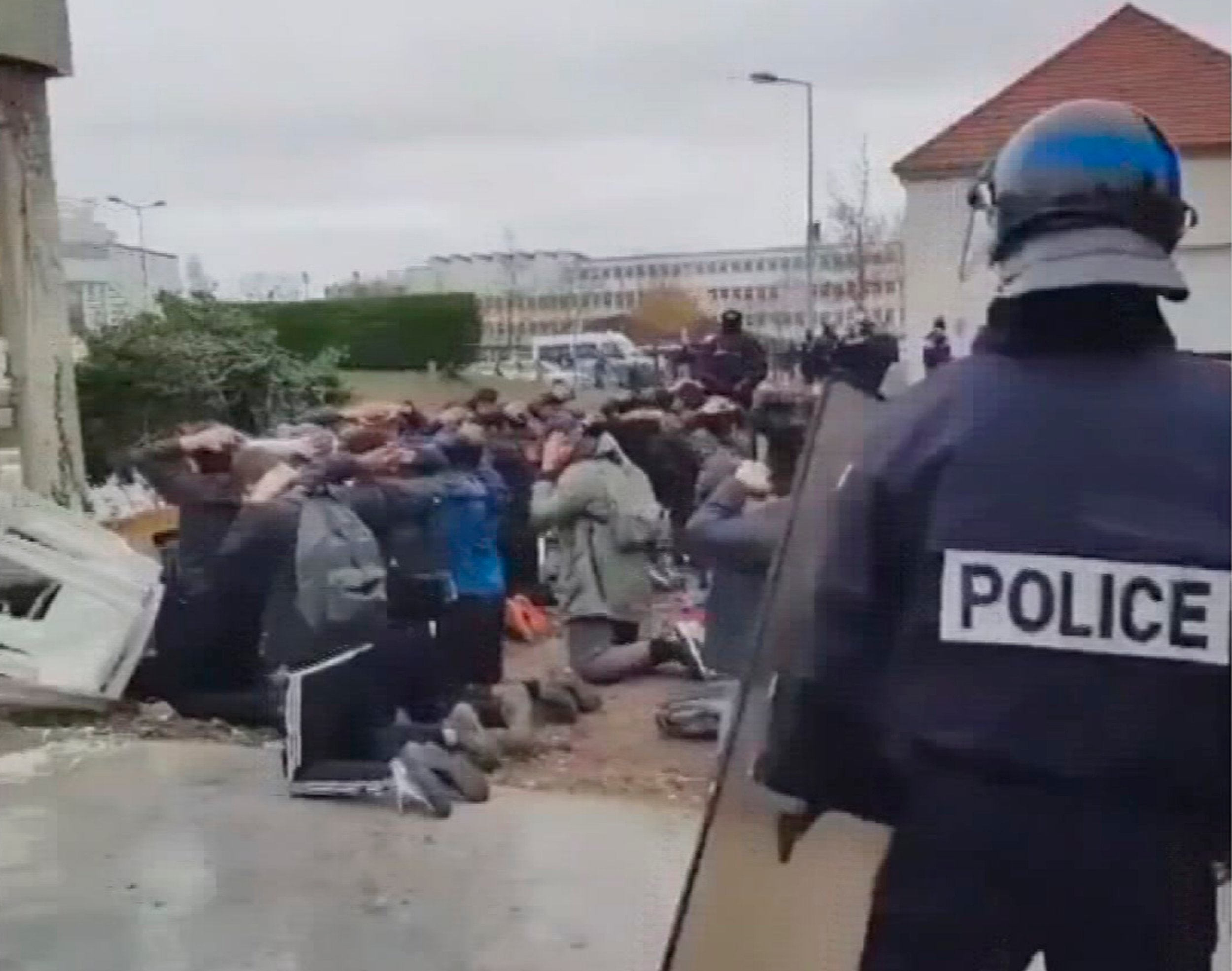 A video of French students being forced to kneel with their hands behind their heads by riot police has sparked outrage on social media.
The students in the video, taken on earlier this week, were part of a protest in the western Paris suburb of Mantes-la-Jolie against proposed overhauls to national exams.
Demonstrations against the exam proposals have slowly spread around the country, at the same time as France has been shaken by the "yellow vest" protests, which started as opposition to a planned increase in France's fuel tax.
Jacques Toubon, France's ombudsman for human rights, said he had opened an investigation into the treatment of the students on Friday.
Local officials defended their actions, saying they were trying to prevent violence like that sparked by the yellow vest protests, in which four people have died and 700 have been wounded.
The roundup of the students in this manner was called "simply intolerable" by Cécile Duflot, a former housing minister and now the director general of Oxfam in France. The incident was also condemned by other human rights advocates and politicians.
The initial footage of the incident, shared on Twitter by the Violences Policières group, had more than two million views less than a day after it was posted.
More than 140 students were collectively arrested on Thursday after protests at two high schools in the area, according to police officials speaking to newspaper Le Monde.
Tensions had been brewing for days at Saint-Exupéry and Jean-Rostand high schools. On Tuesday, rubbish bins were set on fire and rocks thrown at police, according to Le Monde. Police responded with tear gas.
Clashes at the Paris fuel protests: in pictures
Show all 29
Left-wing politician and former presidential candidate Benoit Hamon described the scene as "chilling", while Eric Coquerel, a far-left member of Parliament said the violence was "unacceptable and humiliating."
Florian Philippot, a far-right politician, said: "Re-establish order, yes. Those useless and shocking methods, no. Not in France."
Jean-Michel Blanquer, the education minister, said that while the images were shocking, it was important to understand the environment in which the arrests took place.
"When I saw these images myself, I was obviously shocked," he told France Inter radio. "We must find out what happened before, the context in which this unfolded."
Support free-thinking journalism and attend Independent events
Some officials defended police, pointing to the mounting tensions between the students and police over the past few days. A local prosecutor, Vincent Descloud, told Le Monde that security forces "had to opt for a law enforcement solution."
On Friday, dozens of students and teachers showed their support for those arrested, reproducing their kneeling pose in Paris and in several other cities. A large group gathered in Place de la République in Paris in solidarity with the students.
The New York Times
Join our commenting forum
Join thought-provoking conversations, follow other Independent readers and see their replies