Meet the radical outsider for the French presidency who wants to leave Nato and bring in a 32-hour working week
Jean-Luc Melenchon wants to redistribute wealth through taxation and a universal income, legalise cannabis and protect air, water and food as 'common goods'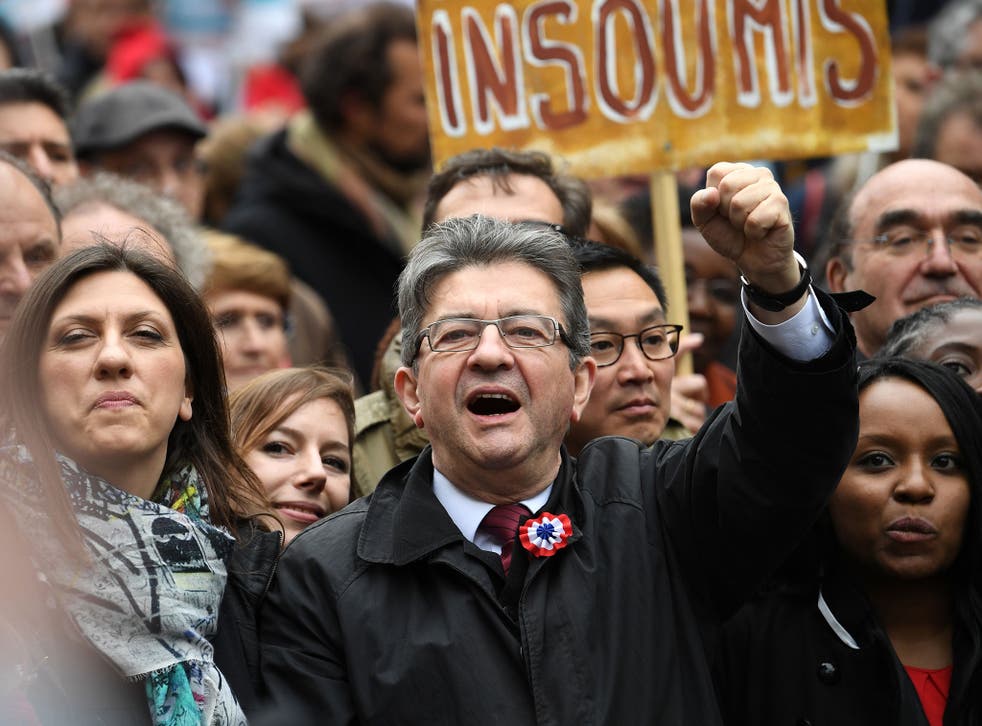 A radical far-left candidate is hoping to make an impact on the chaotic French election with manifesto pledges to slash the retirement age and working hours.
As Conservative Francois Fillon is mired in a corruption scandal while centrist Emmanuel Macron fights it out with Front National leader Marine Le Pen, Jean-Luc Melenchon has risen steadily through the polls.
The 65-year-old is a former Socialist party member and served as a minister in the Education department between 2000 and 2002 but he left the party in 2008.
Backed by the Communist Party, the founder of the movement "La France insoumise" has rallied those who have long been disappointed by Francois Hollande's presidency and the divisions of the Socialist Party.
Closely trailing behind left-wing candidate Benoit Hamon in the polls at 11 to 12 per cent of votes, Mr Melenchon could create a surprise result in the first round of the election.
Flirting with Trotskyite ideas, his campaign pledges focus on redistribution of wealth, increasing the minimum wage and taxes for high incomes, as well as lowering the age of retirement to 60-years-old, reducing working hours to 32 hours a week and leaving Nato.
He also wants to create a constitutional assembly as the basis for an entirely new French republic, labelling the current version a "presidential monarchy".
The constitutional shake-up would see social and environmental rights become core pillars.
A "green rule" would prevent taking from nature what it cannot recreate, while air quality, water, food, health, energy and currency would be also protected as "common goods".
The right to work, to a home, to abortion and euthanasia would also be made part of the constitution.
Mr Melecnhon wants to leave European treaties, abandon nuclear energy on which France is dependent, legalise cannabis, eradicate homelessness by the end of his term, set-up a universal income for French nationals and recruit 10,000 civil servants including local police forces.
The ideas are not new and the far-left candidate ran with a very similar programme in 2012, when he received 11 per cent of votes.
Tens of thousands of people are reported to have gathered at a rally in Paris this weekend to show their support for the candidate's deep reform.
World news in pictures

Show all 50
His book L'avenir en Commun (The future in Common), in which he sets out his manifesto, has already sold 200,000 copies according to French newspaper Les Echos.
And despite his political seniority, he is finding new ways to appeal and engage with voters. In the last few months, his YouTube channel has grown from 40,000 subscribers in October to 236,000 and counting.
But Mr Melenchon's candidacy and the division of the French left has also enabled the emergence of frontrunner Emmanuel Macron, who has now overtaken Ms Le Pen in a poll by Odoxa.
A total of 11 candidates will be running in the two-round election, which is being seen as another test for traditional parties and support for institutions like the European Union.
The deadline has now passed for the Conservative to present an alternative candidate to Mr Fillon, after the right-wing candidate admitted he was being officially investigated over allegations he paid his wife and children for parliamentary work they allegedly never carried out.
The scandal saw him slip to third in the polls, at least six points behind Ms Le Pen and Mr Macron.
Register for free to continue reading
Registration is a free and easy way to support our truly independent journalism
By registering, you will also enjoy limited access to Premium articles, exclusive newsletters, commenting, and virtual events with our leading journalists
Already have an account? sign in
Register for free to continue reading
Registration is a free and easy way to support our truly independent journalism
By registering, you will also enjoy limited access to Premium articles, exclusive newsletters, commenting, and virtual events with our leading journalists
Already have an account? sign in
Join our new commenting forum
Join thought-provoking conversations, follow other Independent readers and see their replies