French priest funeral: thousands mourn Father Jacques Hamel who was killed in Normandy church attack
The sister of Father Jacques Hamel, who was killed while celebrating Mass - makes plea for peace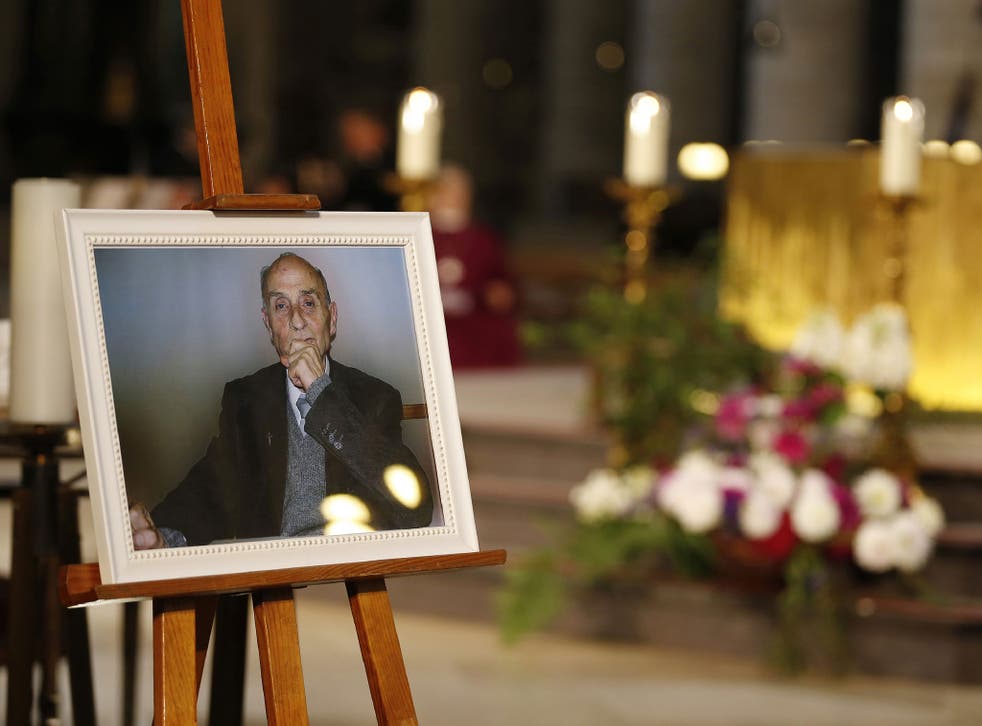 Nearly 2,000 mourners have gathered for the funeral of the Roman Catholic priest knifed to death at his church altar - with his sister decribing him as "our brother, your brother".
Father Jacques Hamel was leading morning mass in the industrial town of Saint-Etienne-du-Rouvray last Tuesday when the attackers stormed in, forced the 85-year-old to his knees and slit his throat.
Amid tight security at the gothic Rouen cathedral in Normandy, a procession of senior clergy followed pallbearers who carried Father Hamel's coffin through the "Door of Mercy" and placed it on an ornate rug before the altar.
The priest's sister, Roselyne Hamel, told the congregation how during his military service in Algeria her brother had refused an officer's rank so as not give the order to kill, and how he once emerged the sole survivor in a desert shootout.
"He would often ask himself: 'Why me?' Today, Jacques, our brother, your brother, you have your answer: Our God of love and mercy chose you to be at the service of others," she said.
"Let's learn to live together, let's be workers for peace," Ms Hamel told the estimated 1,700 mourners. Hundreds of others watched the ceremony on a big screen outside the cathedral, under constant rain.
The service - attended by French interior minister Bernard Cazeneuve - was to be followed by a private burial.
France boosts regional security after ISIL-claimed church attack
Archbishop Dominique Lebrun, celebrating the Mass, extended thanks to Catholics attending the service but also to "believers of other religious faiths, in particular the Jewish community and the Muslim community, very affected and already decided to unite for: Never again".
Archbishop Lebrun invited people to return to churches on August 15, the day celebrating the Assumption of Mary, to express that "violence will not take over in their hearts".
On Sunday, dozens of Muslims in France and Italy attended Catholic Masses as a gesture of interfaith solidarity following the attack on the priest.
Father Hamel's murder by French citizens was the first Islamist attack on a church in western Europe and came just 12 days after a Tunisian who had pledged allegiance to Isis drove his truck through a crowd of Bastille Day revellers in the Riviera city of Nice, killing 84.
Islamist militants have killed more than 200 people in France since January 2015.
Facing strong criticism from right-wing opponents over its security record, the Socialist government has warned of a long war against militant Islam at home and abroad in places such as Iraq, Syria and Libya.
Prime Minister Manuel Valls has said the state must reinvent its relationship with the "Islam of France". France's Muslim minority, the European Union's largest, makes up about eight per cent of the population.
Mr Valls wants to ban foreign funding for mosques and says all French imams should be trained in France. His interior minister, Mr Cazeneuve, said that a foundation that would enable the secular state to finance cultural centres linked to places of worship would be established by the end of the year.
"We must guard against being paternalistic but we must have the lucidity to recognise that there is an urgency to helping 'Islam of France' get rid of those that undermine it from within," Mr Valls told the weekly Journal du Dimanche.
Some Islamic leaders have expressed doubts over the government's plans.
"It's on the internet that radicalisation takes place, not in the mosques," Moroccan-born Tareq Oubrou, a leading moderate imam from Bordeaux, told BFM TV. "We mustn't kid ourselves."
Mr Cazeneuve, whose portfolio includes religious affairs, said on Monday that the Socialist government had shut down about 20 mosques and prayer halls in recent months and that more closures would follow based on intelligence in hand.
Join our new commenting forum
Join thought-provoking conversations, follow other Independent readers and see their replies