'Stab in the back': France hits out at Aukus alliance with fears it threatens Indo-Pacific partnerships
French foreign affairs minister hits out at Australia's decision to abandon £43m deal for French submarines as the EU unveils its own Indo-Pacific strategy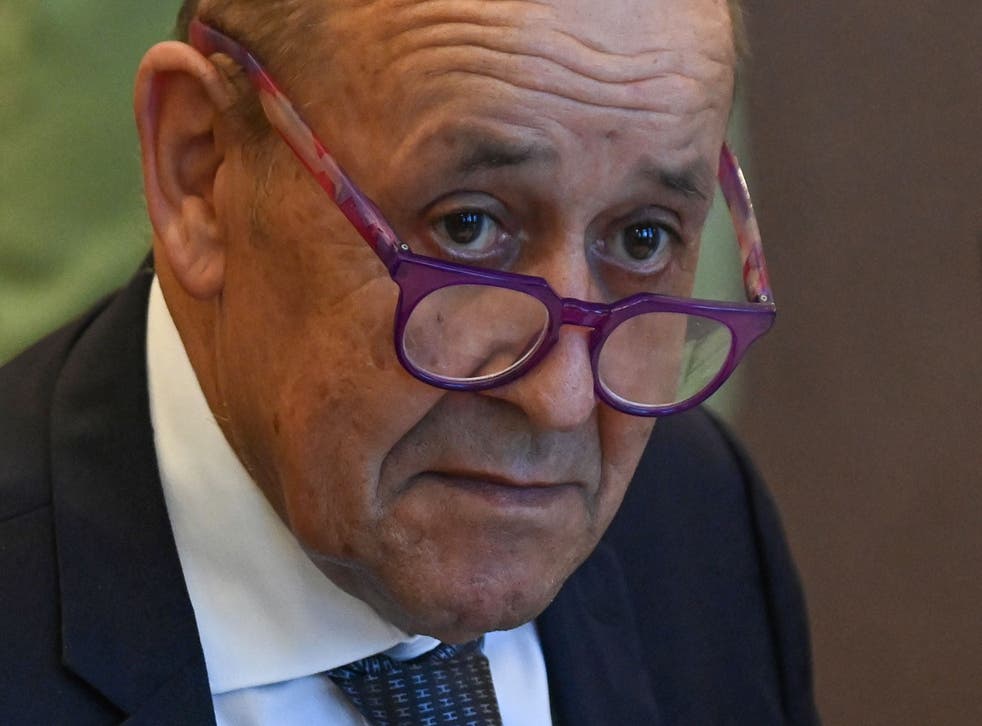 France has hit out at Australia's decision to abandon a £43bn deal for French submarines in favour of a new security pact.
The French government reacted angrily to news Australia, the UK and the US have entered an alliance that will involve building a nuclear-powered submarine fleet and wide-ranging projects on cyber warfare, artificial intelligence and quantum computing.
Jean-Yves Le Drian, France's foreign affairs minister, claimed the move was a "stab in the back" from Australia, telling Franceinfo: "We had established a trusting relationship with Australia, and this trust was betrayed."
The EU's high representative, Josep Borrell said the bloc had not been consulted on the security pact, even as Brussels unveiled its own Indo-Pacific strategy.
He said the decision by the Australian government to abandon the submarine deal with France meant that it was important for the EU to build its own approach to the region.
"We must survive on our own, as others do," Borrell said as he presented the strategy, talking of the importance of "strategic autonomy" "I understand the extent to which the French government must be disappointed."
However, British prime minister Boris Johnson insisted the UK's relationship with France was "rock solid" when asked in parliament on Thursday.
The so-called Aukus deal has also angered China, which accused the trio of "severely damaging regional peace and stability, intensifying an arms race, and damaging international nuclear non-proliferation efforts".
Chinese foreign ministry spokesman Zhao Lijian said countries should not build partnerships that target third countries and that China would "closely watch the situation's development".
The move has been widely interpreted as an attempt to check China's growing military assertiveness in the Indo-Pacific.
However, the prime minister insisted Britain's new defence pact was not intended as an "adversarial" move against China.
He told the House of Commons: "It merely reflects the close relationship that we have with the United States and with Australia, the shared values that we have and the sheer level of trust between us that enables us to go to this extraordinary extent of sharing nuclear technology in the way that we are proposing to do.
"It is true that that this is a huge increase in the levels of trust between the UK, the US and Australia.
"It is a fantastic defence technology partnership that we are building – but it is not actually revolutionary."
Downing Street declined to comment on the collapsed Australian contract for conventional subs, saying this was a matter between Paris and Canberra.
The prime minister's official spokesperson added: "We continue to have a very close relationship with France, we have long standing security and defence relationships with France.
"We have members of the armed forces working side by side right now and that will continue to be the case."
UK news in pictures

Show all 50
The spokesperson said defence secretary Ben Wallace had been in contact with his French counterpart, but there were no plans for a phone call between Boris Johnson and French president Emmanuel Macron.
He confirmed the Aukus deal was discussed by Mr Johnson with US president Joe Biden and Australian prime minister Scott Morrison in a three-way meeting at the G7 summit in Cornwall in June, but played down suggestions this was the decisive moment in the agreement, which he said had been "an undertaking of several months".
Mr Johnson's spokesperson suggested the UK's ability to seal the deal could be regarded as a benefit from Brexit.
"We are able to move in this in this way now that we're not part of the European Union, and that is to the benefit of the British people," he said.
The UK's commitment to Nato remained unchanged by the Aukus deal, he said.
And he rejected suggestions it might undermine the "Five Eyes" intelligence relationship by creating an "inner circle" of three members while excluding Canada and New Zealand.
The EU's strategy will focus on trade, greater digital cooperation with Japan, South Korea and Singapore, support for climate change initiatives and a greater diplomatic presence to uphold the United Nations Law of the Sea (UNCLOS). It also plans to collaborate with Japan, India and Australia on transport links, in particular in the aviation and maritime industry, to link the bloc more closely to Asia.
This comes after the EU on Wednesday launched a new plan to rival China's Belt and Road infrastructure strategy, which it calls "Global Gateway"
An 18-month process will now take place to consider technical and practical aspects of the AUKUS plan, and work out precise details of where work will be undertaken and jobs created, said the spokesperson.
But he said there would be "extensive work" in the UK, creating "hundreds and hundreds" of jobs and generating tens of billions of investment over the lifetime of the project.
Additional reporting by agencies
Register for free to continue reading
Registration is a free and easy way to support our truly independent journalism
By registering, you will also enjoy limited access to Premium articles, exclusive newsletters, commenting, and virtual events with our leading journalists
Already have an account? sign in
Register for free to continue reading
Registration is a free and easy way to support our truly independent journalism
By registering, you will also enjoy limited access to Premium articles, exclusive newsletters, commenting, and virtual events with our leading journalists
Already have an account? sign in
Join our new commenting forum
Join thought-provoking conversations, follow other Independent readers and see their replies