France opens murder inquiry into Yasser Arafat's death
Family called for investigation after traces of poison found on his clothes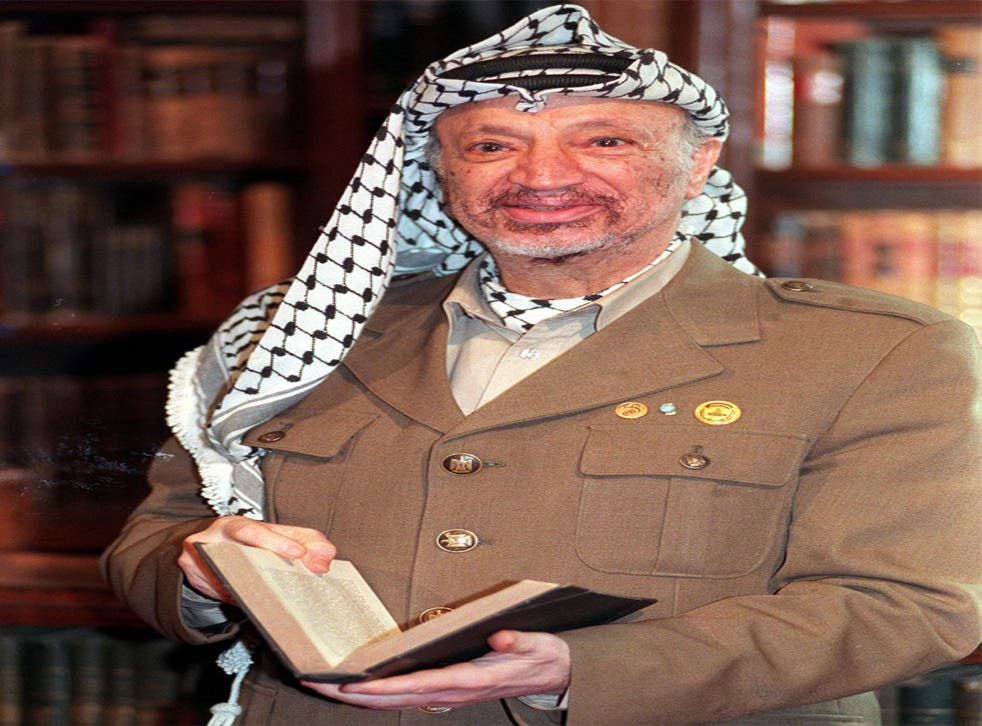 French prosecutors yesterday opened a murder investigation into the death of the veteran Palestinian leader, Yasser Arafat, who died in a military hospital near Paris in 2004.
The investigation follows a formal complaint by Mr Arafat's widow after the discovery last month by a laboratory in Switzerland of substantial traces of the deadly poison polonium-210 on the Palestinian leader's clothes.
Mr Arafat was said to have died of cirrhosis of the liver but his medical files have never been released by France. Conspiracy theories suggesting that he was murdered by Israeli intelligence or other enemies have swirled around the Middle East for the last eight years.
Samples of the clothes that he wore just before he was taken ill were sent to a laboratory in Lausanne earlier this year by the TV station Al Jazeera, with the co-operation of his widow and daughter. In early July, the laboratory, announced that it had detected significant traces of polonium-210, the substance used to poison the Russian dissident Alexander Litvinenko in London in 2006.
As a result, Mr Arafat's widow, Souha, made a formal complaint in France earlier this month. The state prosecution service in Nanterre, west of Paris, decided that there were sufficient grounds to open a criminal investigation for murder. One or more investigative magistrates will now be appointed to pursue the inquiry.
The Palestinian authority gave permission earlier this month for Mr Arafat's body to be exhumed. Tests on his remains will be carried out by the same laboratory, the Institut de Radiophysique in Lausanne.
Mr Arafat, 75, was taken abruptly ill, with piercing pains in his lower body, in Ramallah in Palestine in November 2004. He lapsed into a coma and died several days later in the French military hospital at Percy near Paris after the then French President Jacques Chirac had offered France's medical help.
Souha Arafat and her daughter, Zahwa, have called for the findings of the Swiss laboratory to be made available to French investigators as part of a "properly constituted judicial investigation". Souha Arafat has also called on French authorities to release Mr Arafat's medical files.
There have long been Palestinian suspicions that the Israeli intelligence agency Mossad assassinated Mr Arafat. The Institut de Radiophysique in Lausanne found that a urine stain in the Palestinian leader's underwear registered 180 millibecquerels of polonium-210 – over 20 times the dose needed to kill.
Some of Mr Arfat's symptoms, such as vomiting and cirrhosis, are the same as those from poisoning by polonium-210. At the time of Mr Litvinenko's assassination in 2006, British investigators said that only a sophisticated operation by a state intelligence agency could obtain and use polonium-210 in a lethal form.
Under French law, it will be up to an investigating magistrate to decide whether firm evidence exists that Mr Arafat was murdered. If they find such evidence, they will recommend that the state prosecution service brings charges.
As leader of the militant Fatah movement, and then the Palestinian Liberation Organisation, Mr Arafat was the most visible face of Palestinian resistance for decades. He represented Palestine at the Oslo peace talks in 1993 and received a share of the Nobel Prize in 1994.
Register for free to continue reading
Registration is a free and easy way to support our truly independent journalism
By registering, you will also enjoy limited access to Premium articles, exclusive newsletters, commenting, and virtual events with our leading journalists
Already have an account? sign in
Register for free to continue reading
Registration is a free and easy way to support our truly independent journalism
By registering, you will also enjoy limited access to Premium articles, exclusive newsletters, commenting, and virtual events with our leading journalists
Already have an account? sign in
Join our new commenting forum
Join thought-provoking conversations, follow other Independent readers and see their replies