Emmanuel Macron gains on Francois Fillon and Marine Le Pen in new French election poll
Poll comes as Ms Le Pen admits her party still needs to find more funding for her presidential run
Michael Rose
Paris
Thursday 05 January 2017 19:27 Comments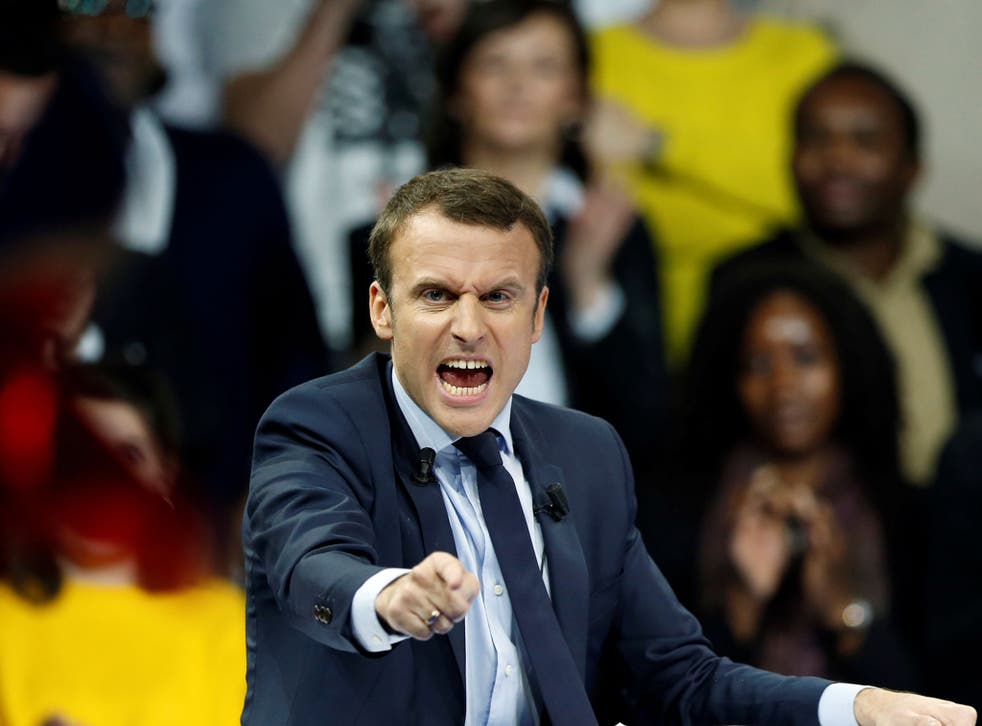 Conservative candidate Francois Fillon's lead in France's presidential election race has narrowed, according to an opinion poll showing independent Emmanuel Macron gaining on both the former prime minister and far-right leader Marine Le Pen.
In a series of scenarios, Mr Fillon was seen winning up to 28 per cent of the first-round vote – down by between seven and eight points since the Elabe polling institute's last survey, published just after he won the centre-right primary in November.
Ms Le Pen was seen arriving second in April's first round and qualifying for the run-off alongside Fillon in all but one scenario, where Macron took the number two spot.
Ms Le Pen – head of the Front National (FN) party – was seen securing between 22 and 24 per cent in the first round, according to the poll published on Thursday by Elabe for business daily Les Echos. That was down slightly from November.
Mr Macron polled at between 16 and 24 per cent, up on last month's poll, with variations depending on who gets picked by the Socialists in their primaries later this month, and on whether Francois Bayrou – a centrist like Mr Macron – runs or not.
He is seen to be cementing his position as the election's "third man", distancing both leftist firebrand Jean-Luc Melenchon and any other traditional Socialist candidate, the pollster said in a text accompanying the survey. The poll was conducted among 995 people on January 3 and 4.
The scenario where Mr Macron reached the second round was one where former industry minister Arnaud Montebourg was the winner of the Socialist nomination over favourite and ex-prime minister Manuel Valls, and where Bayrou did not run.
Elabe did not test scenarios for the second round, which will be held in May. Only the top two candidates of the first round qualify for the run-off. Other polls have shown Mr Fillon winning over Ms Le Pen in that run-off.
Ms Le Pen and the FN are struggling to raise the millions of Euros needed to fund the presidential election campaign, but Ms Le Pen has vowed: "We will find one bank somewhere in the world that is willing to lend us that money."
She has accused French banks of playing politics by refusing to lend money to her party, suggesting it was being marginalised because of its far-right policies.
The FN said in December it needed to raise €27m (£23m) to fund its campaigning for the presidential and parliamentary elections in April to June.
It has borrowed about €6m from a political fundraising association headed by Ms Le Pen's estranged father and FN founder Jean-Marie – an ironic twist given she threw him out of the party in 2015.
"We have additional funding to find. We'll find it," Ms Le Pen told reporters on Wednesday. "It's half (of what we need), but we'll find it," she said, without specifying how much of the €27m the party had raised so far.
World news in pictures

Show all 50
Meanwhile, Mr Valls is favourite to represent the ruling Socialists in the French presidential election, an outcome surveys show would offer the best chance of victory for the beleaguered party and its allies.
He is seen coming top in the 22 January first round vote of the primaries of the French left with 43 per cent, ahead of second-placed Mr Montebourg on 25 per cent, and third-placed Benoit Hamon on 22 per cent, a poll by Harris Interactive for France Televisions showed.
He would go on to win the official left-wing ticket by beating either of these two opponents in a run-off on 29 January, with between 55 and 57 per cent of the vote, according to the poll – a similar outcome to others conducted in December.
If Mr Valls, prime minister until a month ago, does emerge as the Socialist candidate it will fall to him to try to rally the left and turn the tide against what seems likely to end in a showdown between centre-right and far-right candidates.
But surveys about primaries have proved deceptive in the past.
Polls were predicting a completely different outcome from the actual result in the months leading up to the conservative primaries last November, making Alain Juppe the favourite over fellow former prime minister Mr Fillon.
In the space of two weeks, Fillon came from third place in the polls to emerge as favourite, and went on to win the ticket for the Republicans by a big margin.
Regardless of which candidate they end up with, the Socialists, whose prospects of retaining the presidency have suffered from President Francois Hollande's deeply unpopular rule, were putting a brave face on their chances on Thursday.
"We are the last to get organised for the presidentials. We will be the key to it," party leader Jean-Christophe Cambadelis said on Europe 1 radio.
Opinion polls of voting intentions for the presidential election itself give Mr Valls or any candidate from the ruling party very little chance of winning.
Mr Hollande's dismal record on tackling joblessness remains at the front of voters minds, and with two heavyweight rivals hemming him in on the left and the right, the race is looking like an uphill struggle for the candidate who represents his legacy.
Polls have consistently put Mr Valls in a distant fifth place and eliminated in the 23 April first round of the election.
Nevertheless, they say the 54-year-old, who is from the right of his party and quit as prime minister to focus on a presidential campaign, represents the Socialists' best bet.
On the campaign trail, Mr Valls has shifted to the left in some policy areas but still has centrist credentials.
"Valls has the merit of mobilising centre-left voters, which Montebourg and Hamon can't," Claude Dargent, a researcher at Sciences Po university in Paris told Reuters.
Thursday's Harris Interactive poll was conducted online between 2 and 4 January among 6,245 people of voting age, of whom 478 registered voters said they would definitely vote in the primary.
Reuters
Register for free to continue reading
Registration is a free and easy way to support our truly independent journalism
By registering, you will also enjoy limited access to Premium articles, exclusive newsletters, commenting, and virtual events with our leading journalists
Already have an account? sign in
Join our new commenting forum
Join thought-provoking conversations, follow other Independent readers and see their replies