French Republicans relaunch campaign for embattled Francois Fillon
Centre-right party backs candidate in spite of allegations of embezzlement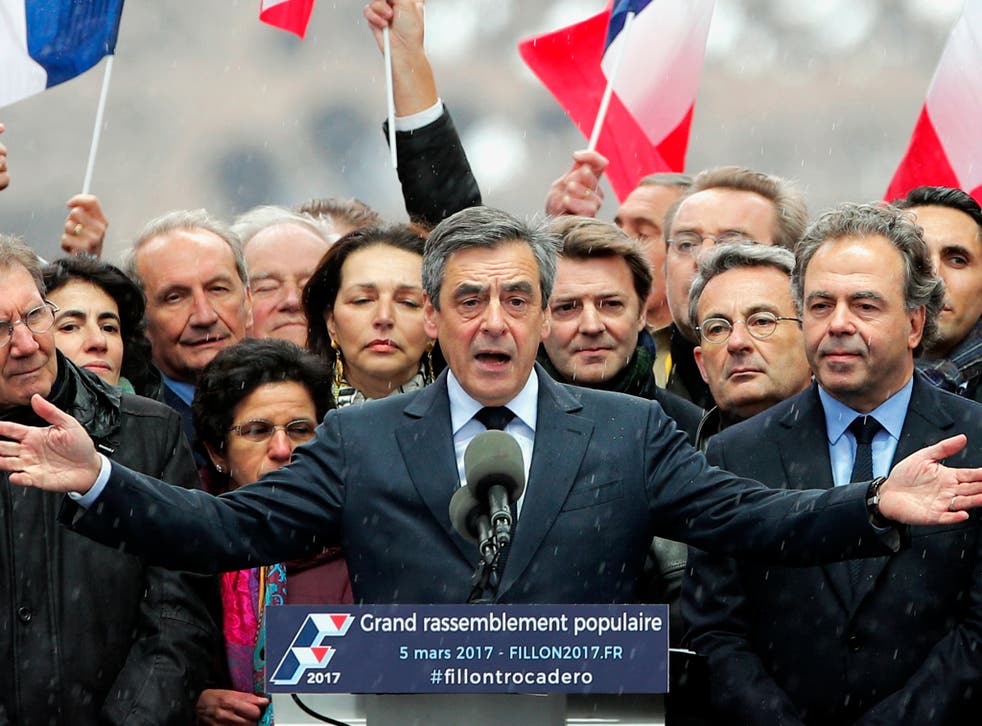 Leading figures in the French centre-right Republican Party have unanimously voted to revive the campaign of embattled presidential candidate Francois Fillon after an emergency meeting.
Mr Fillon, a former Prime Minister and once favourite to succeed socialist Francois Hollande as President, has seen his support fall away following allegations of impropriety regarding payments from the public purse to his family members.
He faces formal investigation for embezzlement, which he denies.
The push to revive Mr Fillon's damaged campaign comes as no obvious candidate to replace him has emerged from the Republicans.
Former Prime Minister Alain Juppe, who lost the Republican nomination race to Mr Fillon, has repeatedly ruled out replacing his former rival as a last-minute candidate.
Since losing the primary, he has repeatedly said he does not want to run as a second choice candidate and believes it is "too late" for him to step in and unite the people.
Mr Juppe, the current Mayor of Bordeaux, said Mr Fillon had "a boulevard in front of him" to win the presidency, but ended up "down a dead end"
The favourite to win the Presidency is centrist independent candidate Emmanuel Macron, with far-right candidate Marine Le Pen expected to challenge strongly in the first round. Mr Fillon is not expected to make it past the first round following the swirl of damaging allegations that his Welsh-born wife, Penelope, was paid for several years for work she did not do as his parliamentary assistant.
Also being examined are claims that two of his children, Marie and Charles, were paid by their father's office to carry out legal work before they had qualified as lawyers.
Speaking after the emergency meeting, French Senate leader Gerard Larcher said all attempts to replace Mr Fillon as the Republicans' presidential candidate must now end.
"The political committee, after a wide-ranging exchange, unanimously renewed its support for Francois Fillon."
Mr Fillon has remained defiant in the face of adversity and has repeatedly said he will not back down in his attempts to become President.
"No one can stop me from being a candidate," he said on French television over the weekend, after appearing at a rain-soaked rally in front of his supporters in Paris.
The first round of voting is set to take place on 23 April.
Join our new commenting forum
Join thought-provoking conversations, follow other Independent readers and see their replies