France presidential elections: As French go to polls, could abstentions prove decisive in Macron-Le Pen contest
'It like having to choose between plague and cholera, between the fascist dictatorship and that of the bankers'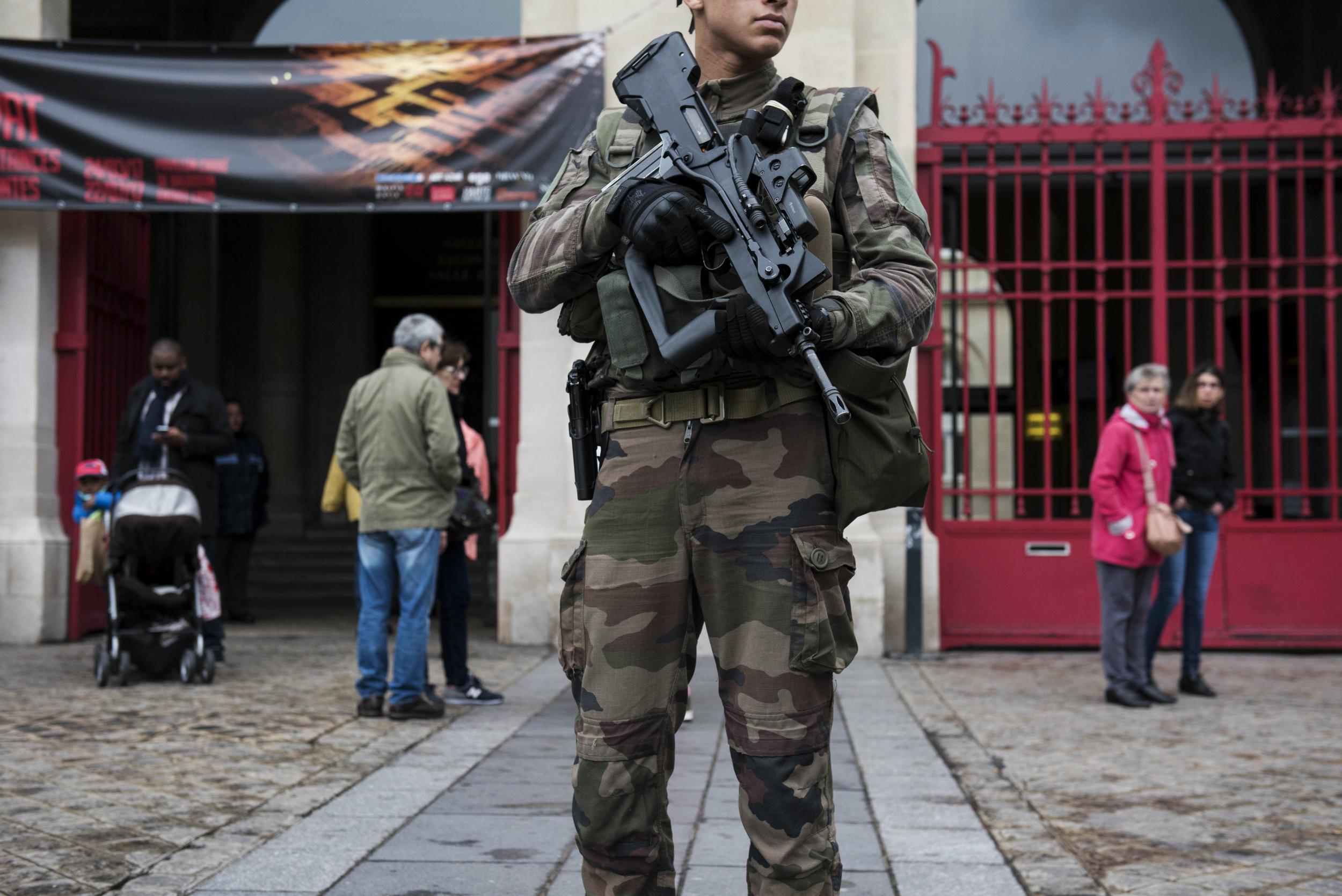 French people have been going to the polls in their millions, in an election that will be pivotal to the future of the country - and that of the entire continent.
Opinion polls had appeared to leave little doubt, suggesting Emmanuel Macron would be winner, with more than 60% of the vote. At the age of 39, he would be the youngest president of the Fifth Republic.
According to an Ipsos-Steria estimate for France Télévisions, Radio France LCP / Public Sénat, RFI-France 24, Le Point and Le Monde, abstention could amount to 26 per cent of voters.
And at 5pm this Sunday, participation in the second round of the presidential election was 65.30 per cent, down by six points compared to that of 2012. Those figures will be of some concern to Mr Macron's team, whose biggest fear has been voter apathy.
But how many of his electors will have voted to defend his program and his values? What part of the vote will be a rejection of the candidate of the Front National? Who will benefit most from those abstaining?
In Paris, where only five per cent of Parisians voted for Marine Le Pen in the first round, it is under a grey rainy sky that people go to the polls.
Vichea Pes, 32-year-old project manager consultant, has just cast a bulletin for Mr Macron.
"I had already voted for him in the first round because he is closest to my ideas, but I have serious reservations about his programme and how he intends to translate his ideas into action. It is rather vague," he told The Independent.
Emmanuelle, a 38-year-old Parisian woman "hates FN's ideas so fiercely" and thinks that if ms Le Pen is elected, "she will lead France directly to bankruptcy".
She will vote for Mr Macron because "it's the lesser evil". She said she was "full of disillusionment with these politicians who have lost the aura necessary to govern a country".
But this "Republican front", which was evident in 2002, when it carried crowds of people in the street to block Jean-Marie Le Pen and re-elect Jacques Chirac with more than 80%, is unlikely to prove as comprehensive this year.
In the duel between Mr Macron and Ms Le Pen, one can expect a significant score of "ni-ni" (neither one, neither the other).
In an open letter to the magazine Causeur, lawyer Guillaume Sergent explains why he will vote for neither and rejects the "Republican front" that would force him to block the Front National.
He claims the right to "not choose", because even if he "understands the repugnance inspired by a vote for the National Front", he does not want to vote "for a candidate who is obviously ready for anything and who represents post-France, ... by its desire to substitute labour law for the 'Uberisation' of relations, by the repentant criticism of its history, by the invitation to youth to become a billionaire."
The bar of Paris advised its members to vote for Mr Macron to block Ms Le Pen, but he assures me that some Parisian lawyers will vote for the National Front candidate.
The latest polls predicted that just under half of the electors of Francois Fillon would vote for Mr Macron today, against 28% for Ms Le Pen, while a quarter would abstain.
The debate has clearly moved the lines in favour of En Marche's candidate.
Quentin, 30, who had voted François Fillon is sipping a coffee just yards from the polling station, but will not go to the polls. He is "angry and disappointed" about the result in the first round, during which "his champion was eliminated because of a media harassment".
Julien Mielchoc, 38, financial advisor, is also disappointed because his "candidate was eliminated" and today he "has the impression of having to choose between plague and cholera, between the fascist dictatorship and that of the bankers".
Nevertheless, he tells The Independent he is about to go to the polling station to vote "against the blockade of our country and of Europe" - and thus against Marine Le Pen.
Caroline, 42, a perfume development assessor, went early this morning to vote for Mr Macron.
"It's not my candidate, it's the first time I vote for the left-side," she explained.
French Presidential Election
Show all 20
"But considering what's at stakes, I would rather vote for a European Democrat than for an incompetent and dangerously intolerant candidate, as Wednesday's debate demonstrated too well," she concludes.
She said that debate showed "the professional mediocrity of Marine Le Pen" and her inability to fulfil the functions of a president.
Gilles, 36, also voted Fillon in the first round but will vote Macron. He explains that he is his second choice.
"I believe in many points of his programmes," he said.
On the other hand, he says, the debate, "made him realise the little background of MLP" and he finds Macron "much more credible as president".
There are also those who favoured left-wing candidate Jean-Luc Mélenchon in the first round.
Emilien, 35, commercial director, declared: "I will vote by Republican conviction, therefore Macron."
He explains that for him the ideas of Ms Le Pen are not Republican, he has "the feeling that she is a threat to democracy".
And above all, he "does not like speeches that frighten and divide".
During a consultation organised on the platform of Unbowed France, two thirds were in favour of abstaining rather than vote for Macron. The debate swept things in favour of En Marche's candidate, but until the big announcement tonight, nothing is for certain.
Join our commenting forum
Join thought-provoking conversations, follow other Independent readers and see their replies