French authorities bus hundreds of refugees out of Paris to accommodation centres across France
Large-scale evacuation comes two days after election of Emmanuel Macron, who has indicated he does not want refugees living rough in France as they wait for UK asylum decisions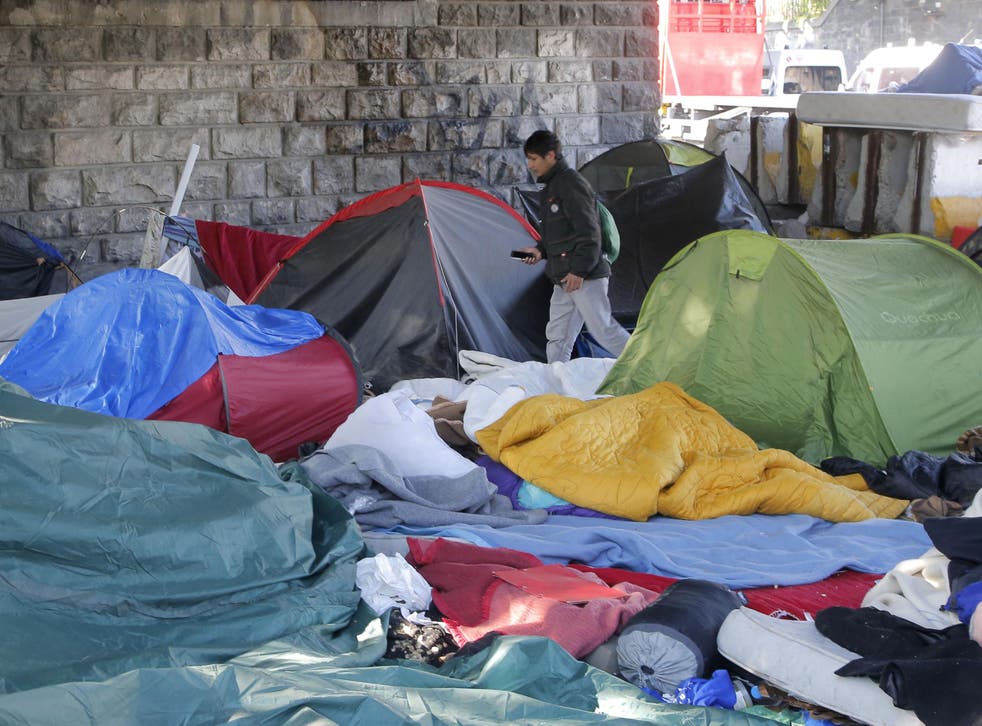 Hundreds of refugees have been bussed out of Paris and taken to emergency accommodation across France during a large-scale evacuation of a settlement close to the Eurostar train station.
Around 350 officers were involved in moving on about 1,000 mostly Afghan and Sudanese people who had been sleeping under the bridges at Porte de la Chapelle and the surrounding areas.
The destruction of the camp area comes two days after the election of Emmanuel Macron as President of France, who has already indicated that he does not want refugees living rough in his country as they wait to get to test their asylum applications in the UK.
Instead, the French President-elect would far rather they were allowed to travel straight across the Channel so as to be processed as soon as possible.
A police spokesman in Paris said: "These illegal camps present a major risk for the security and health of their occupants as well as for local residents. Clearance of the camp started soon after dawn, and was completed later in the morning.'
The makeshift camp was a few hundred yards away from an official refugee centre, where men can live for two weeks before moving on.
Queues to get into the facility have been forming every morning and people are frequently rejected, which has led to them congregating nearby.
One local aid worker, who asked to be referred to by his first name of Ralph, said: "It's true it has become a magnet for lots of migrants. They get here hoping to enjoy food and lodging, and are then told they are not welcome. So they sleep rough nearby, and then the police move them on. It is an impossible situation. All they want is to be allowed to go straight to Britain."
Last October, some 8,000 men, women and children were shifted out of Calais when the so-called 'Jungle' refugee camp was destroyed.
It had built up because of an Anglo-French agreement signed in Le Touquet, the northern seaside town where Mr Macron owns a holiday home, which enables British border officials to check asylum seekers' status in France.
Responding to the evacuation, charity Help Refugees said: "Many of those living in the streets in Paris are there because they want to claim asylum in France. We hope that with roofs over their heads their asylum claims can be heard and processed.
"Our partner organisations estimate that 80 per cent of minors in Paris are deemed to be over 18 when they are in fact significantly younger. The process for contesting this age assessment is long and requires support and an understanding of a complex system. It is incredibly challenging to contest with no fixed accommodation and no support from the authorities.
Refugees welcome here: Protesters demand UK resettle more migrants in response to refugee crisis

Show all 7
"There are serious concerns for the safety and security of these young people, many of whom may now be in centres with no provisions for children."
During the EU referendum campaign, Mr Macron vowed to tear up Le Touquet if the UK voted for Brexit, saying at the time: "The day this relationship [between Britain andthe UK] unravels, migrants will no longer be in Calais."
On a separate occasion, during a visit to London, Mr Macron said: "I want to put the Le Touquet border deal back on the table. It must be renegotiated, especially the parts that deal with the fate of isolated child migrants."
Join our new commenting forum
Join thought-provoking conversations, follow other Independent readers and see their replies