French schoolgirl admits lying about murdered teacher Samuel Paty
Teenager reportedly suspended for absences blamed teacher in Muslim row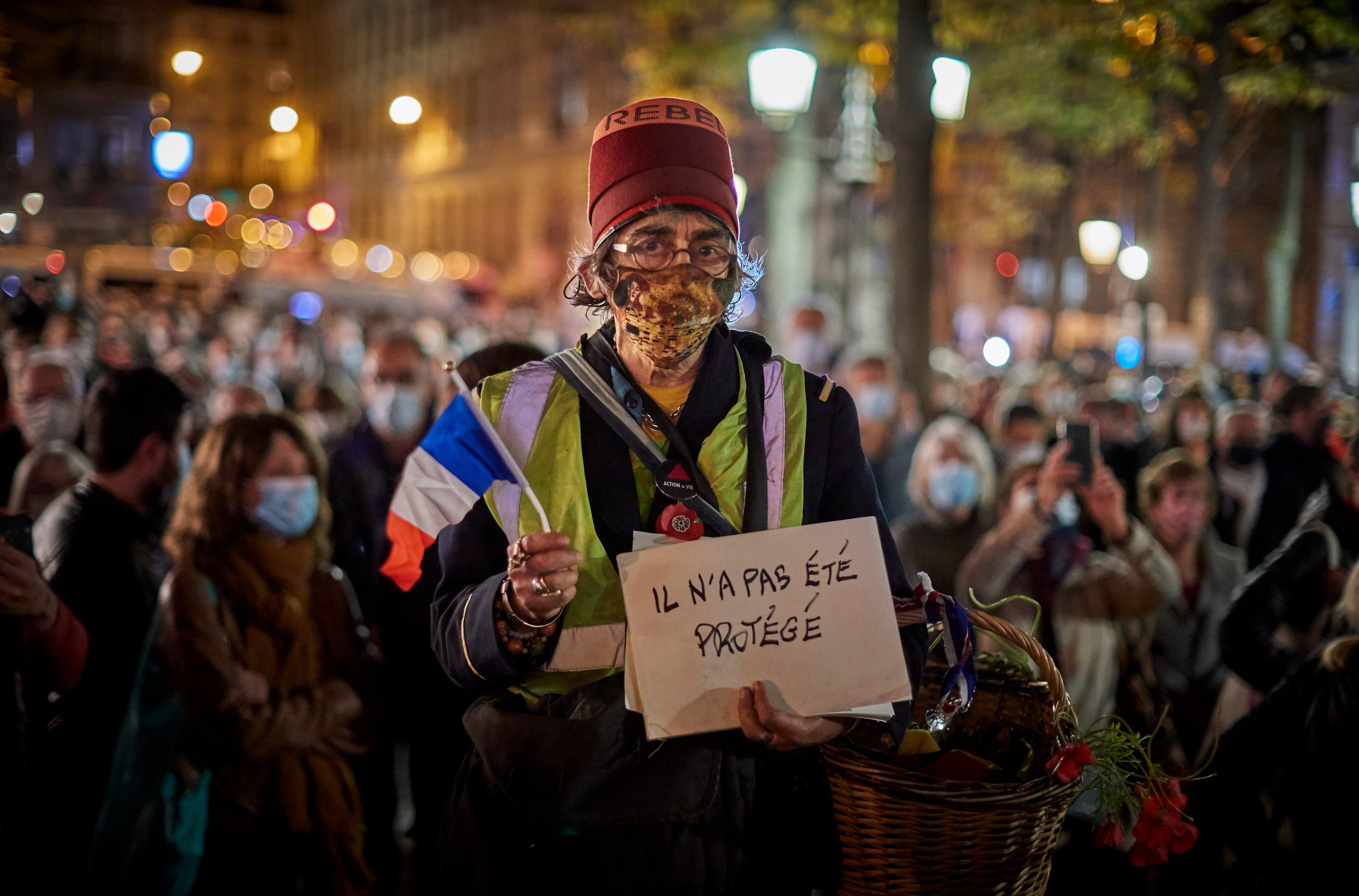 Leer en Español
A French schoolgirl has admitted lying and fabricating a story about her teacher, who was beheaded last year after her accusations against him.
The 13-year-old pupil, whose father started a hate campaign against Samuel Paty by filing a legal complaint, says she lied to please her father, and she was not even at the class in which the teacher was alleged to have shown a caricature of the Prophet Muhammad.
The girl, who has not been identified, had originally claimed that Mr Paty had asked Muslim pupils to leave the class before he showed "a photograph of the Prophet naked" to children during a class on free speech.
Her claims led to a dramatic chain of events, including death threats against the teacher and outrage among Muslims.
Ten days after her comments, the teacher, 47, was beheaded by 18-year-old Abdullakh Anzorov, who was later shot dead by police.
On Monday, the girl's lawyer, Mbeko Tabula, said she had confirmed that she was off on the day and did not attend the class at the school in Conflans-Sainte-Honorine, west of Paris, AFP reported.
"She lied because she felt trapped in a spiral because her classmates had asked her to be a spokesperson," Mr Tabula said.
French daily newspaper Le Parisien reported that the girl wanted to prevent her father from knowing that she had been suspended for failing to attend the lessons.
"She would not have dared to confess to her father the real reasons for her exclusion shortly before the tragedy, which was in fact linked to her bad behaviour," according to Le Parisien.
The girl had reportedly told her father that she had expressed her anger with the teacher for asking the Muslim children to stand in corridor while he showed the pictures and therefore suspended her from classes for two days.
She had said that when she voiced her objections, she was suspended from school. It now appears that she was suspended the day before the class was given because of repeated absences, according to Le Parisien newspaper.
The outraged father started a hate campaign against the teacher, posting a video online detailing the allegations against Mr Paty. He also lodged a police complaint and took the matter to school chiefs, accusing him of promoting Islamophobia.
As the video went viral on social media, it triggered widespread outrage, including death threats.
The girl was charged with slander and her father was arrested for being "complicit in a terrorist killing", along with an Islamist preacher.
The lawyer has said the girl should be protected from the accusations, and he blamed the father for "excessive and disproportionate behaviour".
Visual depiction of the Prophet Muhammad is forbidden in Islam, and it is considered blasphemous in some countries to insult the Prophet.
Join our commenting forum
Join thought-provoking conversations, follow other Independent readers and see their replies