Blockades and clashes with police as students protest over school safety in France
'We are all squeezed together in corridors,' one demonstrator says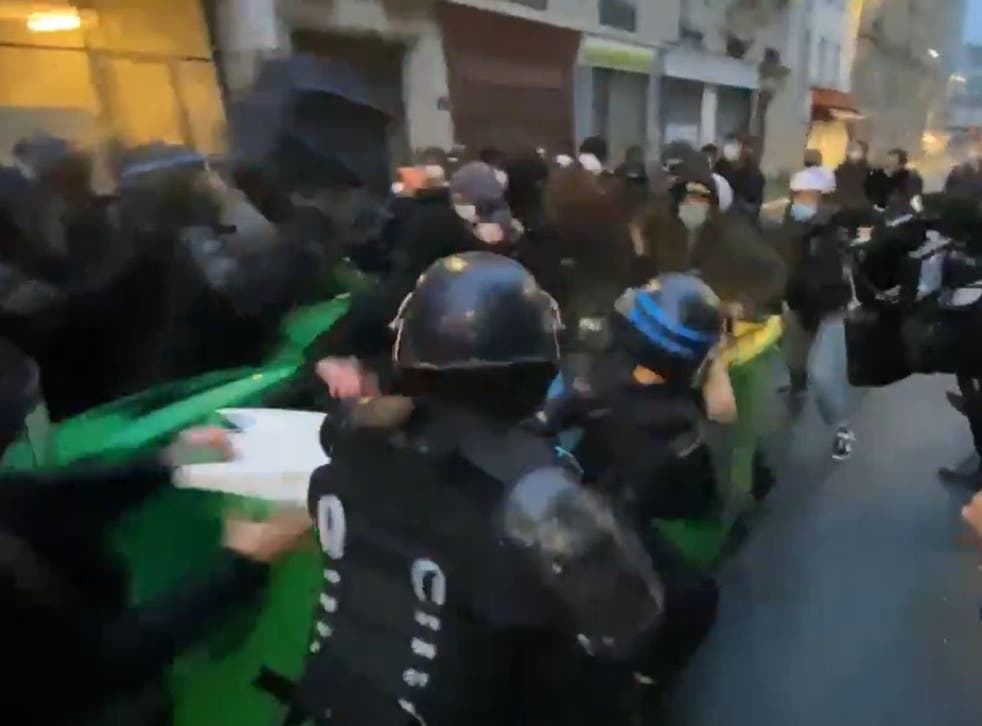 Tensions over the safety of schools have spilled over into the streets in France, with students clashing with police during protests in the capital. 
Pupils created blockades outside at least two colleges in central Paris on Tuesday — the same day unions called on teachers to strike to demand more safety measures amid the coronavirus pandemic.
One student protester told local media she was worried about spreading the virus to her family members.
"We are all squeezed together in corridors and in classes," she told ActuParis.
"We are aware a blockade isn't the best solution, but it's the only way of being heard," she added.
Police charged into bins protesters were using as a barricade on a street outside one lycée in central Paris on Tuesday.
Images also showed students setting up fences and bins to block a road by another college, while officers stood nearby. ActuParis reported this attempt at a blockade was abandoned after police reinforcements arrived.
Videos showed crowds of young people running away from officers during the student protests in the capital.
Education unions had called on teachers to strike on Tuesday, amid concerns over the safety of schools staying open during the coronavirus pandemic and France's new lockdown.
One of the measures being called for is a reduction of the number of student in schools.
SNES-FSU union shared images of banners hung outside schools in protest, including a sign saying: "Yes to studying! But while preserving the health of everyone!"
Student demonstrations having started to build up in France over the last week, with some teachers and students protesting against keeping schools open while the rest of France is in lockdown, saying it jeopardises their health due to the risk of catching Covid-19 on crowded school premises.
Pupils outside a high school in Compiegne, north of the French capital Paris, clashed with police on Monday in protests over health risks posed by schools being open during the novel coronavirus crisis, police and the town's mayor said.
The local police department said on Twitter that four arrests had been made, one fireman had suffered minor injuries and that there had been "unacceptable" incidents of criminal damage caused during the clashes.
Videos on social media showed a group of youths surrounding a police car outside the Lycee Mireille Grenet school and trying to overturn it, while other videos showed fires burning in the street.
Last week, riot police pepper-sprayed students after they blockaded a Paris high school in protest over inadequate Covid-19 sanitary measures.
France went into a new national lockdown around two weeks ago in a bid to rein-in the coronavirus pandemic.
The French education ministry has been approached for comment by The Independent.
Additional reporting by Reuters
Join our new commenting forum
Join thought-provoking conversations, follow other Independent readers and see their replies