French human rights 'at tipping point' as state of emergency continues, says Amnesty International
Report finds exceptional powers imposed after Isis' Paris attacks are restricting fundamental rights
Lizzie Dearden
Thursday 23 February 2017 13:13 Comments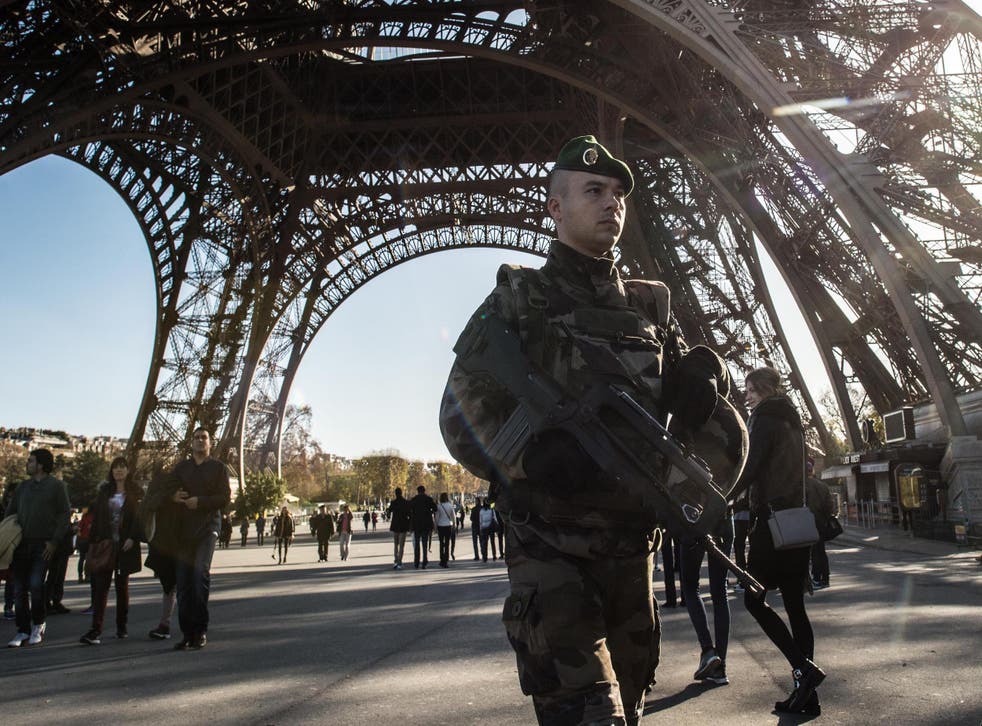 Human rights in France are at "a tipping point" as the government expands police powers in the wake of a wave of Isis-inspired terror attacks, a report has warned.
Parliament has voted to extend the country's ongoing state of emergency five times since 130 people were massacred by militants in Paris in November 2015.
It affords security services exceptional powers including the ability to place anyone deemed to be a security risk under house arrest, dissolve groups thought to be a threat to public order, carry out searches without judicial warrants and block any websites that "encourage" terrorism.
Amnesty International chose to unveil its annual world report in Paris, where the group warned that human rights were being eroded.
France remembers 86 victims of Nice lorry attack
Secretary General Salil Shetty said security measures approved by all French political parties had put the country at "a tipping point".
"It's absolutely the responsibility of the government to protect the people, but it has to be proportionate," he added, speaking out against "traumatising house raids...all pointing towards one religion".
Mr Shetty said Amnesty was very worried about ongoing security crackdown, which has seen more than 4,000 houses searched without a judge's order and at least 400 people handed assigned residence orders.
"The world is watching France," he added.
The state of emergency is currently in place until 15 July, after France's national elections, where terror and security is high on the agenda for mainstream candidates and the far-right National Front.
Bernard Cazeneuve, the Prime Minister, said the move was "absolutely necessary" to protect the country from further terror attacks.
The former interior minister said the state of emergency has "fully proven its effectiveness" with 4,194 house searches leading to 517 suspects arrested, 434 kept in custody and almost 600 firearms seized, including 77 "weapons of war" under the powers.
In pictures: Paris attacks

Show all 25
But Amnesty accused authorities of using "vague evidence" to launch operations and impose restrictions "disproportionately restricting freedom of movement and the right to private life".
The UN Committee against Torture raised concerns regarding allegations of excessive use of force by police carrying out searches, while a group of special rapporteurs warned "excessive and disproportionate restrictions" were being imposed on fundamental human rights.
They recommended the introduction of judicial oversight for counter-terror measures and electronic surveillance, which give authorities the power to collect, read and store communications and metadata without authorisation or review by a judge but the call was ignored.
A new law was passed in June granting the interior minister the power to impose administrative controls on anyone returning from Syria, Iraq and other conflict zones who is believed to be a threat.
Hundreds of people were prosecuted for allegedly glorifying terrorism, often for comments posted on social media in possible freedom of speech violations.
Several other European nations including the UK were criticised for embedding measures "once viewed as exceptional" into ordinary criminal law.
Amnesty's report also raised concern over France's treatment of refugees, including more than 6,500 migrants and asylum-seekers evicted from the Calais "Jungle" in October and relocated to reception centres elsewhere.

Register for free to continue reading
Registration is a free and easy way to support our truly independent journalism
By registering, you will also enjoy limited access to Premium articles, exclusive newsletters, commenting, and virtual events with our leading journalists
Already have an account? sign in
Register for free to continue reading
Registration is a free and easy way to support our truly independent journalism
By registering, you will also enjoy limited access to Premium articles, exclusive newsletters, commenting, and virtual events with our leading journalists
Already have an account? sign in
Join our new commenting forum
Join thought-provoking conversations, follow other Independent readers and see their replies