France strikes break 51-year record as they enter 29th day
Police use tear gas at Paris protest as union chief calls for continuation of action
Anthony Cuthbertson
in Paris
Thursday 02 January 2020 16:46 Comments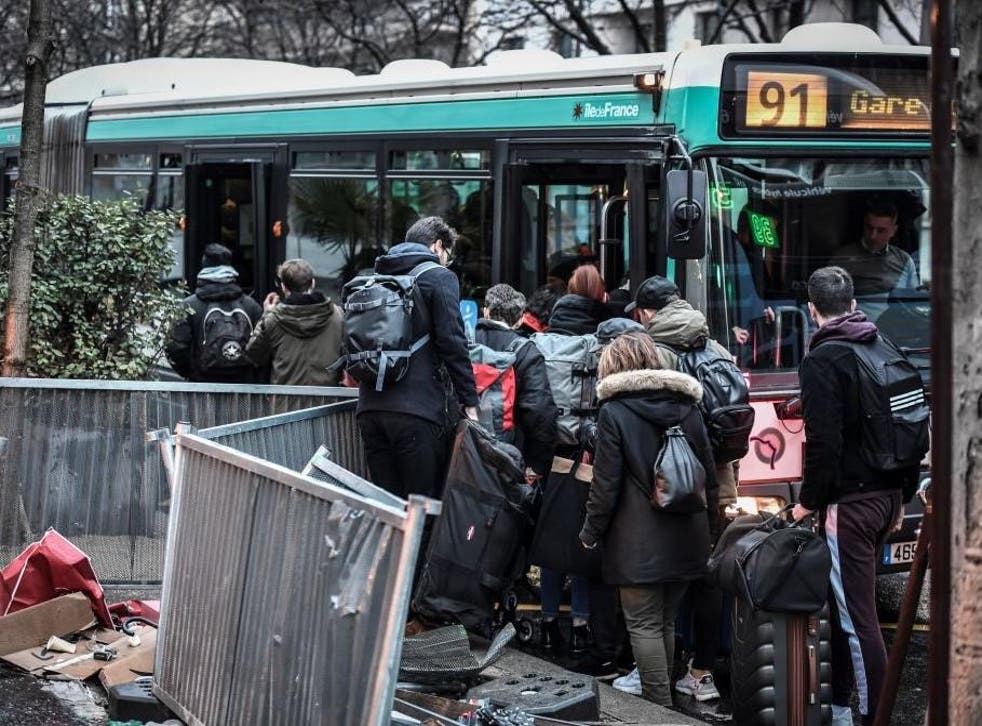 Nationwide strikes in France have entered their 29th day, making them the longest in the country since the civil unrest of 1968.
Protests against the government's proposed pension reforms began on 5 December, resulting in fuel shortages, power cuts, massive transport disruption and schools being shut down.
In Paris on Thursday, police used tear gas to break up the blockade of a bus depot in the city, marking the latest confrontation between the authorities and unions.
Emmanuel Macron, the president of France, has refused to yield to protesters' demands, claiming the controversial plan to roll France's 42 separate pension schemes into a universal system is necessary to prevent economic collapse in the future.
In his New Year's Eve address on Tuesday he called for a "rapid compromise" to bring an end to the industrial action.
France strikes bring country to a standstill

Show all 6
"I am aware that changes can often be unsettling," he said. "But worries cannot lead to inaction because there is too much to do. I will not give in to pessimism or paralysis."
Far-left figure-head Jean-Luc Mélenchon rejected Mr Macron's pleas, calling them "a declaration of war against millions of French people who reject his reforms," while far-right leader Marine Le Pen described the speech as, "once again, nothing".
Union leaders also dismissed the president's call for an end to the strikes, with the leader of the hardline CGT union urging workers to join strikes "everywhere".
"Faced with a self-satisfied president who thinks that everything is going fine in this country, we have to send a stronger warning sign," CGT leader Philppe Martinez told BFM TV.
"We're calling on all French people to mobilise, attend demonstrations and go on strike."
Talks between the unions and the government are set to resume on 7 January, with further mass demonstrations planned for 9 January.
Despite the disruption, recent polls show public support for the strikes remains strong.
"The majority of French people support the action because they are not fooled," Danielle Simonnet, a member of the Paris city council, recently told The Independent. "They know that with these reforms we will all lose."
Register for free to continue reading
Registration is a free and easy way to support our truly independent journalism
By registering, you will also enjoy limited access to Premium articles, exclusive newsletters, commenting, and virtual events with our leading journalists
Already have an account? sign in
Join our new commenting forum
Join thought-provoking conversations, follow other Independent readers and see their replies