France strikes: Workers stage mass protests at Macron's plans to weaken labour laws
Around 4,000 stoppages were called across the country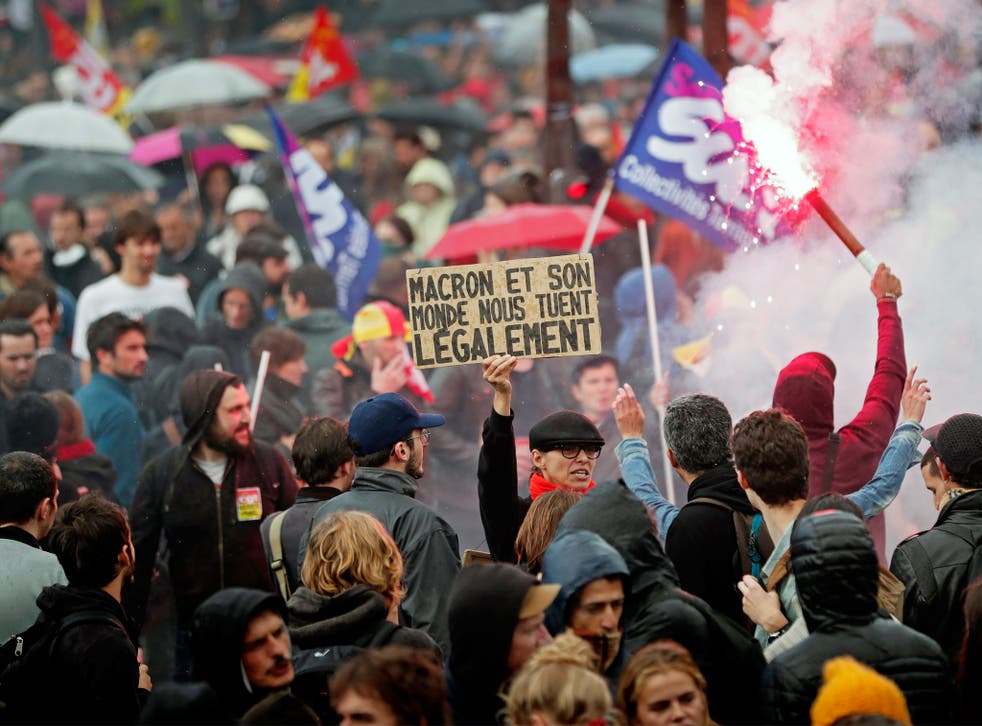 Workers across France walked out on strike on Tuesday in protest at Emmanuel Macron's plans to weaken the country's labour laws.
Around 4,000 stoppages were called across the country, with 180 separate street protests staged nationwide and the largest marches concentrated in Paris, Marseille, Lyon, and Nantes.
The strikes were a show of force by the radical Confédération générale du travail (CGT) union, the largest and most active labour federation in France – which wants to push the President into dropping his plans.
Public transport was disrupted in Nice, with some disruption to metro services in Paris. High-speed intercity trains, including the Eurostar, were mostly running as normal, however.
The leadership of two of the other biggest trade union federations, the Confédération française démocratique du travail, (CFDT) and Force Ouvrière (FO), have distanced themselves from the strike action – though they have been critical of the policy.
Under the President's proposals, it would become significantly easier for medium and small businesses to sack workers.
Trade union collective bargaining is also set to be watered down; firms with fewer than 20 staff will be able to negotiate directly with individual employees, instead of a union branch.
The Government also wants a cap on pay-outs from industrial tribunals that find employers have treated workers unlawfully.
Mr Macron says the reforms will see France "turning the page on three decades of inefficiency" and says they are part of his pledge to slash unemployment to 7 per cent by the end of his term in 2022, down from 9.5 per cent today.
But his critics say that making it easier for workers to lose their jobs is not likely to reduce unemployment.
The French President was embroiled in a row ahead of the strikes after he suggested his critics were lazy – saying he would not "cede any ground … to slackers" over the dispute. Protesters seized on the insult, with many bearing signs and chanting slogans parodying the President's attack.
Responding to Mr Macron, Benoît Hamon, the failed socialist presidential candidate, said: "Lazy people are the independently wealthy, who don't need to work for a living.
"And a lot of independently wealthy picked Emmanuel Macron as their champion."
Mr Macron's undiplomatic comments also angered trade union leaders who had so far stayed clear of the strikes.
"I am neither extreme nor lazy nor cynical," he said, adding he would not be "instrumentalised" by "those who want to make us easy allies" – an apparent reference to other trade union groups who had gone out on strike.
The strikes come amid a rapid fall in Mr Macron's popularity following his election earlier this year. Pollsters say he is more unpopular than either Nicholas Sarkozy or Francois Hollande at the same stage in their respective presidencies.
Register for free to continue reading
Registration is a free and easy way to support our truly independent journalism
By registering, you will also enjoy limited access to Premium articles, exclusive newsletters, commenting, and virtual events with our leading journalists
Already have an account? sign in
Register for free to continue reading
Registration is a free and easy way to support our truly independent journalism
By registering, you will also enjoy limited access to Premium articles, exclusive newsletters, commenting, and virtual events with our leading journalists
Already have an account? sign in
Join our new commenting forum
Join thought-provoking conversations, follow other Independent readers and see their replies