France 'considers plan to expel 200 foreign suspected extremists' after teacher beheading
Authorities say they have detained 11 people in wake of attack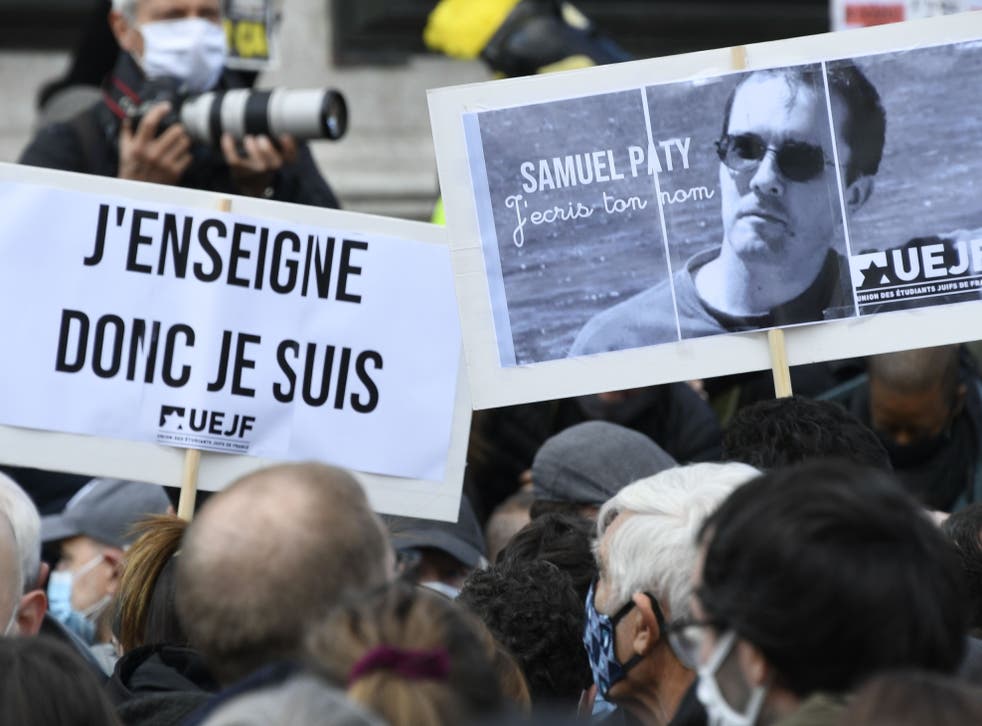 France could expel around 230 foreigners on a watchlist for suspected extremist religious beliefs in light of the beheading of a French teacher, while the interior minister said more police operations are planned.
Samuel Paty – who had shown pupils cartoons of the Prophet Mohammad earlier this month - was killed on Friday outside his school near Paris by an 18-year-old, who was shot dead by police.
An investigation for murder with a suspected terrorist motive has been opened, according to French anti-terrorism proseuctor Jean-Francois Ricard.
Gerald Darmanin, the French interior minister, said on Monday: "Police operations have taken place and more will take place, concerning tens of individuals."
His comments come after a police source said France was preparing to expel 231 foreigners – all on a government watchlist for suspected extremist religious beliefs – from the country.
Mr Darmanin also said he was looking into whether or not certain groups from the French Muslim community should be dissolved following accusations of promoting violence and hate.
Around 80 investigations are also underway into online hate speech in France, the interior minister told radio station Europe 1.
Thousands took to the streets in France on Sunday to show support for freedom of speech and to commemorate the life of Mr Paty, a history and geography teacher in Conflans-Sainte-Honorine in the northern Parisian suburbs.
French authorities said on Sunday they had detained an eleventh person following the killing, which was carried out by an 18-year-old born in Moscow of Chechen origin, and who had been living in the town of Evreux, northwest of Paris.
He was not previously known to the intelligence services.
The killing shocked France and carried echoes of an attack five years ago on the offices of satirical magazine Charlie Hebdo after it published the cartoons.
It came just weeks after two people were stabbed outside Charlie Hebdo's old offices in Paris, where the attacker is alleged to have acted out of anger that the magazine had republished the controversial cartoons to mark the start of the trial into the 2015 attack. 
Additional reporting by Reuters
Join our new commenting forum
Join thought-provoking conversations, follow other Independent readers and see their replies