France train gunman was known to intelligence services – but he denies terror links
Suspect Ayoub El-Khazzani claims it was only his intention to rob travellers as French police quiz him over rail attack
Amelia Jenne
Tuesday 25 August 2015 21:26 Comments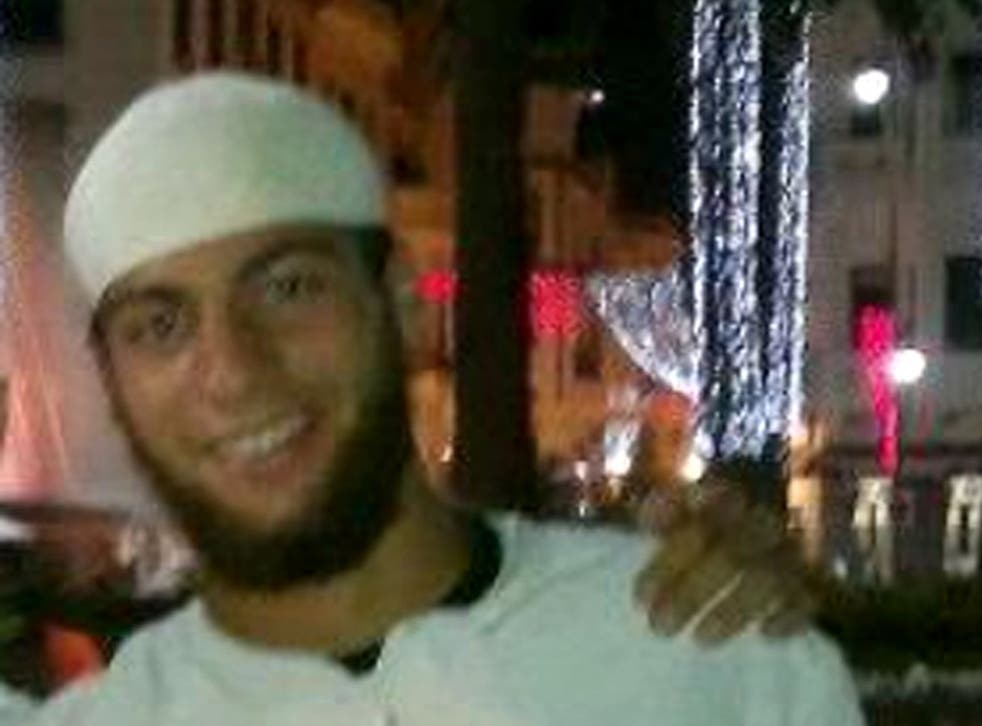 The gunman brought down by passengers on an Amsterdam to Paris train on Friday was known to intelligence services in three different countries, but has maintained that he is "stunned" by accusations he is a terrorist.
French police have identified Ayoub El-Khazzani, a 26-year-old Moroccan, as the gunman who boarded a train in Brussels with a cache of weapons including a Kalashnikov, an automatic rifle, 9 magazines and a box cutter.
The three American friends, two of them US servicemen, who tackled him, recalled their encounter with Khazzani at length in a press conference yon Sunday.
Khazzani was on Sunday being interrogated by counter-terrorism police outside Paris who have until Tuesday to charge him.
His lawyer Sophie David told French television he had denied attempted murder because the Kalashnikov had jammed and no shots were fired. "He is stunned that his action is being characterised as terrorism," she said. Ms David said Khazzani had said he was homeless, and that despite his impressive arsenal of weapons he "didn't seem dangerous to me" but "haggard" and "very thin… as if he had malnutrition".
He has told police he was intending to rob the passengers on the train before shooting a window and jumping out, and that he found the weapons in a Brussels public park near the train station.
Khazzani was placed on France's watch list in 2014 after Spanish security services warned them he may have links to radical Islam, according to Interior Minister Bernard Cazeneuve.
Spanish security sources said he had a police record for drug dealing, and that he travelled to Syria and first came under their radar after attending a Salafist mosque while living in Algeciras with his parents. The suspect denies travelling to Syria, according to Ms David.
Belgium also confirmed Khazzani was known to their intelligence services.
Khazzani's father Mohamed was born in Tétuan in Morocco in 1950, according to El Pais newspaper, and moved to Spain in the 1990s.
Khazzani was arrested twice in 2009 in Madrid for cannabis possession, and again in 2012 in Spanish territory in North Africa. In 2015, he reportedly lost his residency permit.
US airman Spencer Stone on Sunday honoured an unidentified 28-year-old Frenchman known only as Damian who first intervened while he was on the way to the toilet, from where Khazzani emerged with the Kalashnikov in hand.
"He deserves a lot of the credit," Mr Stone, his arm in a sling from injuries from Khazzani's box-cutter, said. "If it wasn't for him maybe it could have been way different". He said he had been taking a nap and opened his eyes to see Khazzani wielding a gun that "looked like it... wasn't working." He and friends Anthony Sadler, 23, and National Guardsman Alek Skarlatos, 22, then moved to tackle Khazzani to the ground. "He seemed like he was ready to fight to the end," Mr Stone said. "So were we." A British businessman, Chris Norman, later joined the fray. All four will receive the Légion d'honneur for their heroism.
A French-American man was shot in the chest before Khazzani was subdued. Mr Stone was stabbed in the neck and sliced on his hand, and later had his thumb reattached at a hospital in Lille.
Mr Sadler said that although the trio had bought first class tickets for carriage 12, where the incident took place, they had been sitting in a different carriage until half an hour before the attack.
"We couldn't find [the carriage] at first" he said, but "we decided to get up because the wi-fi wasn't so good in that car".
He cast doubt over Khazzani's claims that he was only trying to rob passengers. "It doesn't take [nine] magazines to rob a train," he said. "He was there to do business."
Register for free to continue reading
Registration is a free and easy way to support our truly independent journalism
By registering, you will also enjoy limited access to Premium articles, exclusive newsletters, commenting, and virtual events with our leading journalists
Already have an account? sign in
Join our new commenting forum
Join thought-provoking conversations, follow other Independent readers and see their replies