Ayoub El Kazhani: Suspected gunman named amid claims he 'had travelled to Syria'
Three individuals were injured in the attack, before the alleged gunman was disabled by two off-duty US soldiers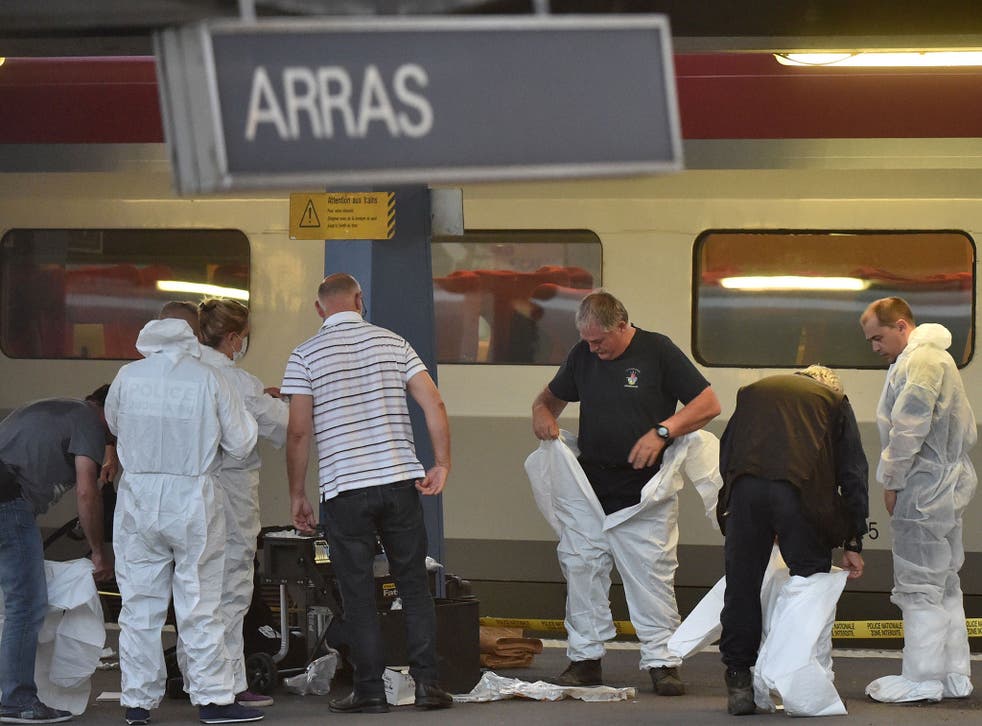 A suspected gunman, whose attack on a French train on Friday was foiled by two off-duty soldiers, has been named in reports as Ayoub El Kahzani.
Mr Kahzani, believed to be a 26-year-old Moroccan and named by Spanish newspaper El Pais and France's Le Monde, is also alleged to have travelled to Syria in the years preceding the attack, according to a Spanish official.
The official, speaking under condition of anonymity, told The Associated Press that the suspected attacker had lived in Spain until 2014 before moving to France.
He then travelled to Syria before returning to France, the official - linked to Spain's anti-terrorism unit - claimed.
Spanish police officials, cited by Le Monde, named Mr Kahzani on condition of anonymity - but the name has not been confirmed by France's interior minister Bernard Cazeneuv.
The suspected gunman, whose name has also been spelt Ayoub el Kahzzani, has now been transferred to the custody of anti-terror police in Paris.
A French media site, BFMTV, have reported that the suspected attacker has denied any terror links, instead claiming he wanted to carry out an armed robbery and ransom the train passengers.
Authorities had indicated that the suspected attacker had been under security surveillance before, but it has remained unclear if he was still under surveillance at the time of the attack.
The attack, on a Thayls train at around 4pm on Friday, was prevented by two off-duty US soldiers.
Mixed reports indicate that passengers on the train heard either a gunshot or breaking glass, before a gunman – reportedly armed with an automatic (AK-47) rifle and an automatic handgun – burst into a carriage.
He was prevented from firing after two off-duty US soldiers, Alek Skarlatos and fellow serviceman Spencer Stone, tackled him to the ground and confiscated his weapons.
Both men, aided by a British citizen and a third American, have been commended for their swift actions.
Register for free to continue reading
Registration is a free and easy way to support our truly independent journalism
By registering, you will also enjoy limited access to Premium articles, exclusive newsletters, commenting, and virtual events with our leading journalists
Already have an account? sign in
Register for free to continue reading
Registration is a free and easy way to support our truly independent journalism
By registering, you will also enjoy limited access to Premium articles, exclusive newsletters, commenting, and virtual events with our leading journalists
Already have an account? sign in
Join our new commenting forum
Join thought-provoking conversations, follow other Independent readers and see their replies