France train shooting: Video shows mayhem inside train carriage during 'terrorist' take down
Four people on the train, including three US and one British citizen, stopped the gunman who had enough ammunition to kill hundreds, officials reported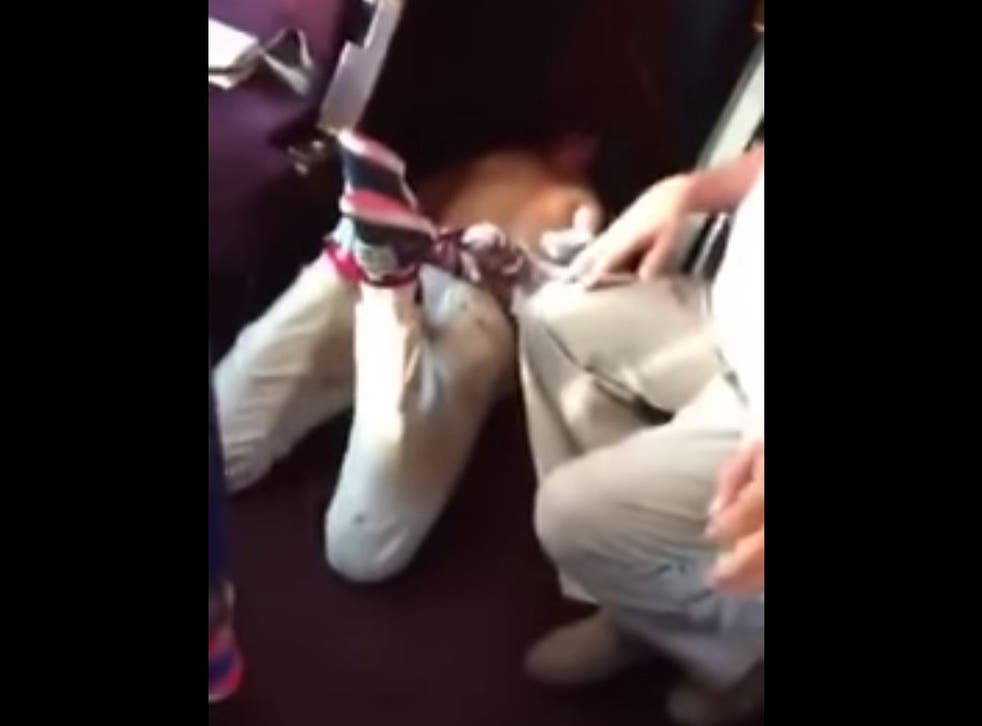 A video has been released that appears to show how passengers stopped a potential terrorist attack on a high-speed train in northern France.
The footage shows the dramatic scene inside the carriage where four men, three from the US and one British man living in France, tackled and restrained the gunman.
Alek Skarlatos, an American soldier who said he was involved in tackling the armed man, posted the video to his Facebook page which was then uploaded to YouTube. The 22-year-old from Oregon is a member of the US National Guard.
The video appears to show Mr Skarlatos climbing over the carriage seats while another of the men involved, Spencer Stone, keeps pressure on a passenger who is bleeding.
The clip shows blood on the seats and tables. The gunman's rifle is seen resting on a chair as passengers attempt to find a handgun they believe to be on the floor.
The video below shows images of an injured passenger which some viewers may find distressing
The suspect, who officials have identified as a 26-year-old Moroccan who was known to the security services, reportedly entered the carriage with an assortment of weapons including an AK assault rifle, a handgun and multiple knives.
Three passengers were injured in the incident, with no fatalities reported.
Mr Skarlatos, along with college student Anthony Sadler and 62-year-old British consultant Chris Norman, have been awarded bravery medals by the local mayor.
Mr Stone, another US soldier, has also been praised for his heroism. Mr Stone suffered knife injuries to his head and thumb.
Mr Stone risked being shot to put pressure on the wound of another passenger who was bleeding "profusely" from his neck, Mr Sadler said in a press conference.
"Without his help that man would have died," Mr Sadler said.
Mr Stone remains in hospital and his injuries are not believed to be critical.
The young Americans had been visiting Europe on holiday while taking the train service from Amsterdam to Paris.
Register for free to continue reading
Registration is a free and easy way to support our truly independent journalism
By registering, you will also enjoy limited access to Premium articles, exclusive newsletters, commenting, and virtual events with our leading journalists
Already have an account? sign in
Register for free to continue reading
Registration is a free and easy way to support our truly independent journalism
By registering, you will also enjoy limited access to Premium articles, exclusive newsletters, commenting, and virtual events with our leading journalists
Already have an account? sign in
Join our new commenting forum
Join thought-provoking conversations, follow other Independent readers and see their replies