France wildfires: Dozens injured and thousands evacuated as blaze sweeps across Marseille region
Around 1,800 firefighters supported by planes and helicopters battled worse fire throughout night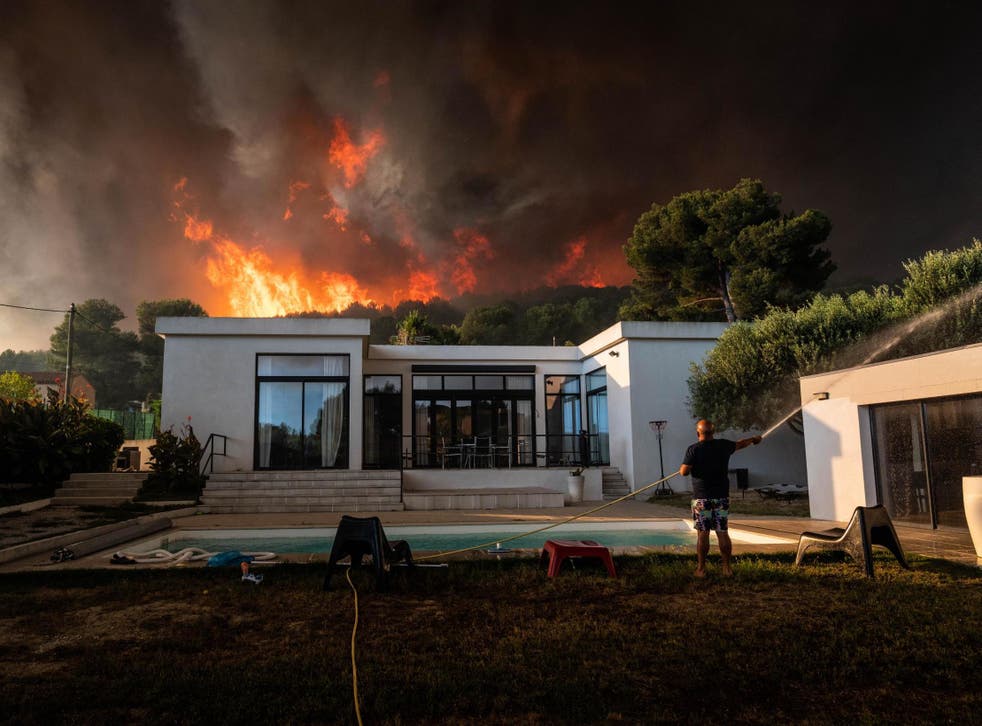 Wildfires have torn through several towns near Marseille in France, leaving at least 22 people injured and forcing the evacuation of 2,700 people.
Around 1,800 firefighters supported by planes and helicopters battled the worst fire through the night around the town of Martigues.
They were still working to extinguish the blaze on Wednesday, more than 14 hours after it broke out on Tuesday, according to the local fire service.
Flames fuelled by strong Mediterranean winds spread quickly from a wooded area towards the sea, which lies 8km away, ripping through residential areas and several campgrounds.
Firefighters rushed to evacuate campers via land and sea.
Eight civilians and 14 firefighters suffered minor injuries in the Martigues blaze and five others that erupted in the area on Tuesday, the fire service said.
The fire also destroyed several businesses and led to the evacuation of nursing home residents and others at risk.
Other fires in the towns of Port-de-Bouc, Aubagne-Carnoux, Gignac-la-Nerthe and Fontvieille were brought under control.
The cause of the fire is yet unknown.
Authorities have banned any controlled fires in the area or construction work involving sparks or hot equipment until the fires are extinguished, as winds continued on Wednesday morning and the weather across France is currently dry and hot.
Additional reporting by AP
Register for free to continue reading
Registration is a free and easy way to support our truly independent journalism
By registering, you will also enjoy limited access to Premium articles, exclusive newsletters, commenting, and virtual events with our leading journalists
Already have an account? sign in
Register for free to continue reading
Registration is a free and easy way to support our truly independent journalism
By registering, you will also enjoy limited access to Premium articles, exclusive newsletters, commenting, and virtual events with our leading journalists
Already have an account? sign in
Join our new commenting forum
Join thought-provoking conversations, follow other Independent readers and see their replies