Franco's minister quits Spanish politics, aged 89
Alasdair Fotheringham
Saturday 10 September 2011 00:00 Comments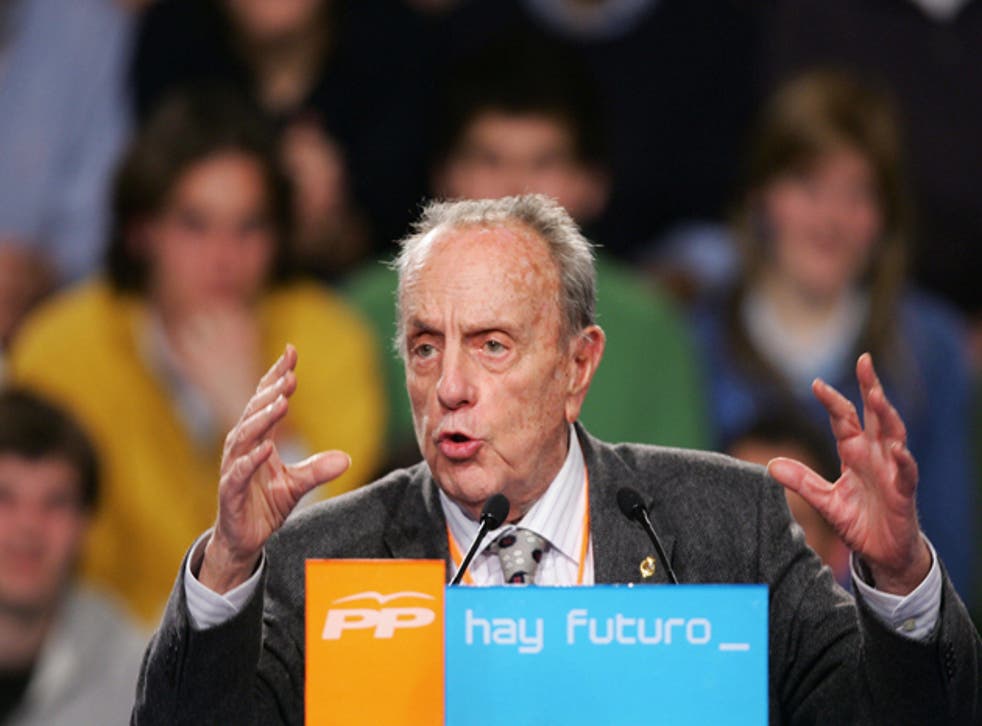 The last minister still active in Spainis politics who served under the dictator General Francisco Franco is set to quit the national stage.
Manuel Fraga, 89, will not stand in the country's forthcoming general elections, according to sources.
Mr Fraga, one of the great survivors of Iberian politics, played an active role in Franco's regime and in drawing up the constitution that replaced it. He was also the co-founder of the predecessor of Spain's main opposition party and is now a senator in parliament's upper house.
As Franco's minister of tourism and information in the 1960s, Mr Fraga was responsible for legislation that eliminated censorship, but only for newspapers. Books, radio and television were subject to even stricter and more arbitrary judgements.
Fraga's most famous international appearance came in 1966 when he bathed in the Meditteranean with the US ambassador to 'prove' that there was no fall-out after a US nuclear bomber collided with a supply plane over the coastal village of Palomares and jettisoned four hydrogen bombs. To this day, some areas near the village in south-eastern Andalusia remain fenced off and an official report has never been produced.
Mr Fraga defended Franco in a 2007 interview, comparing him favourably to Napoleon.
Register for free to continue reading
Registration is a free and easy way to support our truly independent journalism
By registering, you will also enjoy limited access to Premium articles, exclusive newsletters, commenting, and virtual events with our leading journalists
Already have an account? sign in
Join our new commenting forum
Join thought-provoking conversations, follow other Independent readers and see their replies