François Fillon vows to stay in French presidential race despite corruption probe
Polls show Les Republicains' chances slipping as party members urge him to stand aside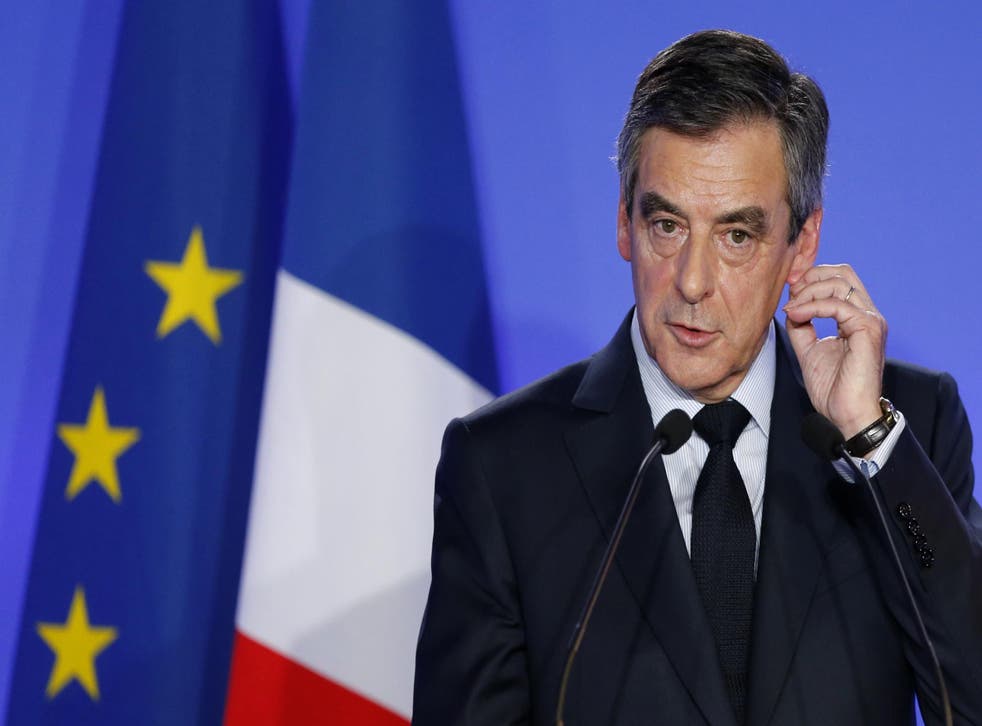 The Conservative candidate François Fillon has insisted he will not withdraw from the French presidential race despite allegations his wife received €830,000 ($900,000) of taxpayer money for work she did not do.
Mr Fillon apologised for what he called an "error of judgement" and promised to publish his assets online, but remained adamant his wife's work as a parliamentary assistant for over 15 years had been legal and genuine.
The 62-year-old vowed to launch a renewed campaign effort despite members of his own party Les Republicains urging him to quit the race to preserve the right's chances.
"A new campaign starts this evening," he told a news conference. "I am the only candidate which can bring about a national recovery."
Mr Fillon had been favourite to win the presidency in what had looked a likely contest between himself and the far-right Front National leader Marine Le Pen on 7 May, after the field is whittled down to two in 23 April's first round of voting.
However, his approval ratings have since plummeted, with a survey by Pollster Opinionway now placing independent candidate Emmanuel Macron in the lead, who quit the Socialist Party last year to form a new centrist movement called En Marche!.
Dr Joseph Downing, a French politics expert and fellow at France's National Centre for Scientific Research (CNRS), believes the damage to Mr Fillon's reputation represents a serious obstacle for the conservatives to overcome ahead of the first round.
"However much he might think he has not done anything wrong, there is no coming back for his credibility – you simply cannot run on a pro-reform platform with your hand in the cookie jar," he told The Independent.
"He has gone from being the favourite to being lucky if he comes in third place. It is too much money, too personalised, it smacks of everything the French are tired of."
It is relatively commonplace for French legislators to employ relatives in their office, however, Mr Fillon is now fighting allegations that not only his wife but also his children were employed in a fictitious capacity.
French National Front policies

Show all 9
Police carried out searches at the Senate in connection with the allegations on Friday, looking in particular for information concerning payments made to his son Charles and daughter Marie.
Mr Fillon has consistently denied all allegations, accusing his critics of trying to hijack the election from the right. However, he did accept that such hiring practices "create distrust nowadays".
"It was a mistake, which I deeply regret, and I apologise to the French people," he said.
It came as a prime-time French TV programme aired a decade-old interview in which Mr Fillon's wife Penelope appeared to say she had no role as an employed assistant.
"I have never actually been his assistant or anything like that. I don't deal with his communication," she said in that interview with The Daily Telegraph.
According to an Odoxa poll for franceinfo radio, 61 per cent of voters now believe the candidate is wrong to persevere in his presidential bid.
However, Dr Downing believes the French right have very few options but to back Mr Fillon's candidacy, just 11 weeks from the first round of voting.
"In terms of other possible candidates, Alain Juppé was convicted of corruption in the 90s, Nicolas Sarkozy is embroiled in a corruption scandal so he has the same sort of credibility problems and he does not have the popular support," he said.
"It is unclear whether he wants to stay in the race or if Les Republicains just do not have another suitable candidate."
The stakes are high for the party, which is battling to return to power after five years of socialist rule under President Francois Hollande.
Join our new commenting forum
Join thought-provoking conversations, follow other Independent readers and see their replies