French government minister accuses Francois Fillon of 'deep contempt' over autism remarks
Mr Fillon has urged supporters 'not to give up the fight' over his presidential candidacy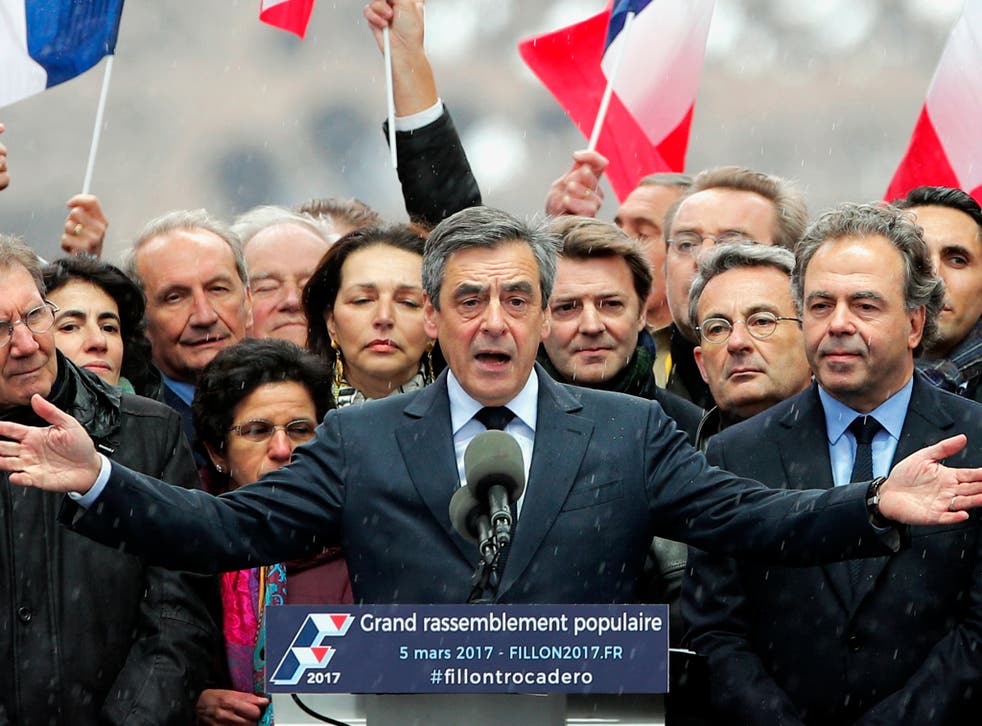 France's Minister of State for Disabled People has accused Francois Fillon of being in "deep contempt" of people living with autism, after the conservative candidate repeatedly said during a television interview that he was "not autistic".
Defending his decision not to withdraw from the country's presidential race, Mr Fillon, who is resisting mounting pressures to end his candidacy after weeks of being mired in scandal, told the France 2 presenter: "The answer is no. I have no reasons to do that [pull out].
"I am not autistic, I can see difficulties and I am aware of the criticism," he said.
At another moment in the interview, he said: "I am not shutting myself away, I am not autistic, I want to convince my political family."
In a tweet, Segolene Neuville, who is the minister of state in charge of disabilities and of tackling exclusion, said: "Heavy mistake from Francois Fillon, who said several times in the evening news 'I am not autistic'."
"This is the sign of deep contempt for people living with disorders from the autistic spectrum," she continued.
The position of the right-wing candidate has been weakened after he announced he was being summoned for official questioning over allegations he paid his wife and children substantial sums for parliamentary work they never carried out.
The couple deny any wrongdoing.
"If I had been investigated two months ago, I would not have been a candidate in the presidential election," he said, before adding that calls for his resignation were "a democratic hold-up".
Questions have been raised over the 63-year-old's integrity after he repeatedly said during the conservative primary that he would be an "irreproachable" candidate and that he would stand down if ever he was officially investigated.
He made the comments because both his rivals Alain Juppe and Nicolas Sarkozy were investigated while holding a public office.
Immediately following Mr Fillon's interview, Mr Juppe, who lost to Mr Fillon in the November party primary, announced that he will hold a press conference on Monday morning.
This comes as senior conservative politician have called on Mr Juppe to replace Mr Fillon as the right-wing candidate.
World news in pictures

Show all 50
A poll by Ifop, published in the Journal du Dimanche this weekend, also suggested Mr Juppe was the best placed to step in. He received a personal approval rating of 64 per cent compared to 29 per cent for Mr Fillon.
Earlier in the day, Mr Fillon held a rally on the Trocadero in Paris, opposite the Eiffel Tower to show his opponents he still enjoyed the backing of a large body of supporters.
Speaking in front of a crowd of thousands, he urged supporters "not to give up the fight".
For the first time since "fake work" allegations emerged, his Wales-born wife Penelope Fillon hit back at her opponents and defended herself by saying she worked for her husband, helping him manage his constituency commitments.
Opinion polls continue to show Mr Fillon would fail to make it to the second round of the election. Instead, centrist candidate Emmanuel Macron is benefiting from a boost in the polls and is consolidating his position to win the election in a head-to-head against Front National candidate Marine Le Pen.
The first round of the French elections will be held on 23 April and all presidential candidates must be formally endorsed by at least 500 elected officials before 17 March.
Join our new commenting forum
Join thought-provoking conversations, follow other Independent readers and see their replies