Putin willing to extend ceasefire in Syria as Hollande accuses Russia of war crimes
France and Germany refuse to rule out sanctions against Russia over Syria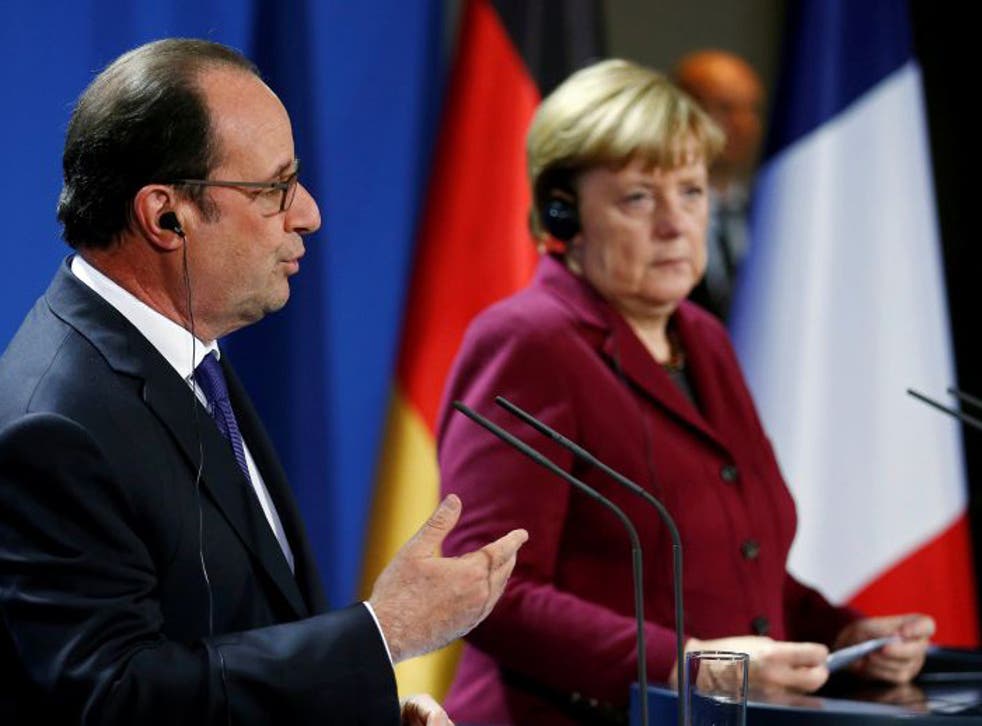 Vladimir Putin gave hope that Russia would halt air strikes on Aleppo indefinitely following a meeting with the French and German leaders, who both condemned Russia's bombardment of the city.
During talks, French President Francois Hollande said: "What is happening in Aleppo is truly a war crime".
Russia had promised that the Syrian government strikes, which are supported by Moscow, would be suspended for eight hours on Thursday to allow civilians to leave the besieged city and for rebels to flee.
"We informed them of our intention to continue, as much as possible, considering the situation on Syrian territory, a pause in the air strikes," Mr Putin said after meeting the leaders in Berlin
"We are ready to do this for as long as there are no clashes with rebel formations entrenched in Aleppo."
Mr Hollande, speaking separately after the meeting, said: "I can't put myself in [Mr Putin's] place but what I understood was that he would go beyond the eight hours announced.
Ms Merkel called the air raids on Syria's second city as "inhumane and cruel". She described the talks on Aleppo as "very hard."
World news in pictures

Show all 50
Both leaders warned they could not exclude imposing sanctions on Russia, just ahead of an EU summit where Russia's actions in Syria were to be discussed.
"We can't deny ourselves the option but the priority has to be to help people," Ms Merkel said.
"Everything that can constitute a threat can be useful," Hollande said.
Additional reporting by Reuters and Associated Press
Register for free to continue reading
Registration is a free and easy way to support our truly independent journalism
By registering, you will also enjoy limited access to Premium articles, exclusive newsletters, commenting, and virtual events with our leading journalists
Already have an account? sign in
Register for free to continue reading
Registration is a free and easy way to support our truly independent journalism
By registering, you will also enjoy limited access to Premium articles, exclusive newsletters, commenting, and virtual events with our leading journalists
Already have an account? sign in
Join our new commenting forum
Join thought-provoking conversations, follow other Independent readers and see their replies