François Hollande ousts Nicolas Sarkozy to become president
Humbled Sarkozy is the first President to miss out on second term in 30 years. Jubilant Socialists hail Hollande's win as rejection of eurozone's austerity drive
John Lichfield Comments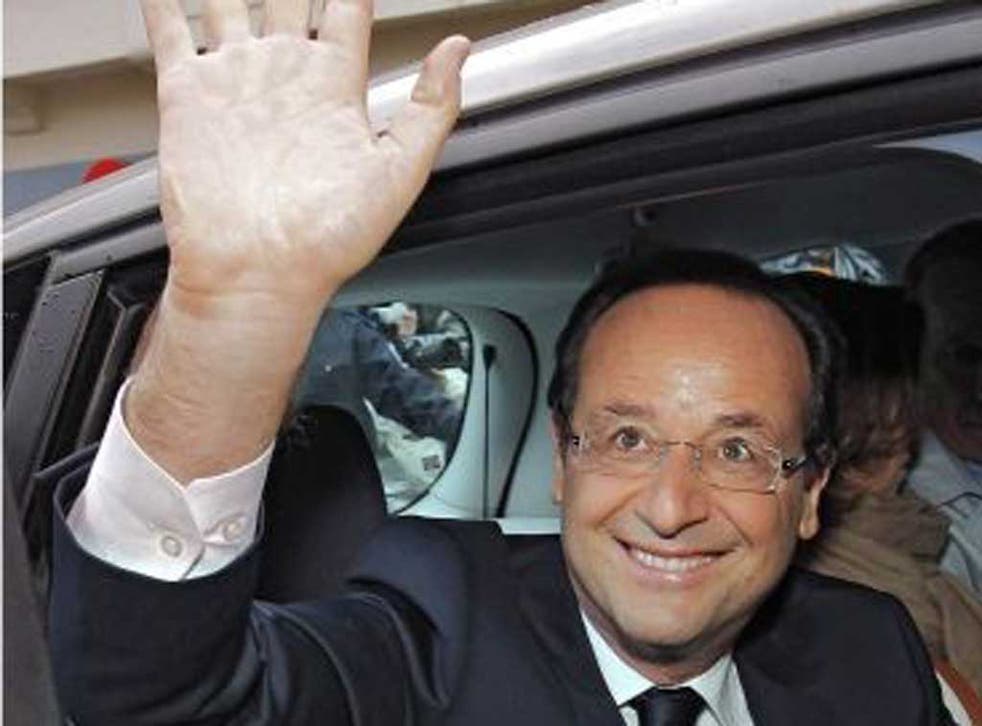 François Hollande scored a narrow victory in the French presidential election last night and now has seven weeks to persuade the world that it can live with the new, Socialist face of France.
President Nicolas Sarkozy became only the second incumbent in half a century to be booted out of the Elysée Palace. In a humiliating disavowal of his erratic behaviour and record in office, and his use of divisive far-right themes during the campaign, 51.2 per cent of French voters chose to entrust their destiny to the moderate but inexperienced Mr Hollande.
The President-elect told a cheering crowd in his rural fiefdom of Tulle in south-west France last night that he wanted to be judged on his capacity to revive the "French dream". This meant, he said, "fairness to all," new opportunities for "the young" and "better lives, from one generation to the next".
"Europe is looking at us," he said. "In many European countries this victory will be received with relief and hope... as a sign that the austerity-only approach to the crisis is not inevitable."
In a dignified concession speech, soon after congratulating the winner by phone, Mr Sarkozy said that he would now become a "an ordinary Frenchman among others" – implying that he intended to retire from politics.
The new French leader – only the second centre-left President in 50 years of French presidential politics – has to hit the ground running. He will attend G8, Nato and European Union summits before the end of next month.
He will announce at the Nato summit the departure of French troops from Afghanistan by the end of this year. In Brussels, he will refuse to ratify the European treaty on fiscal discipline unless Berlin gives ground on new EU growth-boosting infrastructure projects.
The official count late last night gave Mr Hollande around 51.2 per cent of the nationwide vote – below what the final opinion polls and early estimates had indicated. Although the turnout was more than 80 per cent, there were an estimated 2,000,000 spoiled ballots, suggesting widespread dissatisfaction with both candidates.
A vast and ecstatic crowd of mostly young Socialist supporters gathered in the Place de la Bastille in central Paris, firing flares, brandishing red roses and waving French tricolour and red flags. Mr Hollande was expected to fly from Tulle to address them late last night.
The self-declared "Monsieur Normal"becomes the first Socialist president since his late mentor and boss, François Mitterrand in 1981-88. He has promised budgetary discipline with "fairness" to reduce the French budget deficit to zero by 2017. He has been specific about new taxes on the rich – including a 75 per cent tax on marginal incomes of more than €1,000,000 – but he has been less specific about cuts in public spending.
President Sarkozy had hoped until the end to snatch a victory by attracting a large proportion of the 17.9 per cent voters who went to the far right in the first round on 22 April. He has campaigned with increasingly divisive rhetoric in the last two weeks, in effect accusing Mr Hollande of being the preferred candidate of Islam and the man who would open the floodgates to legal and illegal immigration.
Mr Sarkozy said last night that he accepted "full responsibility for this defeat... I want to wish [Mr Hollande] the best of luck in the challenges that lie ahead." The official transfer of power must take place by Wednesday of next week but may be brought forward because of the crowded international schedule. Within days of taking office, Mr Hollande must travel to the United States for a G8 summit at Camp David on 18-19 May and a Nato summit in Chicago on 20-21 May.
There is also an EU summit in Brussels at the end of June. This will discuss Mr Hollande's refusal to accept harsh fiscal medicine to save the euro unless it is accompanied by ambitious, EU-wide investments funded by the European Central Bank.
Mr Hollande spoke last night to the German chancellor, Angela Merkel, who has refused until now to allow the ECB to print money for reflationary projects of this kind. They agreed that he should visit Berlin immediately after he takes office. The new French President hopes to persuade Ms Merkel to reopen the fiscal discipline treaty agreed in Brussels in December.
The President-elect must also rapidly consider his choice for the Prime Minister of a future centre-left government. The favourites are the former Employment Minister, Martine Aubry, 60, and the leader of the Socialist group in the national assembly and mayor of Nantes, Jean-Marc Ayrault, 62. The new Prime Minister must immediately lead the Socialists into parliamentary elections on 10 and 17 June.
Mr Hollande has been a senior figure in Socialist politics for more than two decades but has never held ministerial office. He has four grown-up children with his former partner, Ségolène Royal, who was defeated by Mr Sarkozy in the 2007 presidential election.
Mr Hollande's new partner, Valérie Trierweiler, 47, is a television journalist who insists that she will continue to work. She and Mr Hollande must decide whether, at some time in his crowded schedule of the coming weeks, they should get married.
There is no precedent, other than the few weeks before Nicolas Sarkozy's marriage to Carla Bruni in February 2008, for a "First Girlfriend" in the Elysée Palace.
Code breaker: Radio Londres
It was used in the Second World War to send messages to la Résistance as they fought the Nazi occupiers.
Yesterday, Radio Londres had returned as part of a new resistance: voters used the broadcaster's name as a tag on social networks to mark coded reports of exit polls, in a bid to circumvent a law banning election polls until the official announcement.
Many people assigned the two candidates nicknames. "European Curling championship: the Dutch are ahead of Hungary", wrote one; referring to Mr Hollande's name and Mr Sarkozy's Hungarian parentage.
"Dwarf-tossing championship ... record is 53 metres," wrote another in a reference to Mr Sarkozy's height.
Kevin Rawlinson
WHO I VOTED FOR – AND WHY. FRENCH VOTERS HAVE THEIR SAY
"Sarkozy has the experience and the strength to lead the country through difficult times. If Hollande wins, we will be crushed by events." Esther Hattab, 63, company secretary. Voted Sarkozy
"I voted for François Bayrou in the first round. Hollande's economic programme is a calamity, Sarkozy has gone too far to the right." Julien Dupont, 23, computer technician. Voted unknown
"Hollande is a decent man, who will try to repair the country without forgetting ordinary people. I come from the working class. Social policy is important." Delphine Hernoux, 35, travel executive. Voted Hollande
"I only decided inside the polling station. I was going to vote blank but there were no blank voting slips so I went for Sarkozy... the least bad." Nicole Brezinski, 70, retired. Voted Sarkozy
"The country needs a man who will rule wisely and ... Hollande had the sense to see, before others, that Europe needs growth creation, not just fiscal discipline." Alexandre Aidara, 40, judge. Voted Hollande
"I voted for Hollande because I am a man of the left but I would have preferred someone more full-blooded. I voted for Mélenchon in the first round." Gerard Mantay, 63, art teacher. Voted Hollande
"I vote to the right but I have confidence that Sarkozy is the right man. He needs 10 years to make a difference. Hollande just doesn't have the character or experience." Franck Crelier, 25, law student. Voted Sarkozy
Register for free to continue reading
Registration is a free and easy way to support our truly independent journalism
By registering, you will also enjoy limited access to Premium articles, exclusive newsletters, commenting, and virtual events with our leading journalists
Already have an account? sign in
Join our new commenting forum
Join thought-provoking conversations, follow other Independent readers and see their replies