Francois Hollande secretly sought DSK's advice in run-up to 2012 French elections
The revelation comes at an embarrassing time for President Hollande, as Dominique Strauss-Kahn takes the stand in his 'pimping' trial in Lille
John Lichfield
Monday 09 February 2015 19:21 Comments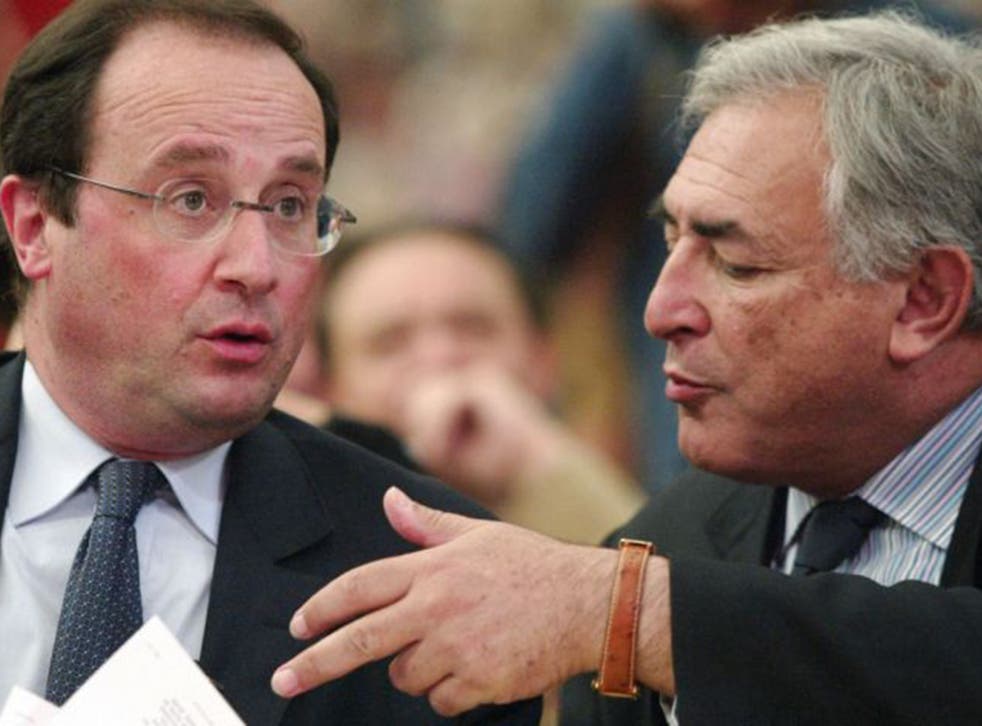 The future President François Hollande secretly sought the advice of the disgraced former IMF chief Dominique Strauss-Kahn a few weeks before he was elected in 2012.
Mr Strauss-Kahn, then facing multiple allegations of sexual misbehaviour, even sounded out the German Chancellor Angela Merkel on Mr Hollande's behalf, Le Figaro reported yesterday.
The revelation – just before DSK takes the stand for the first time today in his "pimping" trial in Lille – is embarrassing for President Hollande.
Mr Strauss-Kahn has officially been shunned by his former Socialist colleague since he was accused of attempted rape in a New York hotel room in 2011. Le Figaro reported that "early in 2012" when Mr Hollande was favourite to win the election that spring he asked Mr Strauss-Kahn to meet him secretly at the home of a friend. The future President asked the former IMF chief for advice on economic policy.
Le Figaro reported Mr Hollande had asked Mr Strauss-Kahn to "sound out the Germans" on his plans for the economy. DSK then spoke on Mr Hollande's behalf to Chancellor Merkel but also to the then Luxembourg Prime Minister, Jean-Claude Juncker.
The newspaper said "several sources in DSK's entourage" had revealed the former IMF chief "sold a good deal" for economic recovery. In Mr Strauss-Kahn's view, President Hollande's difficulties can be traced to his failure to put this deal into practice.
Register for free to continue reading
Registration is a free and easy way to support our truly independent journalism
By registering, you will also enjoy limited access to Premium articles, exclusive newsletters, commenting, and virtual events with our leading journalists
Already have an account? sign in
Join our new commenting forum
Join thought-provoking conversations, follow other Independent readers and see their replies