Franz-Peter Tebartz-van Elst: Germany's 'Bishop of Bling' in new scandal over penthouse flat in Rome
The Church has already come under fire for creating a high-profile post for the disgraced churchman
Michael Day
Sunday 13 September 2015 18:18 Comments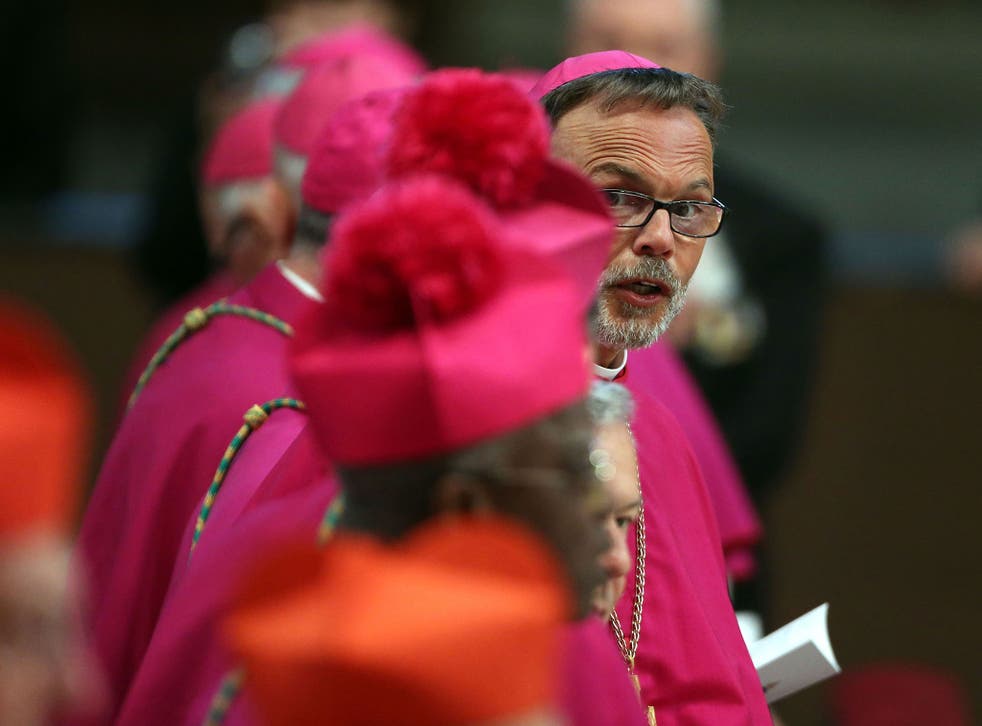 Germany's "Bishop of Bling", who was removed from his post in Limburg by Pope Francis after spending extravagant amounts of church money on home improvements, including €350,000 (£257,000) on walk-in wardrobes, is now living the high life in Rome, it is claimed.
Franz-Peter Tebartz-van Elst was summoned to the Vatican for a dressing down in October 2013, when it emerged he'd spent €31m on renovations.
A spokesman for the Holy See then announced that the high-spending clergyman would go on a "period of leave from the diocese".
But earlier this year it emerged that the German Bishop had been given an impressive-sounding job in Rome as "delegate for catechesis" at the Pontifical Council for the Promotion of the New Evangelisation.
And according to a report this weekend in a local paper, The Italian Insider, Bishop Tebartz-van Elst is enjoying suitably luxurious accommodation to go with his new job – a 200sq m penthouse close to Rome's most famous and celebrated central square, Piazza Navona.
Pope Francis gives life advice: in pictures

Show all 10
The apartment, with a large terrace, is only yards away from the five-star Hotel Raphael, where the notoriously corrupt former Prime Minister Bettino Craxi commandeered an entire floor before fleeing the country in disgrace in 1994.
The Vatican spokesman Father Federico Lombardi told The Independent that he did not wish to comment on Bishop Tebartz-van Elst's new accommodation. "I don't know anything about this. It's nothing to do with me and I don't wish to comment on this gossip," he said.
But the Church has already come under fire for creating a high-profile post for the disgraced churchman. When news of his new role in Rome emerged in March this year, Snap, the Survivors Network of those Abused by Priests, suggested it was indicative of a climate of venality.
"This is why corruption in the Church hierarchy continues," the group declared. "And it's why the supposed 'new policies' to deal with irresponsible bishops won't work. Because virtually no wrongdoer is ever harshly disciplined. And even when a prelate's misdeeds are so egregious that the Vatican must act, the 'discipline' is temporary."
The German's rapid rehabilitation surprised many. He had been groomed as a rising conservative theologian under Pope Benedict XVI. But the current Pontiff, Francis I, is known to take a dim view of pomp and ceremony and has made it plain he wants a back-to-basics church.
However, when news of Bishop Tebartz-van Elst's appointment in Rome emerged in February, the Vatican expert John Thavis said that "parking problematic bishops in the Curia is a bit of a Vatican tradition". He noted the former Archbishop Emmanuel Milingo got a job in Rome after he was removed from his Zambian diocese over faith-healing practices in 1983. And in 2011, the Portuguese Bishop Carlo Azevedo ended up in a newly created position of delegate at the Pontifical Council for Culture following disagreements with the patriarch of Lisbon.
Fortune has continued to smile on Bishop Tebartz-van Elst. Last week it emerged that he would not have to pay the £2.8m claim for damages which the diocese of Limburg in Germany planned to file against him in a Vatican court, The Tablet reported.
Register for free to continue reading
Registration is a free and easy way to support our truly independent journalism
By registering, you will also enjoy limited access to Premium articles, exclusive newsletters, commenting, and virtual events with our leading journalists
Already have an account? sign in
Join our new commenting forum
Join thought-provoking conversations, follow other Independent readers and see their replies