French election debate: Official probe launched as Marine Le Pen is accused of deploying 'fake news' against Macron
Front National candidate repeats apparently false claim that her rival owns an offshore account in the Bahamas 
Chloe Farand
Paris, France
Thursday 04 May 2017 18:58 Comments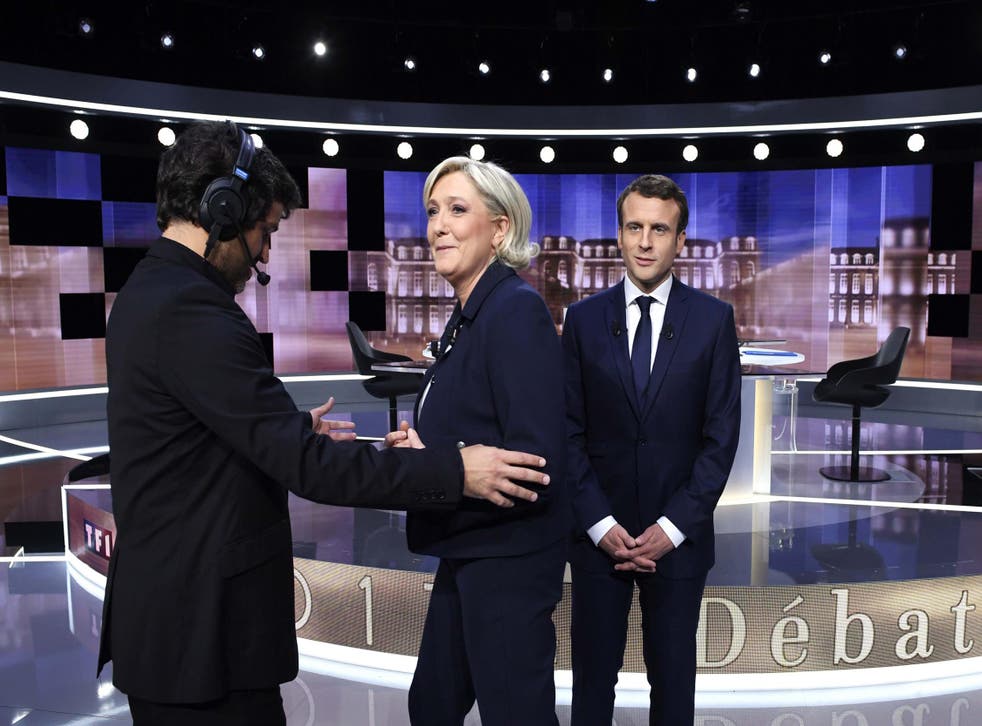 Marine Le Pen has been accused of using "fake news" during a head-to-head debate with Emmanuel Macron days before the final vote of France's presidential election, after she alluded to allegations circulating online that her rival has an offshore account in the Bahamas.
Mr Macron filed a legal complaint on Thursday, prompting the Paris prosecutor's office to open a formal investigation into whether falsified documents and false online news were being used to influence voting ahead of Sunday's second round ballot.
The Front National candidate, who has been urged by her father and predecessor as party leader to adopt a "Trump-style" campaign, asked Mr Macron if the online rumours about his personal finances were true during a virulent exchange watched by 15 million people.
The allegations, which appear to have originated on a right-wing website in the US, dominated the penultimate day of what has become an acrimonious election.
Ms Le Pen was met with a hostile reception when she made one of her last campaign stops to the Brittany region. French TV footage appeared to show her being hit with an egg thrown by protesters shouting "out with fascists" as she arrived at a logistics company in Dol-de-Bretagne.
And it was no easier going for the centrist candidate, who was met with booing and chants from disgruntled workers and union officials on a visit to a glass factory in Albi, near Toulouse. Mr Macron spoke to them for around 15 minutes, appearing to restore some calm. One union leader, Michel Parraud, called him "very kind and very polite" – but added he still didn't think a Macron presidency would do much for factory workers.
Late in the day, the former US President Barack Obama gave Mr Macron his support in a dramatic late intervention. In a video message, Mr Obama said he was endorsing the centrist "because of how important this election is", to Europe and France and "the values that we care so much about".
But it was the allegations about the former investment banker's finances from Wednesday night's proceedings that dominated most of the election coverage.
Asked on BFM TV on Thursday morning if she had any proof to justify repeating the claims, Ms Le Pen admitted she did not.
She said she was not formally accusing Mr Macron of any wrongdoing. "Not at all," she said. "If I wanted to do so I would have done it yesterday. I've just asked him the question. If I had proof, I would have claimed it yesterday."
Speaking on French radio France Inter, Mr Macron denied the accusations and said he did not have any account in the Bahamas or any other tax haven. His team said the former investment banker was the victim of a "cyber misinformation campaign".
The original source of the claims remains unclear. There have been various reports citing intelligence sources as saying Russia is targeting Mr Macron in a campaign conducted online. Disobedient Media, which was founded in California by the right-wing journalist William Craddick, attributed the claims to "leaked documents" when it first reported them on Wednesday afternoon.
Nicolas Vanderbiest, a commentator for France Culture, tweeted: "So the fake news story on Macron's account in the Bahamas, we can say without being misleading, that it was by the Russians."
Le Monde, a French newspaper debunked 19 things Ms Le Pen said during the debate that were untrue and two for Mr Macron.
"It appears clear that if Mr Macron was not always [showing] total respect for the facts, Ms Le Pen made a lot of approximations and falsehoods," writes the newspaper.
An ardent critic of the EU, Ms Le Pen claimed the UK economy was better off since the Brexit referendum.
"The UK economy has never been better off since people decided to take back their liberty," she said.
French Presidential Election

Show all 20
The UK economy grew more rapidly than most analysts expected in the wake of last June's Brexit vote and avoided a recession. However, the pound slumped to a 31-year low against the dollar on the night of the vote and inflation is now shooting upwards to 3 per cent as a result. In the first quarter of 2017 the rate of quarterly UK GDP growth more than halved on the previous three months to just 0.3 per cent amid multiplying signs of previously buoyant UK consumers beginning to flag.
Ms Le Pen also claimed the euro currency was circulating before 1999 and that the EU was costing France €9bn a year, statements which Le Monde said are both untrue.
Late on Thursday, Ms Le Pen's team made its own complaints about the activity of hackers, claiming an online activist had confessed to repeatedly targeting and temporarily disabling far-right candidate's website.
The statement from the Le Pen campaign did not include many details and only said the attack happened "this week". Police and prosecutors declined to comment, and the campaign itself did not immediately respond to a request for more information.
Register for free to continue reading
Registration is a free and easy way to support our truly independent journalism
By registering, you will also enjoy limited access to Premium articles, exclusive newsletters, commenting, and virtual events with our leading journalists
Already have an account? sign in
Join our new commenting forum
Join thought-provoking conversations, follow other Independent readers and see their replies