In the bellwether city of Chartres, the French election is too close to call
For many in Chartres, the Fillon debacle isa factor behind their indecision
Patrick Vignal
Chartres
Thursday 09 February 2017 18:55 Comments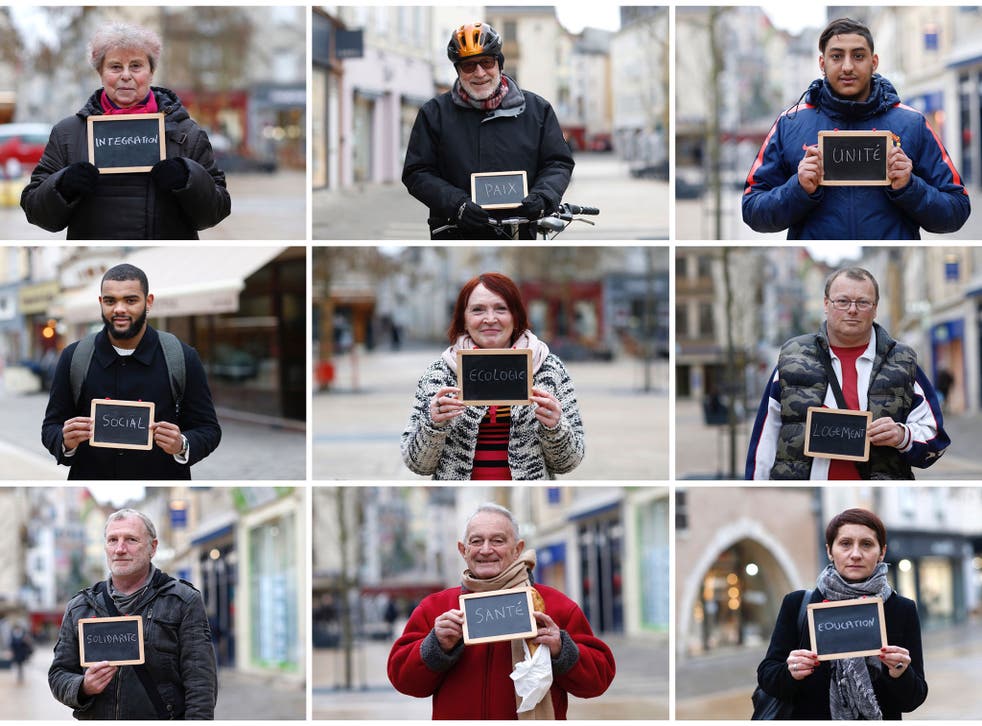 Chartres has in past decades been a bellwether for France's presidential elections, but ahead of this spring's poll the signal from this white-collar city appears to be blurred by a scandal that has fed into a wave of anti-establishment feeling.
In at least the past four elections, the affluent city famous for its towering 13th-century gothic cathedral has voted in close alignment with the final national result.
Lying in the Beauce plain 56 miles south-west of Paris, Chartres counts perfume makers including Guerlain and Danish pharmaceutical firm Novo Nordisk as local companies. It should be a fertile ground for centre-right challenger Francois Fillon.
The 62-year-old former Prime Minister's clean-cut, clean-living image had held appeal in Chartres, run for over 15 years by a conservative mayor.
But embarrassing revelations that his family for years benefited from large parliamentary salaries have hurt that image.
In a straw poll of 100 people in Chartres city centre, more than half said their vote is undecided. The survey intends to provide a snapshot of views in a single location and is not intended to reflect nationwide opinions. For many in Chartres, the Fillon debacle is a factor behind their indecision.
"We are living at a time when the word integrity is becoming meaningless for our politicians. We've had some blatant examples in the past week", 86-year-old Maurice Beauzac said.
Fillon looked a shoo-in for the Élysée Palace before the scandal surfaced two weeks ago, campaigning on a free-market platform to reduce regulation and haul down the stubbornly high unemployment rate.
Now opinion polls suggest he will crash out in the first round. So too will the candidate of the ruling Socialist Party, Benoit Hamon, the surveys indicate, as mainstream parties battle against a rising tide of populism across Europe.
France presidential race: Francois Fillon wins conservative candidacy
The favourites to reach the runoff vote on 7 May are the leader of the far-right Front National, Marine Le Pen, and independent challenger Emmanuel Macron who has yet to release a full manifesto.
Among those polled in Chartres, a quarter said unemployment was their number one concern, while a fifth named a lack of integrity, or honesty, as their main worry.
The high level of uncertainty in Chartres underlines how wide open the presidential race remains. It also points to the disaffection many voters feel towards the political elite.
"People are becoming less and less interested in politics," said Sebastien Renault, a 35-year-old florist. "It's a world of sharks out there, one eating the other."
It is a sentiment that will worry the main political parties, especially in a place where unemployment runs almost two points below the national average of nearly 10 per cent, and a median annual salary of €30,000 places it in the top 10 for cities of its small size.
"Like France, Chartres is fed up with the traditional political system but it's not only linked with the recent affairs," said Mayor Jean-Pierre Gorges.
"It's just that the situation in this country has been deteriorating for the past 40 years. Almost everybody has somebody in his family who is out of work."
France's outgoing President, Francois Hollande, was elected in 2012 on a promise to create jobs, winning the hearts of socialists by declaring banks to be his "main enemy" and pledging extra taxes for millionaires. But he later launched reforms -- including cutting corporate taxes and legislation to make it easier for companies to hire and fire -- that traditional socialists viewed as a betrayal of left-wing values.
Now it is the anti-European Union Le Pen who rails against free trade who is pitching herself as the true defender of French workers' interests.
Against this backdrop, some in the Front National are optimistic the party will get a boost from the Fillon scandal. "I think all of this clearly plays in Marine's favour," said Aleksandar Nikolic, the youthful head of the Front National's regional branch.
He expressed surprise that immigration and security ranked low among the concerns of those polled, saying, "When we ask the people here what their main concerns are, security and immigration clearly come first."
Reuters
Register for free to continue reading
Registration is a free and easy way to support our truly independent journalism
By registering, you will also enjoy limited access to Premium articles, exclusive newsletters, commenting, and virtual events with our leading journalists
Already have an account? sign in
Join our new commenting forum
Join thought-provoking conversations, follow other Independent readers and see their replies