French election: Why Front National supporters are secretly disappointed with their leader Marine Le Pen
They had expected her to win the first round, not be convincingly beaten by centrist Macron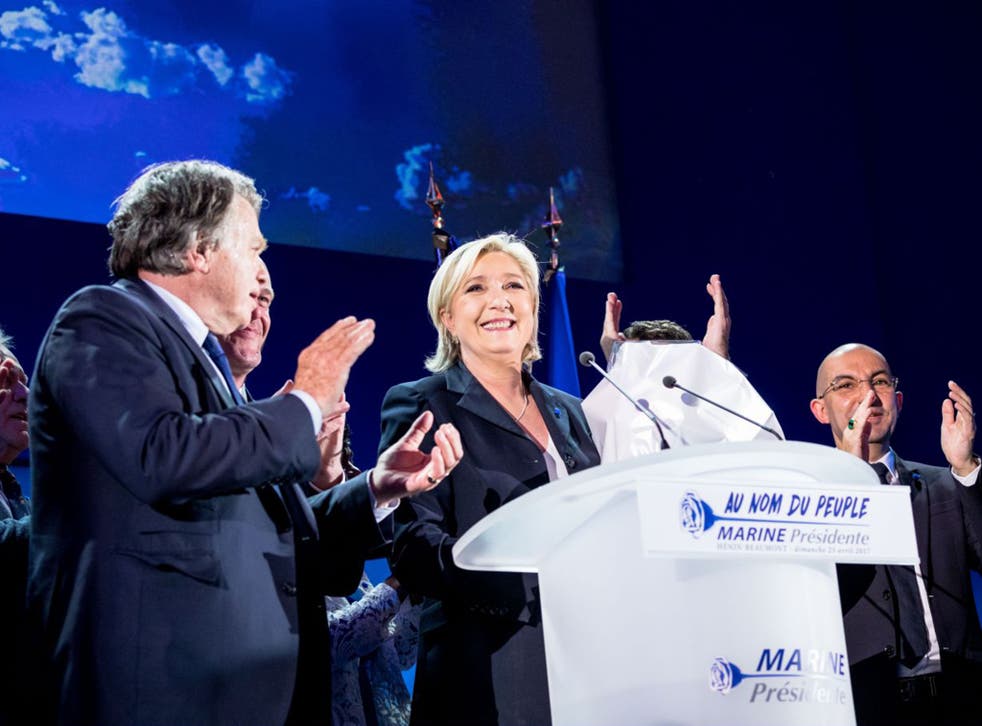 Marine Le Pen's Front National secured its greatest ever election performance on Sunday, taking 7.6 million votes – or 21.4 per cent of the electorate.
That was the picture drawn for the TV cameras yesterday at the party's headquarters in Hénin-Beaumont: champagne flowing, banners declaring "Marine for President", music and a party into the night.
But after their leader's speech, once the standing ovation was over, some confided their disappointment that Ms Le Pen had failed to finish ahead of Emmanuel Macron (who took 24 per cent) in the first round. One activist told The Independent: "I know our next President will be Macron." Raising a glass, he added: "It's still good that she made it to the second round – so let's celebrate anyway."
"The score is extremely disappointing, very far from what had been forecast in the polls of recent months," said Jean-Yves Camus, analyst and president of the observatory of radicalism at the Jean-Jaures foundation, pointing to surveys which at one point had Ms Le Pen miles ahead on 29 per cent.
"The polls had predicted for weeks that she would be ahead after the first lap – it's proof that something went wrong." When analysing the causes of what he calls Ms Le Pen's "failure", Mr Camus suggested the party needed to "get back to the fundamentals if it wants to break through".
Jean-Marie Le Pen, the former Front National (FN) leader, criticised his daughter on French radio station Europe 1 for abandoning the party's routes. While he praised her for making the second round, he said he would have wanted "a more dynamic, more aggressive, more French campaign, with less desire to detoxify".
In the end, while detoxification might have seemed the obvious route for Ms Le Pen to the Élysée Palace, Mr Camus said she was caught between two paths. "On the final stretch, she returned to her areas of predilection - security, immigration - but it was not enough [either]."
Stéphane Wahnich, a political analyst who has written two books about the FN leader, said Ms Le Pen's passage into the second round was "not really a victory". He said she was carried through by the party's strong voter base and "mainly thanks to Fillon, to voters disgusted by the fake jobs allegations [against him]".
"She had more difficulties than expected – the detoxification shows its limits," he said, adding that supporters hoped she might climb up from the mid-twenties to 30 per cent of the vote – not down to 21.
If the polls are right now, sitting around 22 points behind with two weeks to go, Ms Le Pen has virtually no chance of being elected in the second round. To compound matters, public figures from across the political spectrum have rallied round to offer Mr Macron their support, with only the far-left's Jean-Luc Mélenchon refusing to pick a favourite.
President François Hollande spoke on Monday afternoon, saying that "the presence of the extreme right is once again posing a risk to our country", putting what little political weight he has left behind his former economics minister.
Ms Le Pen did not ignore these pronouncements. Instead, during a rally in Rouvray, in the Pas-de-Calais, she lambasted the fact that "the old, rotten Republican front, which no one wants any more, that the French have rejected with a rare violence, is trying to get together with Mr Macron". "I almost want to say so much the better!" she added.
Here in Paris, Ms Le Pen won only 5 per cent of the vote. Like never before, the capital has shown itself to be a political singularity.
Xavier Paquet, 32, who works in marketing, told The Independent he was "not surprised by the score of the FN in major cities", especially in Paris and Lyon, where he grew up.
French Presidential Election

Show all 20
"Historically these cities vote less for FN because there are more top professions and valued jobs and more access to information and culture," he said.
Isabelle, a psychologist, voted for Macron and for her, the result of this first round showed that there was "a split between a part of the population that aspires to a profound change because they are disappointed, frustrated and deeply dissatisfied with their present situation, and another part more optimistic about the same situation".
She said she felt good about French society but recognises that she "speaks from a middle class position" with a better quality of life.
Guillaume, a Parisian lawyer, voted for François Fillon but was "disappointed that Macron is in the lead" and regretted "not to have voted for Marine in the first round". He assured The Independent that "in two weeks, I will cast a patriotic vote".
Jérôme, a 42-year-old photographer, was afraid that Ms Le Pen would be in the second round "and that's what happened". He said he voted for Mr Macron "out of pragmatism" to keep Francois Fillon out of the second round, on the basis he "had a chance". "I did not vote against Le Pen because I knew she had no chance of being elected in the second round," he said, though he "rejects both of them as much [as each other]. His Macron vote "is not a vote felt from the heart", he added. "It does not bother me that he's young but what he wants to do is blurry."
French Election: Macron and Le Pen to fight for presidency
For Mr Macron, the next two weeks are not just about winning the presidency. He must also persuade the public to back his start-up En Marche! party in National Assembly elections in June – or else he will fail to secure the parliamentary majority required to push through legislative changes.
Perhaps with that in mind, he will subject himself to a TV debate against Ms Le Pen between the two rounds, his team confirmed on Monday. Jacques Chirac refused such a debate when he was similarly ahead against Jean-Marie Le Pen in 2002.
Mr Camus said there was still time for the presidential favourite to build a functioning government, even without the backing of the old parties. "If someone who has his age, his background, his profile, finds himself in the second round, it is because something is happening, because there is a deep desire for change in our society."
But the election is not yet over, Mr Wahnich said, warning most pundits were "too quick to give Mr Macron the victory". Ms Le Pen could yet outperform the polls, with the potential for voter fatigue to kick in. "People go too fast in parliamentary elections, and there is a risk of heavy demobilisation," he said.
En Marche! has ballooned out of nothing in what has been an extraordinary 12 months in French politics. The concern is that it might just deflate, in a matter of as many days.
Register for free to continue reading
Registration is a free and easy way to support our truly independent journalism
By registering, you will also enjoy limited access to Premium articles, exclusive newsletters, commenting, and virtual events with our leading journalists
Already have an account? sign in
Register for free to continue reading
Registration is a free and easy way to support our truly independent journalism
By registering, you will also enjoy limited access to Premium articles, exclusive newsletters, commenting, and virtual events with our leading journalists
Already have an account? sign in
Join our new commenting forum
Join thought-provoking conversations, follow other Independent readers and see their replies