French election: Voters could be left with choice of two extremes – Marine Le Pen or Jean-Luc Melenchon
'If one of these two candidates is elected, it will propel our country into economic chaos'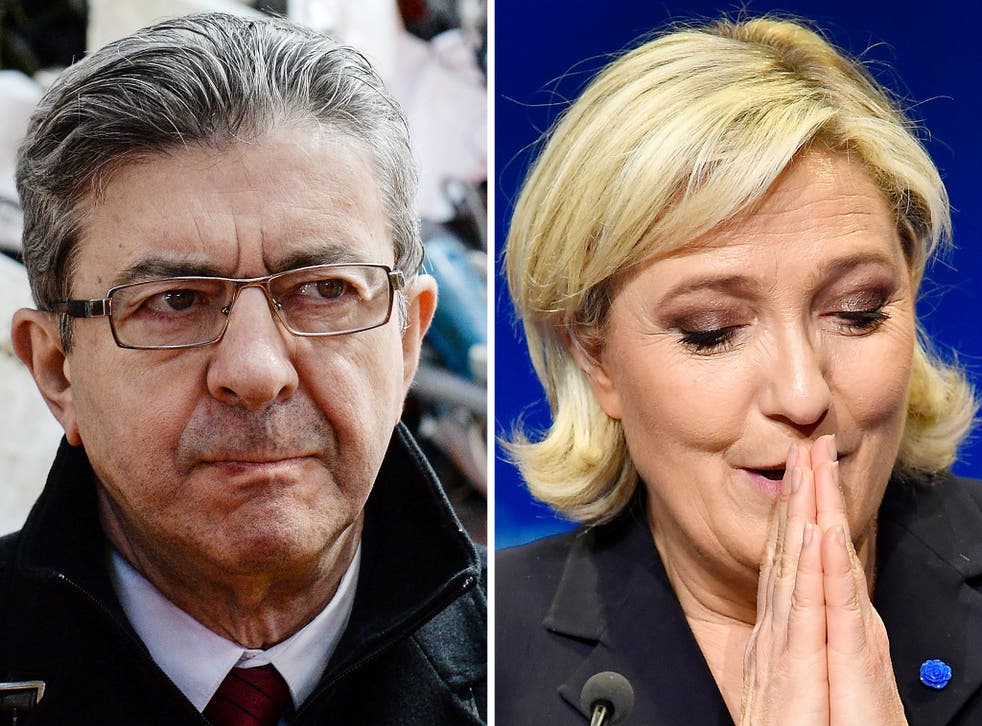 Days before France goes to the polls in the first round of the presidential election, the country has never experienced such a level of uncertainty.
Four candidates are neck and neck – François Fillon for Les Républicains, Emmanuel Macron and his party En Marche!, Marine le Pen, leader of the Front National, and Jean-Luc Mélenchon of La France Insoumise (France Unbowed). Every combination seems possible, even one seen by many as a catastrophic scenario: a second round with the far-right Le Pen up against the far-left Mélenchon.
"If one of these two candidates is elected, it will propel our country into economic chaos unmatched in our recent economic history," says Laurent Vronski, vice president of the entrepreneurs' association CroissancePlus.
"If we put in place a policy as imbecilic as the exit from the euro and the changeover to the franc, devaluation will be immediate and the rate of french debt will flare astronomically because investors will claim astronomical rates to guard themselves against risk," he predicts.
He judges the two candidates as equally dangerous and says they will put in place "an economic policy that will transform France into Greece in 50 years".
Le Pen has proposed a referendum on Frexit, while Mélenchon declared after Brexit: "Europe, for the French, it must be changed or left". He plans to stay in the European Union but only on one condition, that it be "refounded".
Mélenchon wants to put an end to the independence of the European Central Bank, a point on which Germany is very unlikely to agree. He intends subsequently to submit the result of these negotiations to the French people, or to leave Europe if they fail.
Marine Le Pen says France not responsible for WWII Jew round-up
Both Mélenchon and his far-right counterpart are for protectionism and strong interventionism, but Le Pen differentiates herself on themes dear to the Front National – identity, immigration and security. She was recently accused of trying to use terrorist attacks to her credit. "With me, there would have been no attacks at the Bataclan and Stade De France," she said this week, because the terrorists of the 2015 attacks would not have had French nationality under her leadership.
She already fuelled controversy earlier this month by claiming that the French "were not responsible for the Vel d'Hiv raid", a 1942 police roundup of 13,000 Jewish people in Paris who were sent to their deaths. Instead, she blamed it on the Vichy government allied with the Nazi occupation.
For several weeks, the candidate of the Front National has led the race to the election, but she has suffered a dip in recent weeks. If she qualifies for the second round, Le Pen does not seem able to win the election in any of the situations that could arise against Fillon, Mélenchon or Macron. Bruno Cautrès, a researcher at the Political Research Centre of Sciences Po, says: "The danger for Marine Le Pen is to become Jean-Marie, her father, because she is afraid of not qualifying, she returns to a harder policy."
However, is victory for Mélenchon conceivable? Mr Cautrès describes the situation as "not the most probable in view of the recent opinion polls, but it is not impossible". The candidate of France Unbowed records the most spectacular progress. In just one month, he progressed by 7.5 points and is practically on par with Fillon at 19 per cent.
World news in pictures

Show all 50
According to economist Marc Guillaume, Mélenchon is "much more dangerous for the financial markets and for the economy" than any other candidate. The election of Mélenchon would be "a disaster", he says, because "he has no economic coherence", other than "anti-capitalism". Mélenchon plans to increase the minimum wage by 16 per cent and to put a cap on salaries of €360,000 (£300,000) – beyond that, income would be taxed at 100 per cent. But one measure that may worry even more investors is his proposal "to establish a co-development policy with Latin America and the Caribbean by joining the Alba [the Bolivarian Alliance for the Peoples of Our America]". An alliance, chastened by Hugo Chavez at the time of its creation, which counts among its members Cuba and Venezuela, and among its observers Iran and Syria.
The result of the first round is more uncertain now than it has ever been, but Bruno Cautrès predicts with certainty that "investors will be very attentive to the data of abstention that will be known on Sunday night". Abstention tends to favour the extremes, both right and left.
Join our new commenting forum
Join thought-provoking conversations, follow other Independent readers and see their replies