French elections: Marine Le Pen vows to suspend immigration to 'protect France'
Front National leader proposes moratorium on long-term visas and tax on hiring foreign workers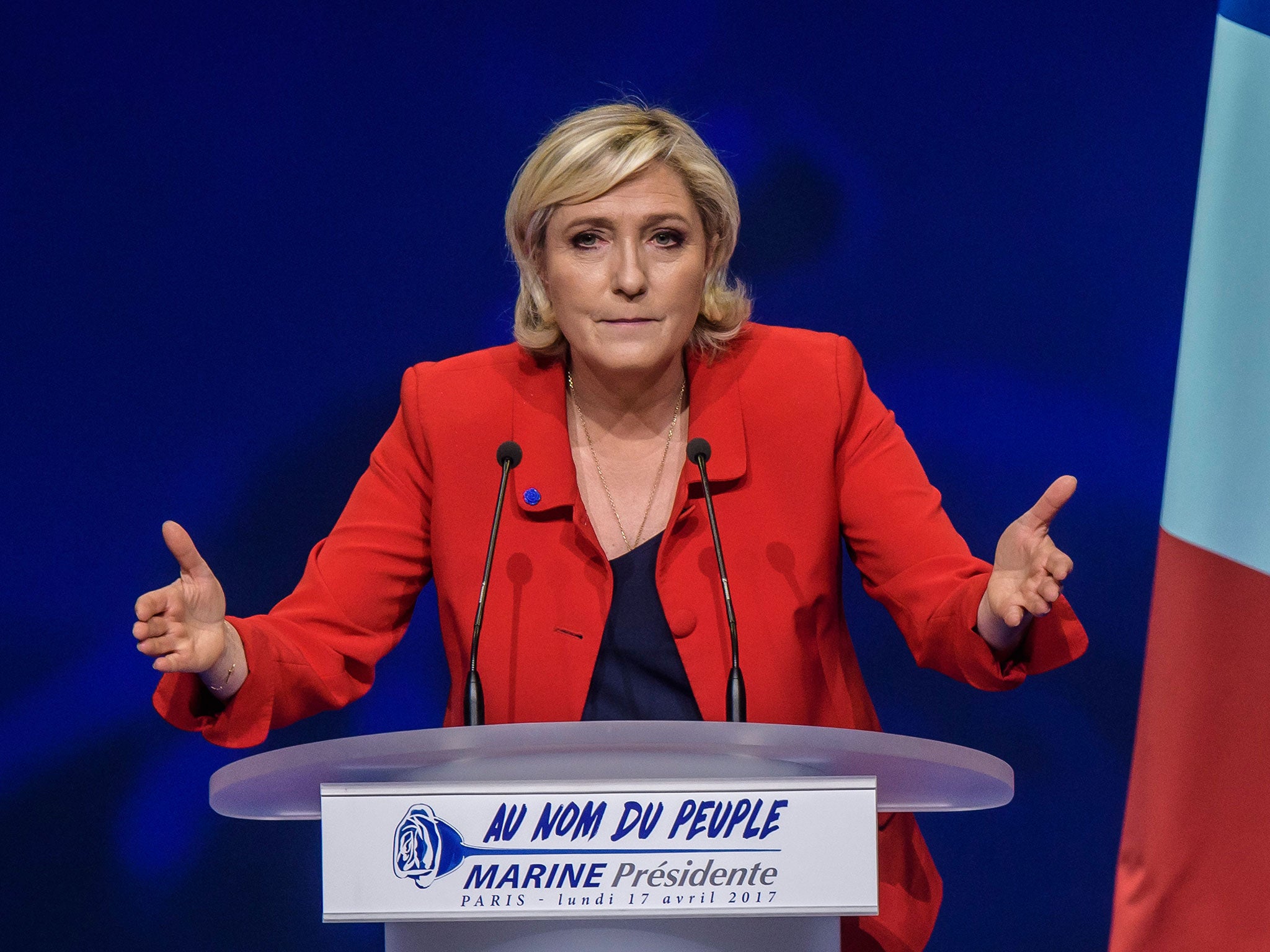 Marine Le Pen has claimed she will "protect France" with a vow to suspend immigration and defend the country against the threat of "savage globalisation".
With just days to go until the first round of voting in the presidential election, the far-right leader said she would mobilise thousands of reservists to guard French borders if elected.
"We are not a free country if we cannot control our territory," Ms Le Pen told RTL radio.
"With the serious terror threat that weighs on us, we have to be able to control who enters to be able to expel those who represent a danger."
Watched by thousands of supporters at a rally in Paris on Monday, the Front National leader announced plans for a moratorium on immigration to cut net migration to 10,000 people a year.
The proposal would freeze long-term visas and see any company hiring foreign workers hit with a 10 per cent tax.
Ms Le Pen said: "This does not constitute a moratorium on tourist visas, and we are also excluding students requesting their visa for the following year."
Topless FEMEN protester storms Front National stage and gets within a few feet of Marine Le Pen
She has cast the measure as an aspect of her policy of "economic patriotism", which aims to champion French farming and business in the face of "unfair" international competition.
But experts told RTL the measure would violate French law and any attempted visa suspension would be quickly reversed, comparing it to Donald Trump's frustrated attempts at an immigration ban in the US.
The past two years in France have seen almost 240 people killed in a series of Islamist terror attacks predominantly linked to Isis, putting security at the heart of the election campaign.
Ms Le Pen has used the massacres as a springboard for her anti-immigration policy, vowing to take France out of the EU and its border-free Schengen area and accusing the government of giving French nationals "fewer rights than foreigners".
"I will protect you. My first measure as president will be to reinstate France's borders," she told supporters chanting "This is our home!".
Ms Le Pen claimed her rivals wanted "savage globalisation", characterising the election as "a choice between a France that is rising again and a France that is sinking".
World news in pictures
Show all 50
"With me, there wouldn't have been the migrant terrorists of the Bataclan and the Stade de France," she claimed, referring to Isis' Paris attacks in 2015, which were carried out by mostly French and Belgian jihadis.
"Mass immigration is not an opportunity for France, it's a tragedy for France."
Her speech was received enthusiastically by a crowd of around 5,000 supporters gathered near Paris's Zenith concert hall, but the event drew large crowds of protesters who clashed with police outside.
Inside the venue, a topless female protester from the Femen movement stormed the stage before being tackled to the ground by security guards.
For months, opinion polls have shown Ms Le Pen and the former finance minister Emmanuel Macron qualifying for the second and decisive round of voting, with Mr Macron predicted to secure a decisive victory in May.
But the gap with the scandal-hit former Prime Minister Francois Fillon and the left-winger Jean-Luc Melenchon has been tightening ahead of Sunday's initial vote, putting both within sight of qualification.
Additional reporting by AP
Join our commenting forum
Join thought-provoking conversations, follow other Independent readers and see their replies