French far-right leader Jean-Marie Le Pen accused of holding £1.4m in undeclared Swiss bank account
If proven, the allegations could be devastating politically for the Front National's controversial 'president of honour', and highly embarrassing for his daughter, Marine, who replaced him as party leader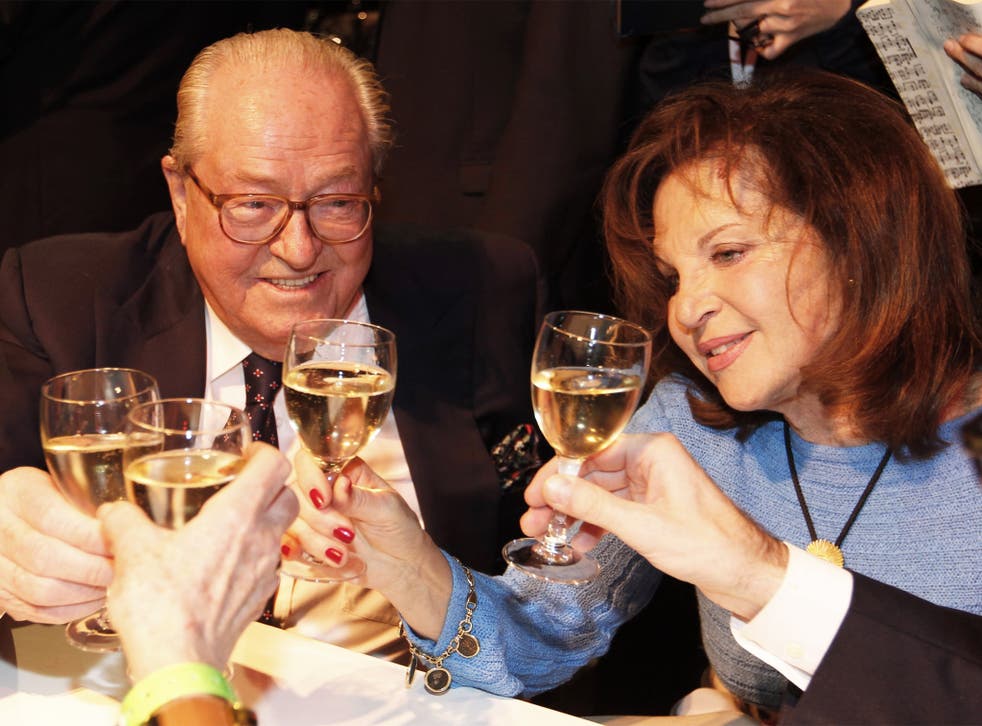 The veteran French far-right leader Jean-Marie Le Pen could face a formal investigation for allegedly holding more than €2m (£1.43m) – including €1.7m in gold – in a Swiss bank account.
Mr Le Pen, 86, who is already in dispute with his daughter over his extreme political views, could face inquiries over possible tax avoidance or failing to declare his full wealth, should the existence of the account prove true, according to the investigative website Mediapart.
The semi-retired founder and "president of honour" of the Front National (FN) reacted angrily to the allegations.
"This is all part of the general offensive launched against [the FN]," he said. "I don't have to respond to allegations from any old person and especially not from quasi-police publications devoted to causing trouble among the political classes."
Mediapart said Mr Le Pen had an undeclared bank account in Switzerland, first with HSBC, then with the Compagnie Bancaire Helvétique (CBH) until May last year. It is claimed the money was then transferred to a CBH fund in the Bahamas.
The existence of the account had allegedly been uncovered by the French government agency, Tracfin, devoted to tracing undeclared offshore funds, the site said. It also reported that a dossier had been passed, by Tracfin, to the French state prosecutor in Nanterre, west of Paris, earlier this week. Mediapert said the account was believed to be worth €2.2m, including €1.7m in gold coins and ingots.
In pictures: Extremists in the EU

Show all 6
The allegations, if proven, could be devastating politically for Mr Le Pen, and highly embarrassing for his daughter Marine, who replaced him as FN leader four years ago.
The FN campaigns, among other things, against the alleged corruption of the French political "elite" and its alleged betrayal of French national interests.
If Mr Le Pen is proven to have placed part of his wealth abroad, he will be open to accusations of gross hypocrisy from his political opponents.
The FN has distanced itself from the allegations. Party vice-president, Florian Philippot, said: "Marine Le Pen is very surprised by this… It is up to Jean-Marie Le Pen to give an explanation. I can't believe that it is true."
The sources and extent of the Le Pen family wealth have always intrigued French political commentators. Mr Le Pen's second wife, Jany, is a wealthy woman. He also inherited a large amount of money, and a château in Saint-Cloud, west of Paris, from a rich supporter in the late 1970s.
Mr Le Pen quarrelled with his daughter this month over comments he made in two interviews. In defiance of Marine's efforts to cleanse the NF of associations with racism, anti-Semitism and neo-Nazism, her father dismissed the Nazi gas chambers as a "detail of history" and defended the Vichy regime in France which collaborated with the Nazis.
Mr Le Pen was summoned to a meeting of the FN political bureau but it has been delayed due to his ill health.
Register for free to continue reading
Registration is a free and easy way to support our truly independent journalism
By registering, you will also enjoy limited access to Premium articles, exclusive newsletters, commenting, and virtual events with our leading journalists
Already have an account? sign in
Register for free to continue reading
Registration is a free and easy way to support our truly independent journalism
By registering, you will also enjoy limited access to Premium articles, exclusive newsletters, commenting, and virtual events with our leading journalists
Already have an account? sign in
Join our new commenting forum
Join thought-provoking conversations, follow other Independent readers and see their replies