French government on high alert after unexplained drone flights over nuclear power stations
Campaign by anti-nuclear campaigners is considered the most likely explanation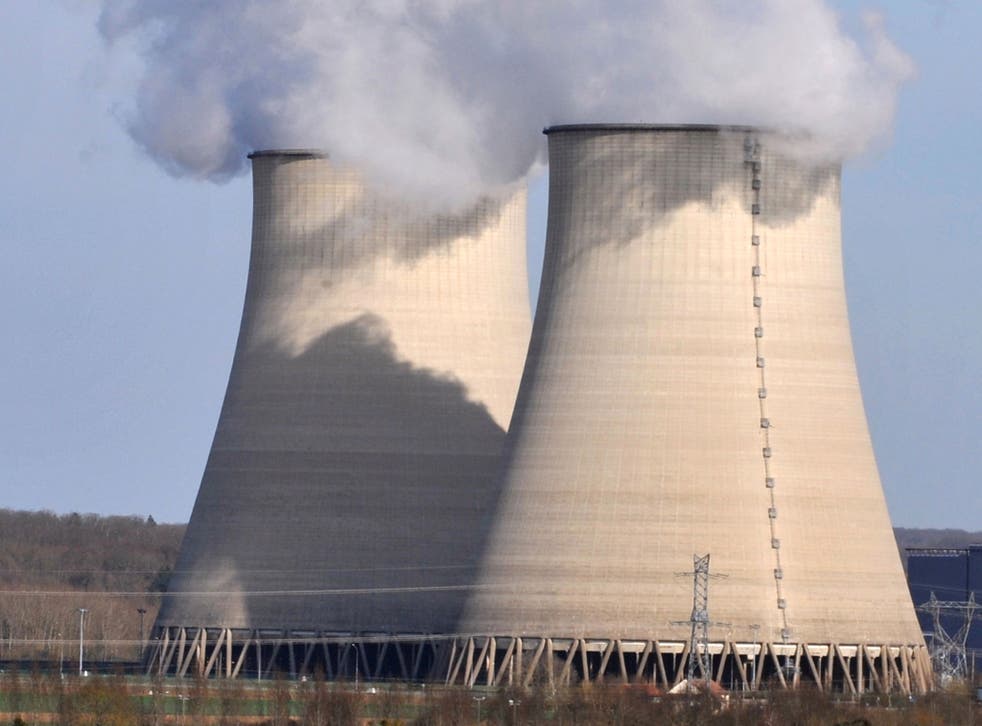 An epidemic of mysterious – and potentially disturbing – drone flights over French nuclear power stations remains unexplained despite the recent arrests of three young model aircraft enthusiasts in central France.
The illegal flights by the tiny, pilotless helicopters, mostly at night, were initially dismissed as a nuisance. But a recent spate of five co-ordinated "visits" in one evening to nuclear reactors hundreds of miles apart has now placed the French government on high alert.
A campaign of harassment by anti-nuclear campaigners is considered the most likely explanation. Surveillance flights by a terrorist group testing the security of France's 19 nuclear sites have not been ruled out. Then, last Wednesday, three people, two men aged 24 and 31 and a woman of 21, were arrested close to a power station at Belleville-sur-Loire in Cher. Police said the three were about to launch a relatively simple drone – a type sold on the internet for around €100 (£78).
They face possible charges but are not suspected of being responsible for the score of intrusions by much more elaborate drones in the restricted airspace over 13 nuclear power stations since early October. "They appear to be model aircraft enthusiasts," a source in the investigation told the newspaper Le Parisien. "The machine they were using was sophisticated enough but not military or professional. It was a toy. Whether they were doing it for fun or they had some political motive is not yet clear."
In pictures: The Nuclear Security Summit 2014

Show all 17
Either way, the arrested three are believed to be copycats rather than members of the team which has organised the elaborate drone flights.
An emergency inter-ministerial meeting has considered several possible explanations for the flights, ranging from the irritating to the alarming. This followed five drone incursions in the space of six hours at nuclear sites ranging from the Channel coast in Normandy to the Franco-German border in Alsace. The hundreds of miles between the flights suggested elaborate advance planning by a group of several people.
After the meeting last week, some government sources said the special gendarmerie teams which guard nuclear sites had been given authority to shoot down future intruders. Three more flights followed. No drones have been shot down so far.
Many of the flights have taken place at night but the authorities have filmed and photographed some of the intrusions. Officials say they have been surprised, and alarmed, by what the images have revealed. They are not the "toy" drones that can be easily acquired and operated from a smartphone. Up to 400,000 such drones are believed to exist in France. The intruders are something much more complex and expensive – helicopter-like drones with powerful engines capable of flying for dozens of miles. They have a triangle of three white lights, a larger red light and a searchlight, possibly linked to a camera, which throws intermittent beams of light on the "target".
Officially, the government has played down the importance of the flights. "We are neither minimising nor dramatising these events," said the Environment and Energy Minister, Ségolène Royal. "But they pose no threat to the security of nuclear sites."
Greenpeace France has accused the government of "minimising the risk" and covering up the fact that France's nuclear power stations are vulnerable to terrorist attack. "A medium-sized drone could carry an explosive charge big enough to damage the pools [of cold water] in which spent nuclear fuels are stocked," a spokesman said.
The organisation has denied any link with the flights. "Anti-nuclear campaigners tend also to be anti hi-tech," a Greenpeace source said.
Denis Baupin, a Green member of the National Assembly, said: "No one can say who is responsible for these events and no one can guarantee the good intentions of those who are controlling these objects."
France is more dependent on nuclear power than any other developed nation. Almost 80 per cent of the country's electricity comes from nuclear generators.
Join our new commenting forum
Join thought-provoking conversations, follow other Independent readers and see their replies