French opposition leader Jean-François Copé hits back at corruption allegations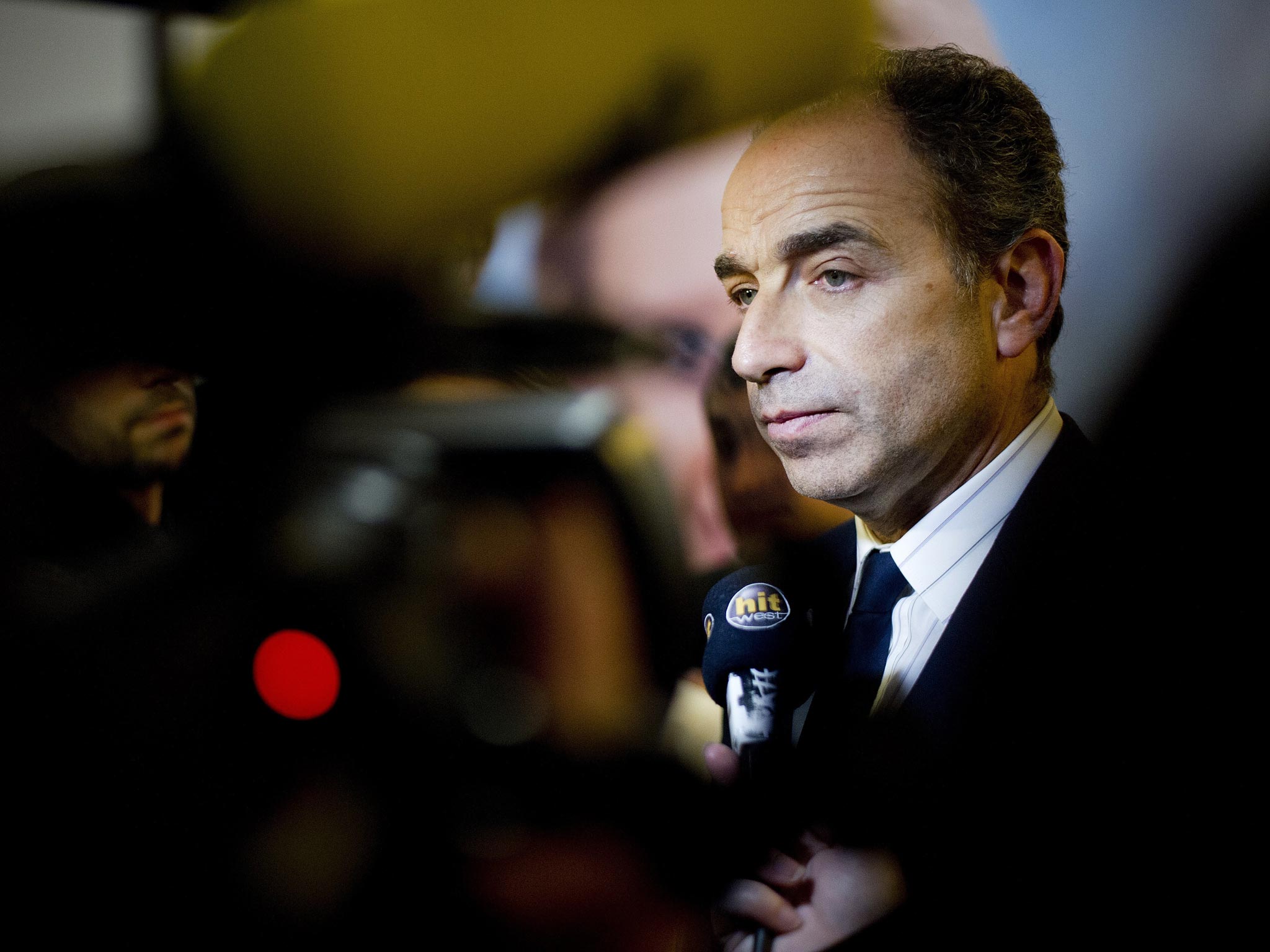 The leader of the main French opposition party, Jean-François Copé, has hit back at accusations that he allowed a business run by friends to cheat the party by overcharging for election events.
Mr Copé, 49, claimed that he was the victim of a "public lynching" a "man-hunt" and "methods worthy of the Inquisition". He made no attempt to respond in detail to the accusations made by the news magazine Le Point but will start a libel action on Tuesday.
The scandal is the latest in a series of embarrassments to strike the main French centre-right party, the Union pour un Mouvement Populaire (UMP) since its former leader, Nicolas Sarkozy, lost the 2012 presidential election. The party narrowly avoided bankruptcy last year when a public watchdog rejected Mr Sarkozy's election accounts, depriving the UMP of 11 million euros in state funding.
According to Le Point – a centre-right magazine, broadly friendly to the UMP – the party's ruined finances can partly be explained by the systematic overcharging for election events in 2012 by a communications company run by friends of Mr Copé. As the party's first secretary, he channelled 8 million euros worth of contracts to "Events et Compagnie", a subsidiary of Bygmalion, run by two close friends and former aides, Le Point said.
The magazine said that it had seen party documents which suggest that the UMP was overcharged by at least 20 per cent overall and up to 100 per cent for some services. Le Point also revealed that Bygmalion was partly owned, through a holding company in Luxembourg, by a businessman who had brokered the sale of two large state-owned buildings to Qatar when Mr Cope was budget minister in 2003-7.
The magazine stopped short of accusing Mr Copé of breaking the law but suggested that its revelations were politically explosive and could re-ignite vicious faction-fighting within the party. The UMP was forced to make an emergency appeal for funds – nicknamed the "Sarkothon" – to avoid bankruptcy last year.
Some party barons blamed the financial crisis on former President Sarkozy, who had exceeded the limit on campaign spending. The figures produced by Le Point imply that part of the blame should be transferred to Mr Cope.
In a "solemn declaration" during a press conference at party headquarters yesterday, Mr Copé offered to open all the accounts of the UMP to public inspection if other parties agreed to do the same. He said that he would introduce a parliamentary bill to make such transparency a legal requirement in future.
Critics immediately pointed out that both his conditional promise and his proposed law were pointless. To qualify for state subsidies, French political parties already have to open their books to a public watchdog.
The UMP leader was severely damaged 15 months ago when his rival, the former Prime Minister, François Fillon, accused him of fiddling the internal election which narrowly gave him the party presidency. He remains, in his own eyes at any rate, a possible centre-right contender for the national presidency in 2017.
Ex-President Sarkozy, supposedly retired from politics, has been hinting strongly that he intends to run again. Mr Copé has promised that he will not run against him.
Nonetheless, the accusations of conflict of interest in managing the party' finances are, on the whole, good news for Mr Sarkozy. They lessen his responsibility for last year's near bankruptcy of the UMP.
At least two other potential centre-right presidential candidates remain in the field – the former prime ministers, Mr Fillon and Alain Juppé.
Mr Copé suggested yesterday that the accusation in Le Point were politically motivated but blamed the Socialist government, rather than any of his party rivals. He said that he had always behaved "correctly and honestly" but had been made the "target of a an especially aggressive and hateful press campaign".
This amounted, he said, to a "veritable manhunt" and a "public lynching". He suggested that the attacks were "teleguided" to coincide with local elections at the end of this month which are likely to be a catastrophe for President François Hollande's popular left-wing government.
Join our commenting forum
Join thought-provoking conversations, follow other Independent readers and see their replies