Diesel the dog killed during Saint-Denis terror raid was due to retire
Diesel had been with the police unit for five years and is the first dog to die on active service
Alexandra Sims
Sunday 22 November 2015 17:25 Comments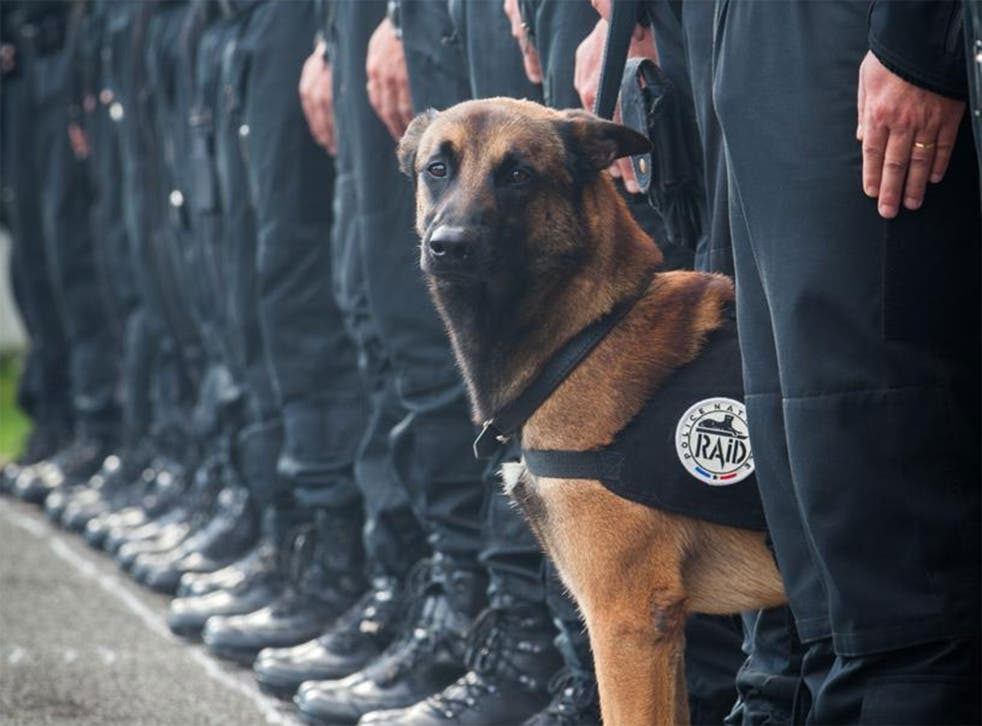 The French police dog, killed during a major counter-terror operation in Saint-Denis, Paris, was due to retire from service in a few months, his handler has said.
Diesel, a seven-year-old Belgian Malinois, was shot while armed police raided an apartment where Abdehamid Abaaoud, the suspected "mastermind" behind the Paris attacks, and six other terror suspects were staying.
The dog's handler, who is unnamed, told RMC radio on Sunday, Diesel had been sent in to the apartment after shooting was believed to have stopped: "After a few minutes we decided to send in the dog ... to see if the zone was clear.
"He did a tour of the first room, then he went into the second room and dashed forward. I think he'd found someone. Then I lost sight of him and the gunfire started again."
During the police raid sporadic gunfire could be heard from within the flat following the explosion of a suicide bomb. Officers eventually arrested three men from inside the building and another man and woman found outside.
Diesel had been with The Research, Assistance, Intervention and Deterrence (Raid), a special anti-terrorist force, for five years and is the first dog to die on active service with the team.
He was due to retire in the spring of next year.
His handler said: "His role was to open the way for the rest of us. He uses all his senses to detect if anyone is present and if he can get to them, to go and bite them.
"If not, he stands and barks to indicate where the person is hiding. I had absolute confidence in him, and him in me."
Since his death, thousands of people have paid tribute to Diesel by tweeting the hashtag #JeSuisChien, meaning "I am dog".
France's National Police tweeted Diesel "was killed by terrorists in the current operation in Saint-Denis".
The announcement has been shared more than 15,000 times, compared to just 1,600 for a previous tweet announcing that five police had been injured in the raid.
Diesel's handler added he had been "touched be the messages of support from around the world."
Russian police have given a puppy to French forces "in solidarity with French people and the police in the fight against terrorism".
Register for free to continue reading
Registration is a free and easy way to support our truly independent journalism
By registering, you will also enjoy limited access to Premium articles, exclusive newsletters, commenting, and virtual events with our leading journalists
Already have an account? sign in
Join our new commenting forum
Join thought-provoking conversations, follow other Independent readers and see their replies