French police 'stealing blankets from migrants', charity warns
Médecins Sans Frontières say the practice is putting lives in danger as temperatures drop to below freezing 
Lucy Pasha-Robinson
Sunday 08 January 2017 18:19 Comments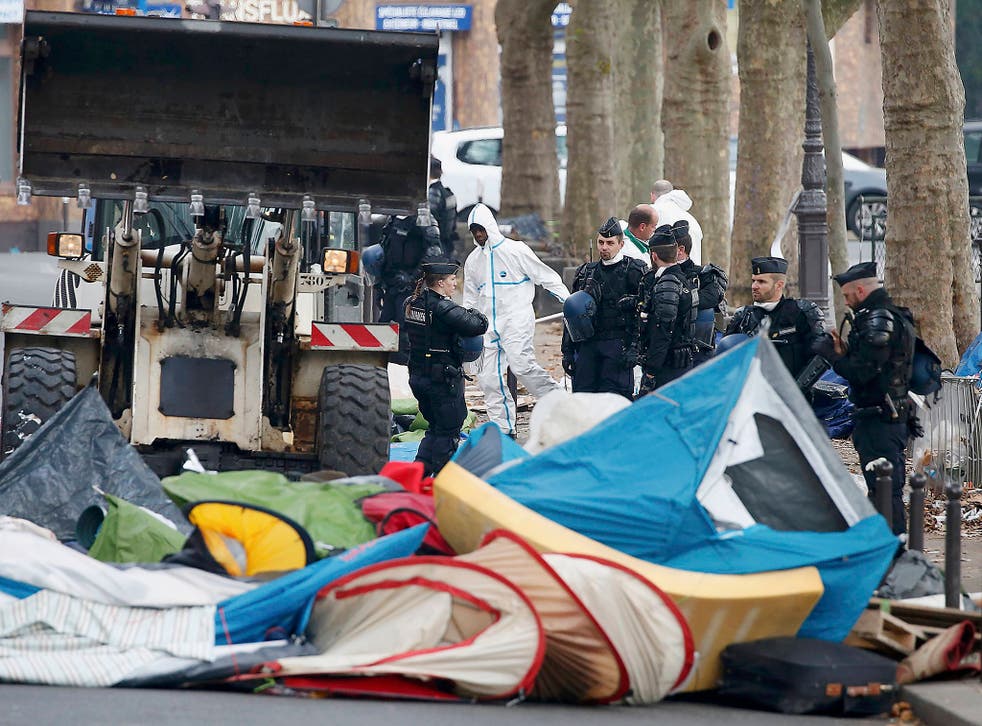 Police in Paris have been accused of putting migrants' lives in danger by stealing their blankets in the heart of winter.
Médecins Sans Frontières (MSF) also warned of "systematic police violence" targeted at the hundreds of migrants forced to sleep rough on the streets of Paris due to overcrowding in the capital's only reception centre.
MSF accused police of harassing migrants, waking them up in the middle of the night, using tear gas to disperse them, and not allowing them to sit down as they queue for a place in the shelter in the northern Parisian neighbourhood of La Chapelle.
The organisation says the practices have led to them assisting eight people close to hypothermia in the last week, as temperatures dropped to below freezing.
"In the heart of winter, public powers should be able to provide shelter for all migrants, as a matter of urgency. Instead, the forces of order confiscate their covers or force them to stay standing in a waiting line for hours, in a ridiculous bid to remove this population in distress from public view. This denial of reality through the use of violence must stop," MSF programme coordinator Corinne Torre told The Independent.
However, French Minister of the Interior, Bruno Le Roux, defended the police on Sunday, calling for an end to the "national sport of questioning" police work.
"I absolutely do not share this vision. What the police force is doing today is providing shelter for vulnerable people," he said.
"Police work must continue this way, with the humanity that goes hand in hand with their responsibility. It's true that sometimes there can be difficulties associated with finding shelter for migrants."
Paris opened its first humanitarian centre in November after the closure of a large makeshift camp in Stalingrad displaced thousands of migrants.
Following the closure, the government announced a zero tolerance policy to roadside shelters, enforced by the fencing off of many areas and a heightened police patrol presence.
The centre has been consistently full for the past few weeks, with between 100 and 150 migrants queuing for admission each day, often sleeping outside for several days before a place becomes available, MSF reported.
Paris' Préfecture de Police did not immediately respond to The Independent's request for comment.
Register for free to continue reading
Registration is a free and easy way to support our truly independent journalism
By registering, you will also enjoy limited access to Premium articles, exclusive newsletters, commenting, and virtual events with our leading journalists
Already have an account? sign in
Join our new commenting forum
Join thought-provoking conversations, follow other Independent readers and see their replies