French presidential election: Macron says Brussels must reform or risk Frexit as Le Pen brands rival 'EU extremist'
Voters go back to the polls for the final round of France's presidential election on 7 May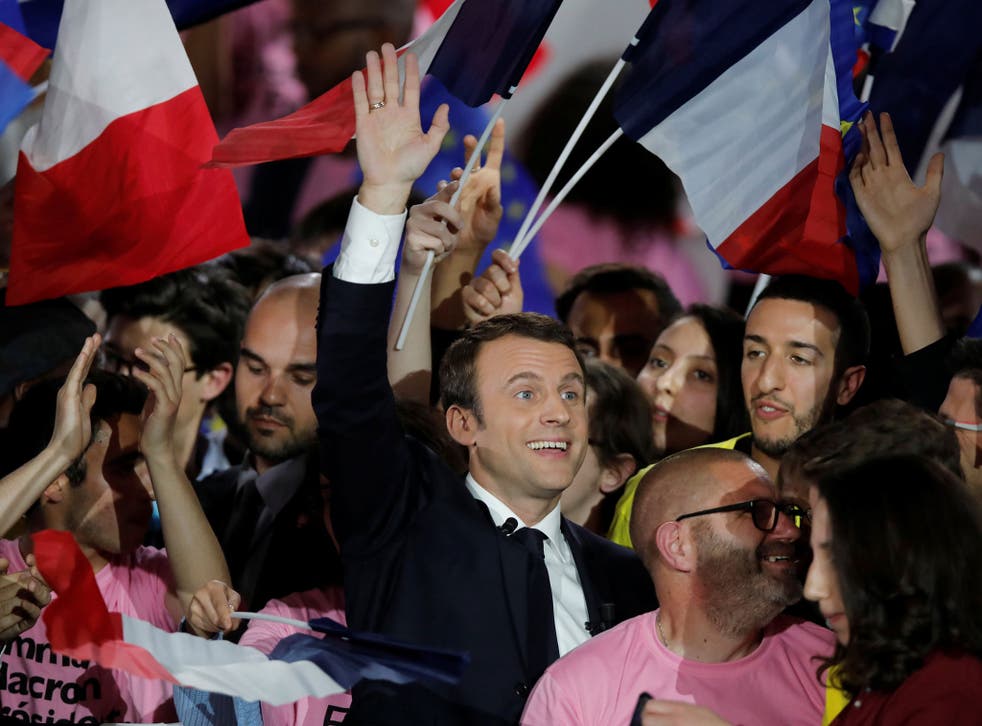 Emmanuel Macron, the frontrunner in Sunday's French presidential election, has said he would consider pulling France out of the European Union if the bloc does not reform.
In a marked shift in comments that brings him closer to his rival Marine Le Pen on the issue of European integration, Mr Macron warned of the prospect of "Frexit".
"I'm a pro-European, I defended constantly during this election the European idea and European policies because I believe it's extremely important for French people and for the place of our country in globalisation," he said.
"But at the same time we have to face the situation, to listen to our people, and to listen to the fact that they are extremely angry today, impatient and the dysfunction of the EU is no more sustainable.
"So I do consider that my mandate, the day after, will be at the same time to reform in depth the European Union and our European project."
His comments, in an interview with the BBC, came as Ms Le Pen accused her centrist rival of being "a radical EU extremist" during a rally in Paris.
With less than a week to go before voters go back to the polls for the final round of France's presidential election on 7 May, the far-right candidate was on the offensive.
French Presidential Election

Show all 20
Speaking at a rally in Villepinte, in the north of the capital, Ms Le Pen put sovereignty and security at the forefront of her project.
She attacked Mr Macron's pro-EU stance while repeating her promise of a referendum, and said she would renegotiate with Brussels to regain France's sovereignty.
The two candidates have opposing policies on the EU, with Mr Macron being congratulated by Brussels for his first-round victory.
But Mr Macron's latest remarks suggest he is toughening his stance on Europe in a bid to win over voters attracted to Ms Le Pen's brand of Euroscepticism.
Mr Macron has made the reassertion of the European project a key part of his programme but following his recent visit to the Whirlpool factory in Amiens, northern France, where workers face unemployment as the factory is due to relocate to Poland, the founder of En Marche adopted a more nuanced view.
He warned failure to reform the union would make France leave the EU and would play into the hands of Ms Le Pen.
Thousands of people cheered loudly and waved French flags at Monday's rally as Ms Le Pen pledged to give back "sovereignty and greatness" to the French people.
She accused Mr Macron of being the candidate of the financial sector, who will "make France submit to the will of German Chancellor Angela Merkel".
Ms Le Pen has capitalised on a growing anti-EU feeling in France and she hailed the US and Brexit UK as bastions of "liberty".
Under her slogan "In the name of the people", Ms Le Pen has long said traditional parties only served their own interests and was keen to depict Mr Macron as more of the same.
"Mr Macron's way is En Marche [walk on] or die," she said, referring to the centrist's slogan.
Making a double offensive against current French President Francois Hollande, Ms Le Pen said Mr Macron was the rock on which the current president was "trying to hold onto power like a mollusc".
Reacting to Mr Macron's efforts to portray himself and his wife Brigitte as a presidential couple, Ms Le Pen said he had spent more time thinking about his public image than the nation's security, a key issue in the campaign.
"Mr Macron has taken more time to think about the status of his First Lady than his programme to tackle terrorism," she said.
"I will fight against terrorism and in doing so my hand will never shake."
Emmanuel Macron pays tribute to wife Brigitte during speech after entering round two
Mr Macron responded by saying Ms Le Pen's platform would lead to less freedom in France.
"Don't boo her, fight her! Go and convince (others), make her lose next Sunday," he said, adding that her priorities would be "to fight against press freedom, against women's rights, the right to abortion" and "against same-sex couples' rights".
Elsewhere, Ms Le Pen's father, Jean-Marie Le Pen, the founder of the Front National party, was at his own rally in Paris to commemorate Joan of Arc.
The 88-year-old had some difficulty delivering his speech, losing his notes and being interrupted by sound problems.
Speaking about his daughter reaching the second round of the election, he said: "I have done it myself, so it is possible."
Mr Le Pen got through the second round of the French presidential election in 2002 against conservative Jacques Chirac.
Polls still give Mr Macron a 20 point lead, on 60 per cent, with Ms Le Pen trailing on 40 per cent of the vote.
Register for free to continue reading
Registration is a free and easy way to support our truly independent journalism
By registering, you will also enjoy limited access to Premium articles, exclusive newsletters, commenting, and virtual events with our leading journalists
Already have an account? sign in
Register for free to continue reading
Registration is a free and easy way to support our truly independent journalism
By registering, you will also enjoy limited access to Premium articles, exclusive newsletters, commenting, and virtual events with our leading journalists
Already have an account? sign in
Join our new commenting forum
Join thought-provoking conversations, follow other Independent readers and see their replies