French presidential election: François Fillon corruption probe widens to include his two children
His waning prospects of winning France's two-round election have thrown open the race and boosted far-right Marine Le Pen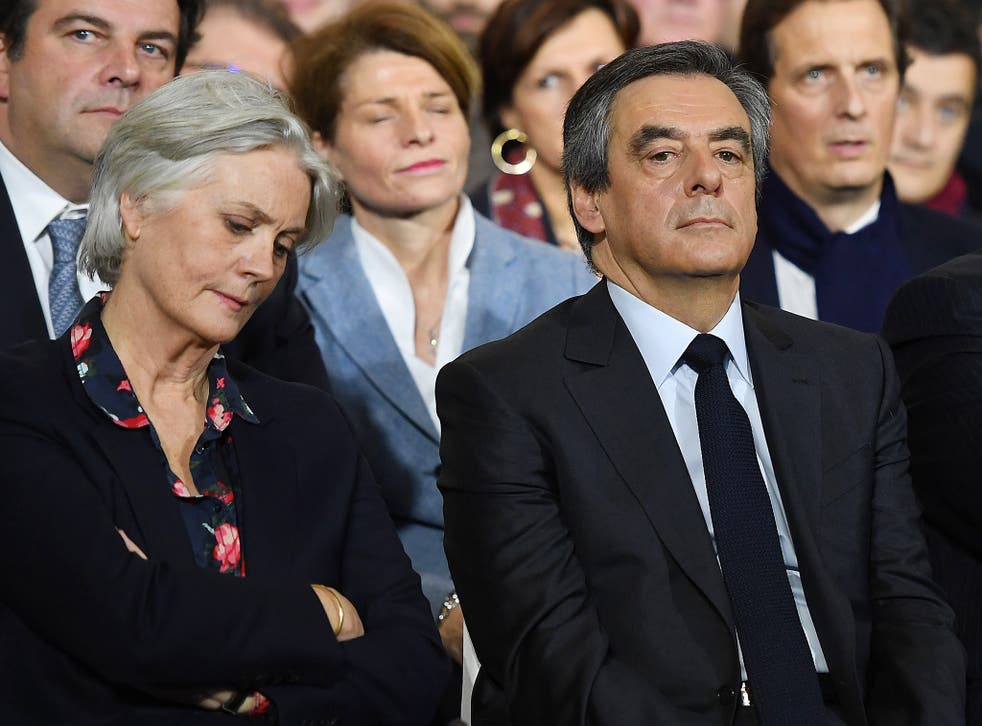 French conservative François Fillon has suffered new setbacks to his presidential candidacy, with prosecutors expanding an embezzlement probe into his wife's paid political job to include two of their children.
An old interview, meanwhile, is coming back to haunt his wife, Penelope.
French national financial prosecutors have been investigating Penelope Fillon's work as a parliamentary aide to her husband, seeking to determine whether there are grounds to suspect embezzlement and misappropriation of public funds. French newspaper Le Canard Enchainé reported on Wednesday that she made €830,000 (£713,000) over 15 years.
A person close to the investigation told the Associated Press on Thursday that prosecutors have extended the probe to also cover the couple's daughter, Marie, and son, Charles. The person spoke on condition of anonymity, because they were barred from discussing the investigation publicly.
Allegations that Mr Fillon's family used his political connections to enrich themselves with cushy parliamentary jobs have been particularly damaging for the former Prime Minister's image as an upstanding Catholic family man and country gentleman untainted by the long history of sleaze in French politics. The contrast between Mr Fillon's words and his supposed actions sting because he has promised to slash public sector jobs and make the French work harder and longer.
His nosediving prospects of winning France's two-round presidential election in April and May have thrown open the race that had been expected to be between him and the far-right Front National leader, Marine Le Pen.
Le Canard Enchaine reported that Mr Fillon hired his children as parliamentary aides when he was a senator from 2005-2007, and they earned €84,000 in total.
Mr Fillon has confirmed that he paid two of his children, "who were lawyers", for "specific assignments" when he was a senator. However, Marie and Charles were still in law school when they worked for their father, French media have reported. According to Le Canard Enchaine, they drew paychecks not for assignments but for two full-time jobs.
Marie and Charles Fillon did not respond to emails and telephone messages from the Associated Press.
French politicians are allowed to hire family members as aides as long as they actually do the jobs for which they are paid. Mr Fillon insists that Penelope's work for him was genuine.
But public broadcaster France Télévisions said it would screen extracts on Thursday evening from an interview with Penelope Fillon in 2007, when her husband was Prime Minister, in which she said she had never worked as his assistant. That appears to contradict the couple's defence in recent days that she was legitimately employed.
Her lawyer, Pierre Cornut-Gentille, said Penelope's words were being taken out of context.
Mr Fillon and his wife were separately questioned by investigators for five hours on Monday and her lawyer said Penelope provided investigators with evidence that her work for her husband was genuine.
Prosecutors are working quickly, not wanting their work to overshadow the likely heated final weeks of the French campaign before the first-round polling on 23 April. That gives them until mid-March to gather sufficient evidence to warrant either forwarding the dossier to an investigating magistrate or deciding to dismiss the case. Mr Fillon is urging prosecutors to proceed quickly.
With Mr Fillon weakened and the catastrophically unpopular Socialist President François Hollande having abandoned hopes of running for a second five-year term, far-right leader Ms Le Pen and independent maverick Emmanuel Macron are taking advantage.
Soldiering on with his campaign, Mr Fillon was heckled on Thursday by a young man who yelled "Fillon, thief! Resign!" during a stop at a day-care centre in northeast France.
"I feel like someone who is attacked from all sides in an unfair way and who is going to defend himself," Mr Fillon said.
Senior conservatives rallied around Mr Fillon, denouncing what they called an "attempt to kill" his candidacy.
"They're throwing to the wolves a man, his wife, his children, his colleagues, without waiting for their arguments or listening to their defence," 17 conservatives, including former Prime Minister Jean-Pierre Raffarin, said in an open letter in newspaper Le Figaro.
AP
Join our new commenting forum
Join thought-provoking conversations, follow other Independent readers and see their replies