French rogue trader Jérôme Kerviel visits Pope on redemption trek
The banker who cost Société Générale two years' profits walks home from Rome before his sentence is confirmed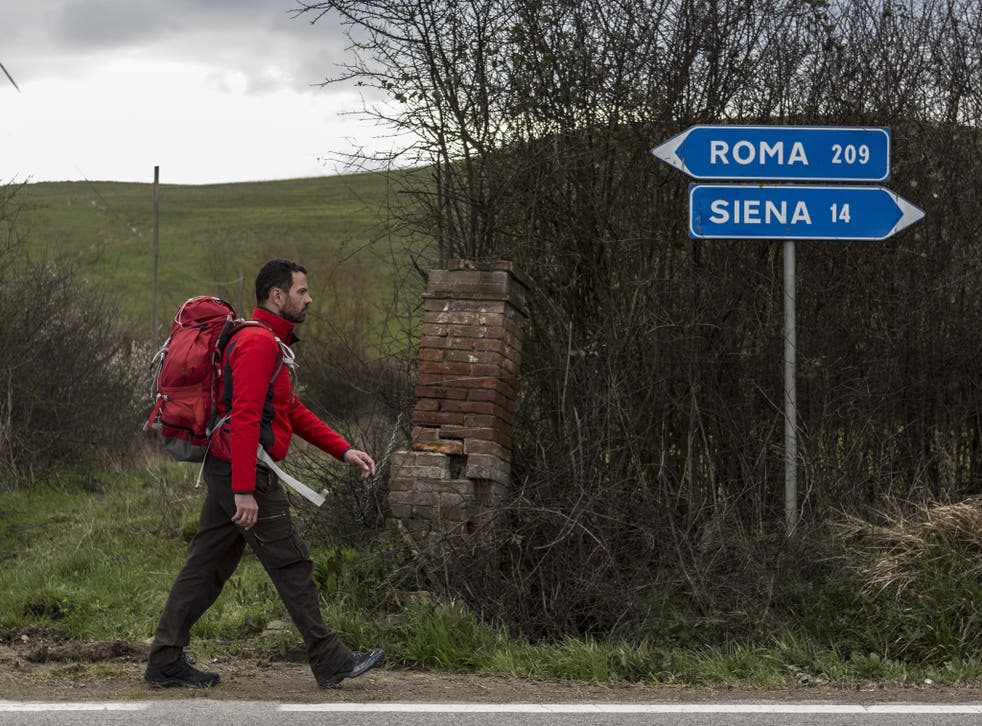 The French rogue trader whose illicit deals brought a leading bank to the brink of disaster is trying to make amends, or at least open the world's eyes to the evils of high finance, with a 1,400km protest march from Rome to Paris inspired, he says, by Pope Francis.
Jérôme Kerviel, 37, will learn in two weeks' time if the French Supreme Court is to confirm his sentence of five years in jail with nearly €5bn (£4.13bn) to pay in compensation, after his unscrupulous trading exposed Société Générale to €50bn in risk.
His activity was said to have cost the French bank €4.9bn in 2008. He was convicted two years later of breach of trust, forgery and illegal use of computers. But Kerviel insists he doesn't owe the colossal €4.9bn payment.
The trader has never denied falsifying documents or listing non-existent transactions on the computer systems of France's third-largest bank, but he claims as mitigating circumstances the tacit acceptance or even encouragement of his superiors; while there was the prospect of him raking in billions of euros, they were happy to turn a blind eye.
With D-day fast approaching at the Supreme Court, Kerviel decided to seek help from an even higher authority and wrote to Pope Francis. Kerviel, the former slave to Mammon, said he'd been impressed with the Pontiff's stand against avarice, and particularly Pope Francis's keynote speech last summer in which he said the Church "must go forward... with a heart of poverty, not a heart of investment or of a businessman".
Kerviel said in his letter to the Vatican: "I come to you with no other hope than to seek the justice of God and ask His representative on earth to consider my fate."
Pope Francis's interest thus pricked, Kerviel was invited to exchange greetings with the Pontiff at a general audience last month in the Vatican. This, Kerviel says, inspired him to make the long march home, "with aching legs and €30 (£25) a day to live on", to publicise Francis's warnings against the "tyranny" of the markets.
Kerviel has now expressed some contrition. Speaking earlier this month to the French online Christian journal Aleteia, he said: "I participated in the work of finance at its worst, most unhealthy and most shameful."
His desire to have his gateau and eat it has been underlined, though, by a somewhat slippery quote from his Parisien lawyer David Koubbi. "This walk is intended to denounce the abuses of finance and to relay the Pope's words about the tyranny of the markets," Mr Koubbi said, before adding: "and to help explain to those who are interested that once it comes to finance, the justice system is greatly flawed."
Given all this, it's hard to know whether Kerviel's stroll across the Alps is penitence, pilgrimage or PR in the run-up to the French Cassation Court's verdict on 19 March.
The French media is in little doubt. Le Figaro described Kerviel's march and his meeting with Pope Francis as a "desperate media stunt".
Mr Koubbi said people who doubted his client's contrition should see the hardship he was experiencing, walking 15 to 20 miles a day on blistered feet. Kerviel is carrying a Vatican rosary in his backpack which he plans to give to his mother upon his return. "I don't know anyone capable of putting their life on hold for two months to hit the road, alone, with so little money if their actions were not sincere," Mr Koubbi told The New York Times.
Expert observers have also expressed some sympathy with Kerviel's plight, if not his actions. "There has definitely been some scapegoating going on," said Professor Andre Spicer of the Cass Business School at London's City University.
He added: "These traders have been under huge pressure to bring in high levels of revenue and told to do it 'anyway you can'. I've studied several cases like these, and it's been quite clear from the legal documents that senior managers have been aware of what's happening."
Kerviel, who rose through the ranks to Société Générale's trading floor without having attended any of France's elite schools or universities, has even enjoyed cult status in some sections of French society; someone from a poor background succeeding in doing what the privileged classes were already up to.
Société Générale has insisted that Kerviel is an "evil genius" who acted alone, although several senior staff resigned or were dismissed after the scandal broke.
Professor Spicer said scandals of such magnitude – Société Générale had two years' profits wiped out by Kerviel – were unlikely to happen again because, following the Lehman Brothers affair in the US and Libor interest rate scandal in London, risk management policies had been strengthened everywhere, while the power and independence of traders had been greatly reduced.
Meanwhile, as Kerviel continues his journey through the Italian countryside, he knows that he is unlikely to make it to Paris before the Supreme Court verdict.
Should it go against him, he'll almost certainly get a lift from a police car for the remainder of the journey. Not many tears will be shed if that happens. But some will wonder if there aren't former colleagues who ought to be joining him.
Join our new commenting forum
Join thought-provoking conversations, follow other Independent readers and see their replies