French teacher says Home Office rejected her residency application because she is 'older and sick'
Woman in her 70s reportedly told to get private health insurance and reapply in five years' time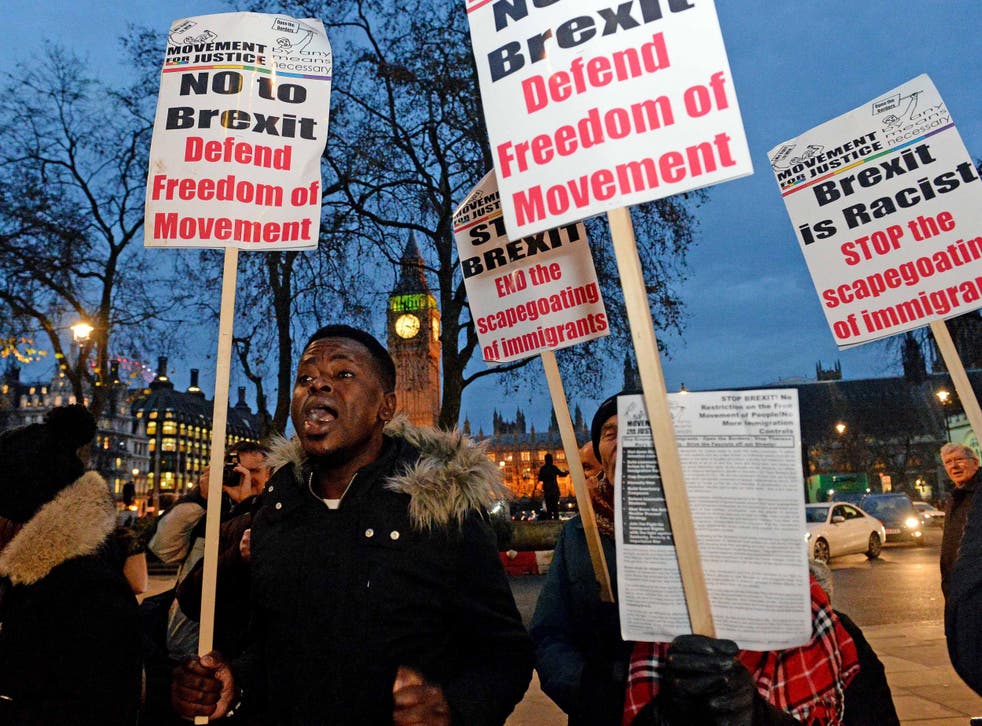 A retired French teacher, who has lived in the UK since 1974, has reportedly had her permanent residency application rejected by the Home Office because she is "older and sick".
The unnamed woman in her 70s was allegedly instructed to get private health insurance, and reapply in five years' time.
But, she told a meeting of her fellow expats in London, she fears she'll be dead before then.
Christophe Premat, a French MP who attended the meeting, told The Independent he believes her particular case may be down to a separate legislative issue.
However, he added that Brexit has created "worry" and a "feeling of regression" among French citizens in the UK, many of whom face uncertain futures.
Unlike British citizens living abroad, French expatriates are represented in eleven overseas constituencies. As of 2011, over 80 per cent of 140,000 voters in Mr Premat's Northern Europe constituency live in the UK.
Boris Johnson attacks French President using Nazi comparison
Marie Remy was at the meeting, which gave a final chance for French people in Britain to meet with Mr Premaut before France's upcoming general election.
She told The Independent: "The woman was very dignified. She was quite softly-spoken but she could command a place in the room. The Home Office told her to get private health insurance and reapply in five years' time, and she said: 'I'll be dead in five years' time.'
"'I'm older, I'm sick and I'm going to cost the NHS': That's the conclusion she drew. It's just very twisted: [the system] pretends to be legal, but it's not right. There's a hostile environment.
"I've been here since 1992 so I've ridden a few waves of anti-French sentiment, but what Boris Johnson said about François Hollande... It's no longer a joke, it's gone to one of the most powerful people in the country."
Brexit protest: Thousands march in London

Show all 12
She was referring to comments from the British Foreign Secretary about the Brexit negotiations, which appeared to liken the French President to a Nazi, accusing him of wanting to "administer punishment beatings to anybody who chooses to escape, rather in the manner of some World War II movie."
Mr Premat said he'd spoken to the constituent in question and that her problems could be down to her relatively unusual status as a British resident who was "employed directly by the French" at an expatriate educational institution.
He told The Independent: "She was sad, and it's hard to have this refusal, but I tried to say to her that maybe it was because of her specific situation."
Philip Hammond: Post-Brexit Britain won't 'slink off like a wounded animal'
In general, the politician said he errs on the side of caution, particularly while the terms of Britain's exit from the EU are still uncertain.
"I've had to realise, don't make Brexit bigger than it is," he said. "If you give people feedback mixed with a lot of fear, you will not resolve the situation."
But he added that many of his constituents had been experiencing worries, particularly disabled people concerned about NHS access, students trying to transfer in the face of skyrocketing fees and people who had recently lost a job and were scared of being kicked out.
The labyrinthine application process for residency rights fed into these fears, Mr Premat suggested, particularly following reforms in the months leading up to Brexit which complicated the process.
"You could perceive this worry," he said. "I don't know if the Home Office anticipated Brexit or not, but that's my own political interpretation. It's a negative sign – if you want to stay you really have to fight and to justify remaining in the country."
A Home Office spokesperson said: "EU citizens will not be removed from the UK or refused entry because they do not have comprehensive sickness insurance.
"The requirement for EEA nationals exercising freedom of movement rights as a self-sufficient person or student to have this insurance is set out in the Free Movement Directive and applies to all Member States not just the UK.
"The rights of EU citizens remain unchanged while we are a member of the European Union and they do not need any additional documents to prove their status."
Join our new commenting forum
Join thought-provoking conversations, follow other Independent readers and see their replies