French train shooting: Hero passengers foil gunman's attack on Amsterdam to Paris service
Three passengers were injured, two critically, in the attack which is being treated as a terrorist incident
Henry Austin
,
Amelia Jenne
Saturday 22 August 2015 09:38 Comments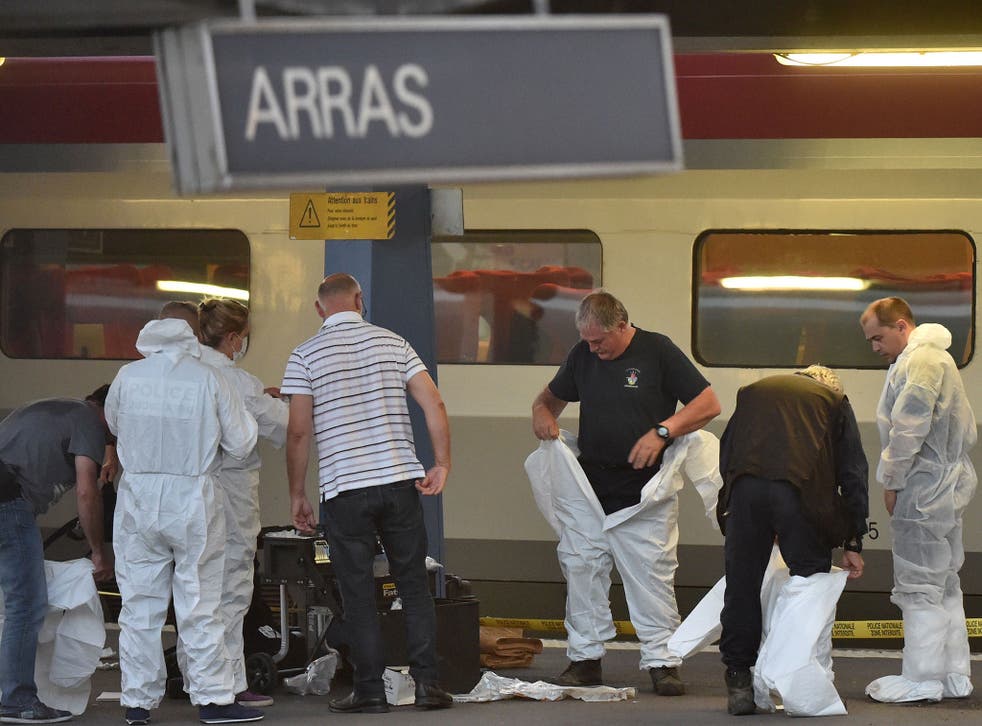 An incredible act of heroism by two American passengers foiled a gunman armed with an automatic rifle and knife who attacked passengers on a high speed train travelling from Amsterdam to Paris. Three passengers were injured, two critically, in the attack which is being treated as a terrorist incident.
The suspect is a 26-year-old Moroccan who was armed with a Kalashnikov rifle and a knife and was also carrying nine ammunition magazines.
He was reportedly overpowered by two US marines, who happened to be travelling on the train.
It is understood they intervened after recognising the sound of the suspect loading his Kalashnikov. The attacker is believed to have boarded the Paris-bound express in Belgium. The train set off from Amsterdam shortly after 1pm and the attack happened at 6pm local time.
French Interior Minister Bernard Cazeneuve said he wanted to "express all our gratitude and admiration to those two American passengers," although he did not comment on their apparent military background.
"Thanks to the sang-froid of two American passengers, a drama was avoided," he said, adding that they were "particularly courageous and showed great bravery in very difficult heir composure we could have been confronted with a terrible incident," he added.
Although Mr Cazeneuve described the attack, which happened about 6pm local time (4pm BST) as "an act of a terrorist nature", he said investigations were continuing.
However, French media said the arrested man was known to the intelligence services and Belgian Prime Minister Charles Michel said the incident was a "terrorist attack".
By late last night the suspect was still refusing to talk to police in Arras, according to reports.
Two of the victims were last night in critical condition, according to a statement from the office of President Francois Hollande. One is thought to have had a gunshot wound and the other a knife wound.
"I express my solidarity with the wounded from the attack on the train from Amsterdam to Paris. Everything is being done to shed light on this tragedy," the French leader said in a statement.
A third person, the French actor Jean-Hugues Anglade, was also wounded and is said to have raised the alarm. According to reports, some passengers were able to jump off the train as it went through the town of Henin-Beaumont - the town before Arras – on the Amsterdam-Paris line. American Christina Cathleen Coons who is traveling in France and was on the train, said she heard gunfire, dived under her seat and opened a pull-down table.
"I saw the man who was shot in the neck stumble," she told NBC News. "He dropped his bloody duffel bag right in the seat across from me, and he collapsed to the floor."
While taking cover, Coons said, she thought to herself, "Maybe I'm next. Is this train going to get shot up?"
France has suffered a series of deadly attacks since the start of the year, beginning the massacre of staff at satirical magazine Charlie Hebdo in January.
Armed with assault rifles, two brothers Said and Cherif Kouachi, forced their way into the offices of the publication and opened fire with assault rifles and other weapons, killing 11 people and injured 11 others in the building.
A massive manhunt led to their discovery and after exchanging fire with police, the pair took hostages at a signage company before they were shot dead as they emerged firing from a signage company building they had holed up in.
The remaining Charlie staff continued normal weekly publication, and the following issue print run 7.95 million copies in six languages.
Two days after the Charlie Hebdo attack Amedy Coulibaly killed four hostages at a Paris kosher supermarket while demanding the release of the Kouachi brothers. He also also shot dead a policewoman before he too was killed in a police raids.
French officials have indicted two more men in connection with the attacks. Identified as 33-year-old "Amar R." and 25-year-old "Said M.," they are accused of "participating in a terrorist criminal conspiracy to commit crimes against persons," according to a statement issued by French prosecutors.
In June, truck driver Yassin Salhi, 35, beheaded his boss Hervé Cornara, 54, before trying to blow up a chemicals factory.
Before attacking the factory near Lyon, Mr Salhi used his mobile phone to take an image of himself with the severed head.
He then sent the image to a number in Toronto, Canada. French and Canadian investigators believe the number may have relayed the image to an acquaintance of Mr Salhi who is fighting with ISIS in Syria.
However, searches of Mr Salhi's home in the Lyon suburbs produced no evidence to suggest he was in contact with a terrorist network.
"We are not sure whether he was just a believer in fundamentalist Islam who went crazy or whether we are dealing with a genuine terrorist," an investigation source told Le Parisien newspaper shortly after the attack.
"He spoke about personal difficulties linked to his work and family life which might have led him to commit his crime."
Register for free to continue reading
Registration is a free and easy way to support our truly independent journalism
By registering, you will also enjoy limited access to Premium articles, exclusive newsletters, commenting, and virtual events with our leading journalists
Already have an account? sign in
Join our new commenting forum
Join thought-provoking conversations, follow other Independent readers and see their replies