From techno DJ in Denmark to martyrdom fighting Assad in Syria: the life and death of Slimane Hadj Abderrahmane
The battlefields of Homs and Aleppo are a magnet for foreign fighters. But few have taken a more circuitous route to Syria than the Danish jihadist Slimane Hadj Abderrahmane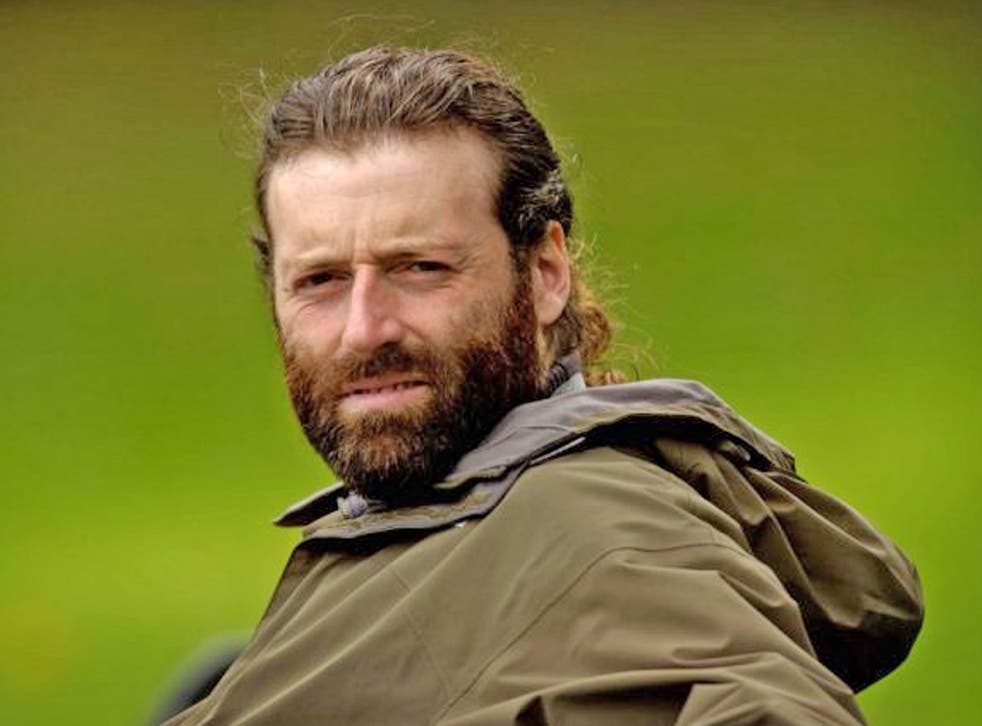 The man with the red beard and piercing blue eyes who stares out from the picture didn't always look so intense. Twenty years ago he was DJ Hollie, a rising star of the embryonic Danish techno scene. Today, to the more radical elements of his Muslim faith, he is a martyr who perished on the battlefield. "Our beloved brother and friend, who spent a life dedicated to the fight for Allah … died at the front last week in Syria," reads a message that accompanies his picture on Facebook.
Slimane Hadj Abderrahmane is thought to have been killed last month alongside rebels fighting to overthrow President Bashar al-Assad. Beyond that, little is known about how, or even where, he died. There has been no statement from the Danish government or his family, yet tributes have been pouring in to the Facebook page of Islamisk Budskab – or "Islamic Message" – along with offers of financial support for Abderrahmane's "widow" and daughters.
The 39-year-old father of two was born in the ancient cathedral city Roskilde, to a Danish mother and an Algerian father. Religion played a minor role in his early years, but by the age of eight Slimane had moved with his parents to Algeria, a place he had visited only once before as a two-year-old. There, Slimane, who spoke no Arabic, began to learn more about Islam from his grandmother, who took on a greater significance in his life when his mother returned to Denmark 12 months later. By this stage he was aware of what was happening to Muslims in Afghanistan's war with the Soviets and as a teenager would participate in low-level violence, hurling stones at police with his classmates.
In 1993 he returned to Denmark and the harbour town of Randers, where he fell in with a group active on the local techno scene. Abderrahmane became hooked on the music and soon built up a loyal following as a club DJ, all the while continuing as a practising Muslim, praying five times a day and abstaining from alcohol. He enrolled on a mathematics course at Aarhus University and planned to become a teacher, but eventually the prospect of a career as a music producer proved too attractive, and he dropped out in 1998.
He drifted for a while but, in October 1999, his ambitions changed. "He saw what happened to Muslims in Chechnya and how the Danish government didn't act on this," says Safia Aoude, a former legal adviser to the Muslim Council of Denmark. Aoude, who has worked with many Muslims on the brink of radicalisation, says: "Most people become [extremists] through a mixture of political frustration, lack of knowledge and social problems such as unemployment or low economic status."
For Abderrahmane, watching Russian bombs rain down on Grozny on the news was the final straw. "Who are we? Are we just someone that anyone can kill?" he would say later. "First Bosnia and Kosovo, and now this. I told myself 'enough is enough'."
Abderrahmane was desperate to join the struggle in Chechnya but his mosque in Randers was frequented by Muslims of mainly Turkish and Bosnian origin, whom he believed did not have the contacts to deliver him to the front line. Instead, he sought out Arab Muslims and began worshipping at a mosque in Grimhojvej, 20 miles to the south in Aarhus, where he found a kindred spirit in its founder Athmane Mehiri, an Algerian granted asylum in Denmark.
Abderrahmane lost interest in music and began acting as a courier for Mehiri, delivering money for him to groups in Algeria and even travelling via London, visiting the Finsbury Park mosque where the radical cleric Abu Hamza was preaching, although not on the day Abderrahmane was in town. Mehiri himself would go on to be sentenced for procuring weapons and planning an armed robbery with others who worshipped at his mosque.
At about the same time, Abderrahmane was told through his London contacts that the best way to Chechnya was via Afghanistan. He claimed that he set off, flying to Tehran and taking a taxi to the Afghan border, where he made contact with the Taliban and went on to Kabul. There he was met by an al-Qa'ida operative who informed him the training camps had already begun, and advised him to head for a madrassa in Jalalabad to study. He was there when news broke of the Twin Towers attack on 11 September 2001, and claimed that the imams told students they could drop their lessons and train to fight in the conflict that would inevitably follow. Fearing a protracted Afghan war, Abderrahmane fled for Pakistan but was captured and imprisoned. Ten days later, he was handed over to the Americans and eventually transferred to Guantanamo Bay, where he was held without charge for more than two years.
The security services that were monitoring him at the time have a different version of events. According to surveillance, Abderrahmane was in London on 11 September. There are also doubts about his Iranian stopover en route to Afghanistan, when at the time most would-be jihadists travelled through Pakistan.
Whatever the sequence of events, Abderrahmane arrived at Guantanamo in February 2002. According to a Joint Task Force Guantanamo threat assessment, published amid the thousands of WikiLeaks intelligence files, US officials deemed him an "al-Qa'ida sympathiser … a high-risk threat to the US, its interests, [and] its allies". The report was dated 6 December 2003, but just three months later he was sent home to Denmark after a bitter legal wrangle with Washington DC. Reports at the time claimed that the Danes threatened to withdraw their troops from Afghanistan if he was not released. The US capitulated.
Back at home, Abderrahmane became a hero to would-be extremists. "Having been in Guantanamo earned him a status in radical circles," says Manni Crone, an expert in Muslim extremism at the Danish Institute of International Studies in Copenhagen. "The fact he had gone out to fight added to his credibility as he was one of the few who dared to."
Aoude explains: "The [Muslim] community in Denmark is very small and he was a big media figure. Everybody knew him." With his red hair, Abderrahmane had always stuck out, but now he had the "glamour of Guantanamo" attached to him. "People in Denmark were very interested in how he'd got there – how a normal Dane became radicalised," says Crone. Abderrahmane made it clear that he still planned to fight in Chechnya and became increasingly vocal in his criticism of the Danish government, suggesting that the Prime Minister and the foreign ministers were "legitimate targets" for Islamic extremists because of their role in the occupation of Iraq. "After this he was shut down by the intelligence service," says Crone. "They had talks and he apparently accepted their advice not to speak out like this again."
Abderrahmane appeared to avoid controversy and got a "normal" job as a postman. But in 2007, he was convicted of stealing credit cards while at work. He justified the theft to the newspaper Politiken, saying: "It is the bank that has lost money. Customers have received compensation. Banks are part of the Western system we are fighting." Not surprisingly, the Danish criminal court did not see it this way and he was sentenced to 10 months behind bars. His experiences were rather different from his time in Guantanamo. He described his open prison as "like sitting in your own living room".
On his release, Abderrahmane kept a low profile. "I only knew him as a devout Muslim and father who came to pick up his kids after school," says Aoude. "He didn't engage in any public debate with any organisations; he preferred to be a private person." A quiet, supposedly "former" jihadist wasn't much of a story. Then, last month, the Facebook post went up.
What motivated Abderrahmane to go on the front line in Syria is unclear. Islamisk Budskab told followers how he had "packed his backpack, said goodbye to his wife and children and gone off to Kastrup Airport" to catch a flight for Syria. There, he planned to "perform his duty and fight Allah's enemies in jihad". A number of other Danish radicals reportedly fought alongside him.
The Facebook statement sent ripples through Denmark's radical Muslim community. "He has achieved martyr status," says Aoude. "You can compare this to the status of people who went to fight Spanish fascists in the 1930s or fighting the Nazis in the 1940s."
Radicalism has been an issue in Denmark for the past 10 years, according to Crone: "I'd say since 9/11, with the 'cartoon crisis' and then the attack on [anti-Islamic journalist] Lars Hedegaard earlier this year."
Most of the tension is said to be centred around Copenhagen but there is also an element of extremism in Aarhus, the home of Abderrahmane's mosque and Jyallands Posten, the newspaper that published the "blasphemous" cartoons in 2006.
Yesterday, two unnamed Danish brothers of Somali origin were sentenced by an Aarhus court to six and three years in prison, respectively, for the older brother's participation in a training camp run by al-Qaida-linked militants in Somalia. The younger brother was convicted of assisting his older brother to attend the training.
"Extremism is a very big challenge," agrees Aoude. "But a lot of Muslim organisations take great effort and responsibility in working together with the government and NGOs to prevent and combat extremism."
There is still much to be done. There is a fear that Abderrahmane's "martyrdom" may serve to radicalise even more Muslims. In the end, maybe he achieved the fame and glory that once beckoned on the club scene, only this time in death.
Register for free to continue reading
Registration is a free and easy way to support our truly independent journalism
By registering, you will also enjoy limited access to Premium articles, exclusive newsletters, commenting, and virtual events with our leading journalists
Already have an account? sign in
Register for free to continue reading
Registration is a free and easy way to support our truly independent journalism
By registering, you will also enjoy limited access to Premium articles, exclusive newsletters, commenting, and virtual events with our leading journalists
Already have an account? sign in
Join our new commenting forum
Join thought-provoking conversations, follow other Independent readers and see their replies