Gangster Mille Markovic 'who had pictures of Swedish king Carl XVI Gustaf in strip club' shot dead in his car
Serbian-Swedish businessman found slumped in his vehicle outside his home with gunshot wounds to his head
Friday 24 January 2014 19:00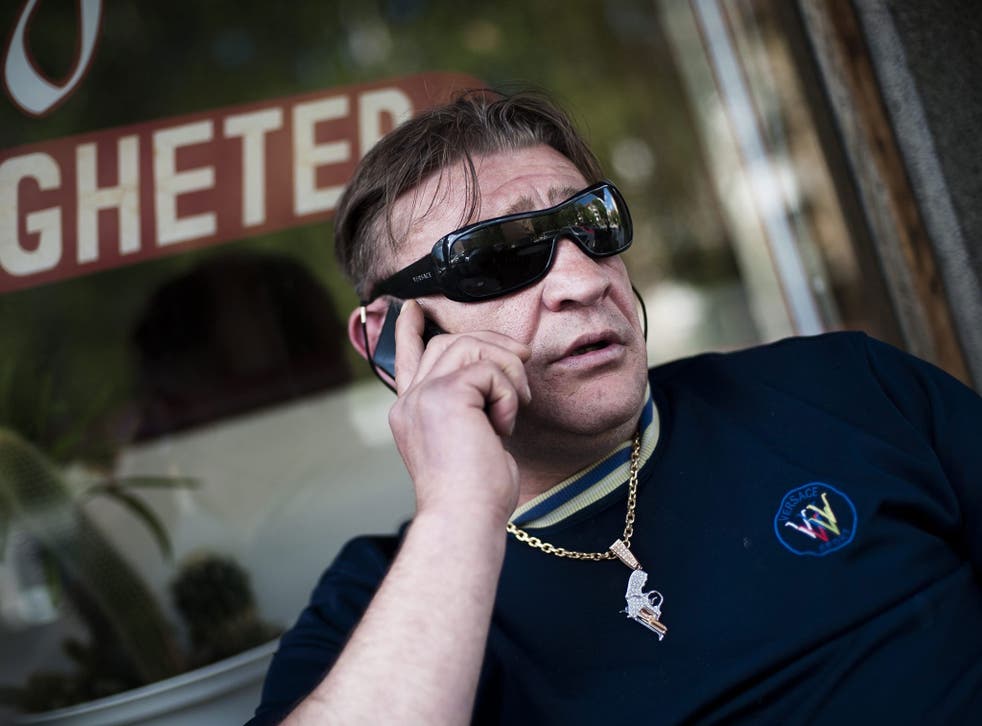 The underworld figure who claimed to have compromising photographs of Sweden's King Carl XVI Gustaf enjoying the hospitality at his notorious strip club has been shot dead in Stockholm.
Mille Markovic, a Serbian-Swedish businessman with a string of criminal convictions, was found slumped in his vehicle outside his home with gunshot wounds to his head, the Aftonbladet and Expressen newspapers reported. Witnesses said the shots were fired from another vehicle on Thursday evening, before the assailants sped off.
While police have not officially confirmed the victim's identity, he has been widely named as 52-year-old Markovic, a man against whom many people held a grudge.
"He was involved in many conflicts on many different levels and had many enemies," Jerzy Sarnecki, a criminology professor at Stockholm University, told the Svenska Dagbladet newspaper.
The former boxer had been convicted and imprisoned for a range of crimes including tax evasion, weapons charges, assault, fraud and blackmail. But it was his role in the scandal that engulfed the royal family through much of 2011 which cemented his notoriety in Sweden.
It began with the publication of a biography, The Reluctant Monarch, in late 2010, which contained lurid allegations about the King's private life and portrayed him as a serial philander with a taste for sex parties and strip clubs. One of those establishments was Club Privé, a Stockholm nightspot run at the time by Markovic. He was believed to be a key source for the book and claimed to have photographic evidence of the King's visits.
While the King was not accused of anything illegal, the man portrayed in the book was a far cry from the respectable married monarch and father-of-three that the Swedish people thought they knew.
King Carl Gustaf, now 67, did not help matters by giving a rambling statement in which he did not directly deny the allegations, but said he had spoken to his family and they "chose to turn the page and move forward because, as I understand, these are things that happened a long time ago".
Events took another twist a few months later, when it emerged that a close friend of the King, Anders Lettstrom, had approached Markovic, asked him exactly what material he had and what price he would demand to hand it over. Lettstrom said he had acted on his own initiative.
While liberal Swedes were probably ready to overlook a few trips to strip clubs and possible infidelity, having contact with a known criminal would have been a different matter.
King Carl Gustaf gave an interview in which he denied all knowledge of Mr Lettstrom's intervention, distanced himself from his friend, and finally categorically denied visiting the specific strip clubs mentioned in the book.
The damage had already been done, however, and the King had seen his approval rating drop from 64 per cent before the scandal to 44 per cent in mid-2011.
Register for free to continue reading
Registration is a free and easy way to support our truly independent journalism
By registering, you will also enjoy limited access to Premium articles, exclusive newsletters, commenting, and virtual events with our leading journalists
Already have an account? sign in
Register for free to continue reading
Registration is a free and easy way to support our truly independent journalism
By registering, you will also enjoy limited access to Premium articles, exclusive newsletters, commenting, and virtual events with our leading journalists
Already have an account? sign in