Gay couple arrested in Russia after expressing solidarity with Orlando shooting victims
The couple were taken away before they could lay down a hand-written 'Love Wins' sign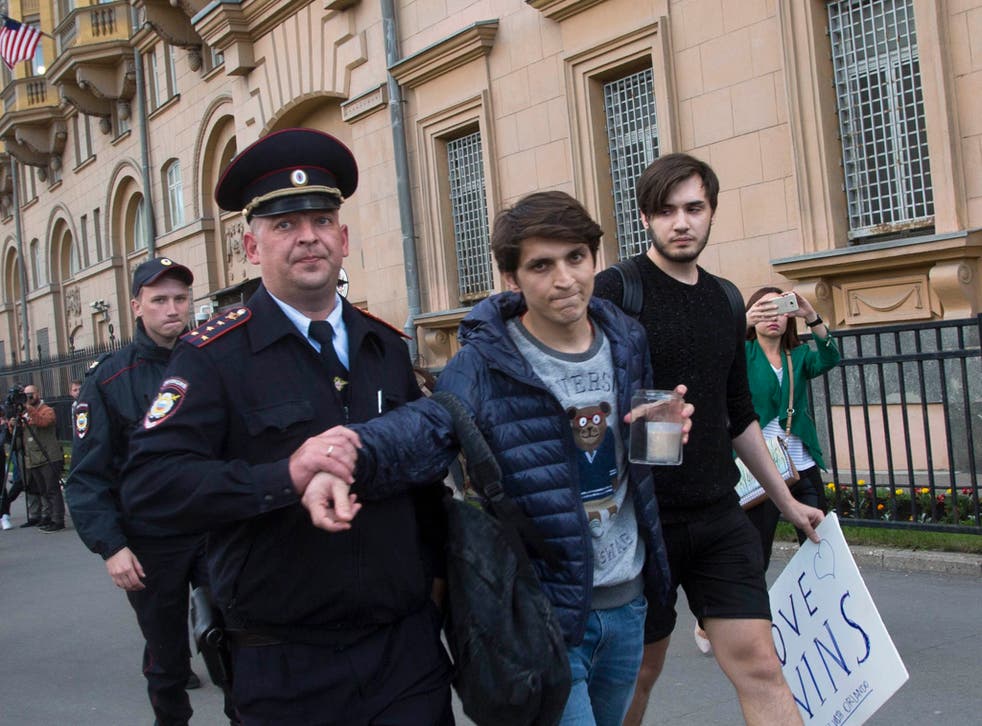 A gay couple were arrested after attempting to place a sign that read "Love Wins" outside Moscow's US Embassy at a memorial for the victims of the mass shooting at a nightclub in Orlando.
Felix Glyukman and his boyfriend Islam Abdullabeckov were filmed by Russian TV network, Rain TV, being taken away by authoritires before laying their tributes.
Authorities said the pair were suspected of violating a Russian law that prohibits individuals from organising or holding public events without permission.
Mr Glyukman posted a picture showing the couple in the backseat of a police car and posted it to Facebook.
"The police arrested us straight away and pus us in their car for so-called "unauthorised action", Mr Abdullabeckov told Russian media.
"We only wanted to express our condolences for the murder of these people and we had not at all planned any kind of political act."
Omar Mateen shot 49 people dead before killing himself in America's largest mass murder shooting at gay nightclub Pulse, in Orlando, on Sunday.
"Right now we're just shocked. Soon we'll go to the police station again and hope that this weird case won't make it to court," Mr Glyukman told Buzfeed News.
In a video posted to his Facebook page, Mr Glyukman said the pair were detained for about three hours before being released.
The couple's lawyer, Sergy Pancahenko, said he hoped the "ugly situation" would not end up in court.
"Thing is, policemen there tried not to let people use any LGBT symbolics and when the guys came to the embassy and put down their banner they were immediately arrested and brought to Prenenskiy police station," he added.
Gay rights demonstrations are banned in Russia, where homosexuality was a criminal offence until 1993 and it was categorised as a mental illness until 1999.
In May, an estimated 20 people from St.Petersburg's LGBT community were arrested for taking part in the city's annual May Day parade without permission.
Register for free to continue reading
Registration is a free and easy way to support our truly independent journalism
By registering, you will also enjoy limited access to Premium articles, exclusive newsletters, commenting, and virtual events with our leading journalists
Already have an account? sign in
Register for free to continue reading
Registration is a free and easy way to support our truly independent journalism
By registering, you will also enjoy limited access to Premium articles, exclusive newsletters, commenting, and virtual events with our leading journalists
Already have an account? sign in
Join our new commenting forum
Join thought-provoking conversations, follow other Independent readers and see their replies