Geert Wilders: Dutch anti-Islam politician's hate speech trial begins in his absence
As trial begins Mr Wilders says 'no verdict will change' how '43 per cent of Dutch want fewer Moroccans'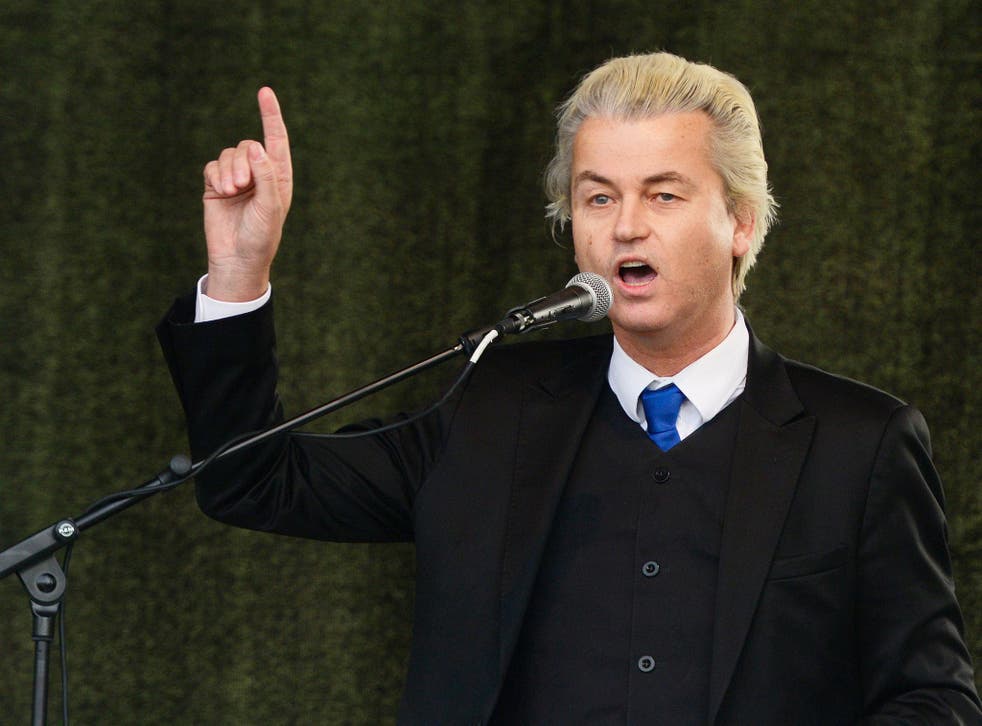 Dutch anti-Islam politician Geert Wilders is on trial accused of insulting a racial group and inciting racial hatred after comments he made about Moroccans living in the Netherlands.
The trial began in his absence after Mr Wilders boycotted the opening, calling it a "political trial" and an attempt to suppress freedom of expression.
The trial will focus on a comment Mr Wilders made at a local government election rally in March 2014, when he asked supporters whether they wanted "fewer or more Moroccans in your city and in the Netherlands?"
When the crowd shouted back "Fewer! Fewer!" Mr Wilders smiled and answered: "We'll take care of that."
In a tweet sent as the trial began, Mr Wilders said "no verdict will change" how "43 per cent of Dutch want fewer Moroccans".
His comments in 2014 was met with outrage and an avalanche of 6,400 complaints.
Mr Wilders has denied any wrongdoing. In a statement last week he said: "It is my right and my duty as a politician to speak about the problems in our country."
He said the trial was aimed at silencing ahead of elections in which his Freedom Party (PVV) is running neck-and-neck in the polls with Prime Minister Mark Rutte's Liberal party.
Dutch Right Wing Politician Geert Wilders Rails Against Islam and Endorses Trump
Throughout preliminary hearings, he maintained he was merely repeated his party's political programme in the run-up to the 15 March elections, and was saying "what millions of Dutch citizens think".
"If speaking about this is punishable, then the Netherlands is no longer a free democracy but a dictatorship," he added.
When asked what he would do as the trial opens, he said he would go to work "in the place where the political debate belongs: in our parliament".
World news in pictures

Show all 50
If found guilty, Mr Wilders could face a two-year jail term or a fine of over 20,000 euros, although a lesser fine or community service is more likely due to him being regarded as a first-offender.
He was acquitted on similar charges in 2011, after he denounced Islam as a "fascist" religion and called for a ban on the Quran.
Register for free to continue reading
Registration is a free and easy way to support our truly independent journalism
By registering, you will also enjoy limited access to Premium articles, exclusive newsletters, commenting, and virtual events with our leading journalists
Already have an account? sign in
Register for free to continue reading
Registration is a free and easy way to support our truly independent journalism
By registering, you will also enjoy limited access to Premium articles, exclusive newsletters, commenting, and virtual events with our leading journalists
Already have an account? sign in
Join our new commenting forum
Join thought-provoking conversations, follow other Independent readers and see their replies