Far-right Dutch politician Geert Wilders condemns 'Moroccan scum' as he kicks off election campaign
Far-right Freedom Party is currently leading the opinion polls ahead of the election on 15 March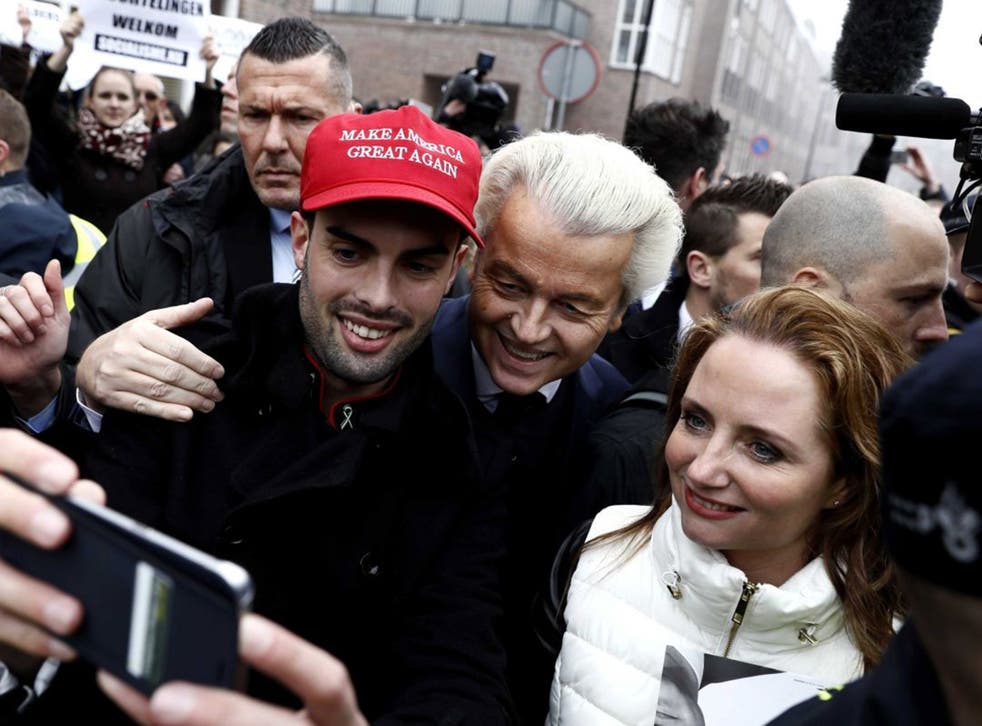 The populist far-right politician Geert Wilders kicked off his election campaign in Spijkenisse, a suburban town near the port of Rotterdam, on Saturday morning. His supporters struggled to catch a glimpse of the Freedom Party leader as reporters, many of them journalists for foreign media outlets, scrambled for access. Some of his followers were pushed to the ground by the swell of journalists and security forces.
Mr Wilders called his campaign "historic" and, in an echo of Donald Trump's successful US election campaign, asked his voters to "make the Netherlands ours again". He reiterated a controversial statement on Moroccan immigrants to the Netherlands, calling them "Moroccan scum" – a subtle variation on the "fewer, fewer Moroccans" chant that saw him convicted of inciting discrimination late last year.
"Once again not all are scum but there is a lot of Moroccan scum in Holland who makes the streets unsafe, mostly young people," he said. "If you want to regain your country, if you want to make the Netherlands for the people of the Netherlands, your own home again, then you can only vote for one party."
Ieg van Haperen, a 66-year-old former mailroom worker, said she recognised herself in his comments. "I don't feel safe opening my own front door at night," the Spijkenisse resident explained, accusing young foreigners of making her feel uncomfortable.
Refugees fleeing genuine war were welcome, she said, "but the people who are coming in now, they are not actually fleeing war. If you are not from a war zone, go back to your own country".
Mr Wilders' harsh rhetoric has made many Turkish and Moroccan citizens feel unsafe. A study published by the Social Affairs Ministry last week found that up to 40 per cent of Turks and Moroccans in the Netherlands do not feel they belong or are accepted. But Ms van Haperen could not comprehend why they felt unwelcome. "People who are living here, they should stay… I don't care if you are Moroccan or Turkish – if they are born here I don't hate them, I worked with some of them, they are great," she said.
Mr Wilders' one-man Freedom Party or PVV pledges to ban Muslim immigration, close all mosques and take the Netherlands out of the European Union. The party leads opinion polls with 17 per cent, only a few points ahead of the Liberal VVD party led by Prime Minister Mark Rutte.
World news in pictures

Show all 50
He distributed fliers up and down a 150-metre stretch, surrounded by security, whose main job was to keep the press at bay.
Mr Wilders has lived with round the clock protection since an Islamist murdered Dutch filmmaker Theo van Gogh in 2004.
The 'Dutch Trump' rarely gives press conferences. His press office hardly ever answers the phone, let alone permits interviews. That turned this event, announced as an occasion for Mr Wilders and his supporters to distribute fliers at a local market, into a media frenzy.
Shoppers continued buying groceries while tens of reporters, many from foreign media outlets, scrambled to get close. Menno Krikken was one of the few actual supporters who had turned out to see the campaign kick off. A tall, black-clad civil servant with short blue hair, he managed to push through the crowd to bag a selfie with the blonde far right leader. He has voted for the PVV since 2010.
Spooked by terrorist attacks in Belgium last year, he hopes Mr Wilders can restore security. "We can invest in more police, close the borders, and we can reinstall border guards," he said.
A handful of protestors shouted 'Refugees Welcome' and held up placards saying "Don't allow yourself to be scared."
Even if Mr Wilders wins, he is unlikely to be able to form a governing coalition. Most Dutch parties have excluded the option of joining forces with the leader. Nevertheless, Mr Wilders said he hoped a victory would kick of "a patriotic spring" in Europe.
A dozen or so supporters handed out fliers. One of them was Caroline Kooman, at 25 the PVV's youngest candidate for parliament. "I agree with everything" – she said as she pointed to the flier, which contained Mr Wilders' entire electoral platform. It fits onto paper and mainly focuses on de-Islamisation. But the 25-year-old pharmacy student from the southern province of Zeeland especially likes his promise to invest more in health care.
After Ms Kooman receiving a few "no"s one man requested a stack of fliers. "Definitely voting for Geert," he said.
Join our new commenting forum
Join thought-provoking conversations, follow other Independent readers and see their replies