General Franco: Forty years after his death Spain is still coming to terms with the painful legacy of its civil war
Alistair Dawber wonders if the nation can ever achieve real unity
Alistair Dawber
Madrid
Thursday 19 November 2015 22:40 Comments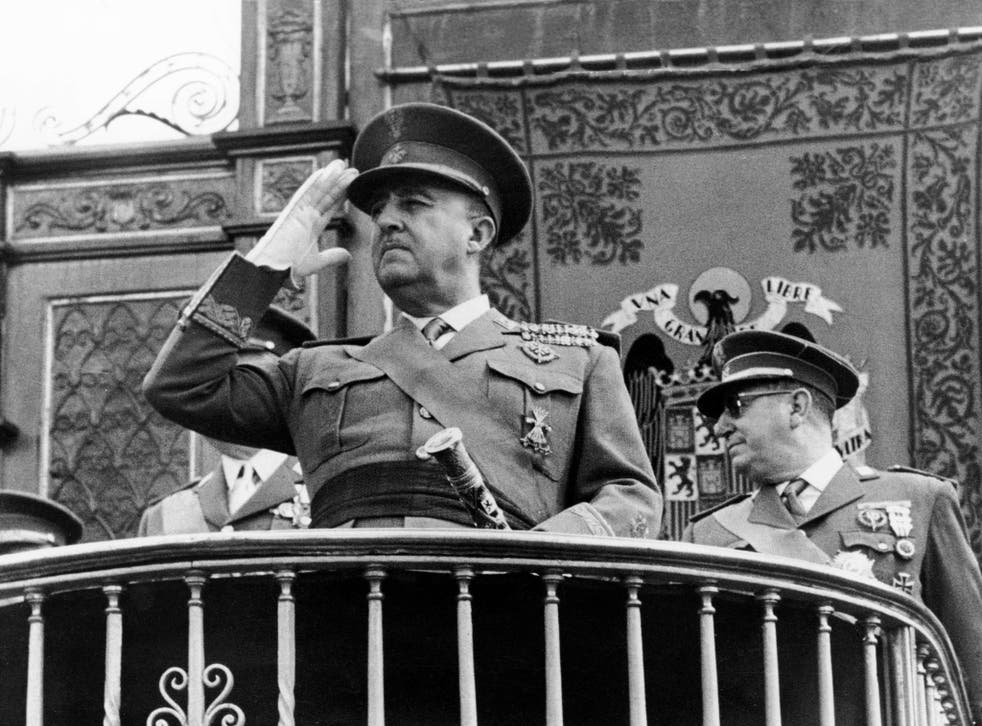 The flowers on Francisco Franco's tombstone today, the 40th anniversary of his death, will be as fresh as on any other day.
Lying in state at the Valle de los Caídos, a huge basilica outside Madrid, Spain's former fascist dictator has a grave that would befit any fallen king. The fact that 40,000 victims of the civil war that saw him swept to power are buried at the site only adds to the feeling that, although Franco is gone, he cannot be forgotten.
In Madrid alone, there are still more than 150 streets and squares named after his ministers and military officers and, although the country long ago came in from the cold and embraced democracy, his memory and his legacy are never far from the surface.
Imagine if history had turned out differently: what if, rather than shooting himself in a Berlin bunker in 1945, Adolf Hitler had triumphed over the Allied forces and ruled Nazi Germany for decades? Today he might be entombed in a similar mausoleum in Berlin.
"Today in Spain there are basically three schools of thought on Franco's legacy," says Dr David Mathieson, the author of Frontline Madrid, a book about the capital's role in the civil war and the owner of Spanish Sites, which organises tours of the conflict's battlegrounds. "There are those who think he was a terrible dictator; those who think he saved Spain from Communism; and those who just don't want to address it."
The issue of the brutal civil war, which between 1936 and 1939 left more than half a million people dead and led to Franco's almost four-decades-long dictatorship, still divides Spaniards. Neither the war nor the dictatorship is taught in schools and most of the leading historians on the subject are either British or American.
"When two Spaniards meet, they will know within 10 or 20 minutes which side their families were on," said José Martínez Soler, a journalist who was kidnapped and tortured by the Spanish police in the months after Franco's death for writing that his followers were possibly planning a coup.
"The civil war and the dictatorship still have a very big footprint, even today," he says. "It is still a burden, nobody wants to talk about it. After Franco, there was a subconscious agreement on both sides not to discuss it – the last thing anyone wanted to do was to ignite another civil war. Don't forget 1939 marked Franco's victory – it wasn't the start of the peace."
In other countries, truth commissions have allowed the deep wounds caused by domestic conflict and tyranny to be exposed and then healed; Spain has instead buried its collective memory.
For almost 20 years after Franco's death, successive Spanish governments, of both left and right, did precisely nothing to address the dictatorship. Ruined war sites remained untouched and leading members of the dictatorship were left alone, many to die peacefully in their beds years later.
On 11 March 2004, that consensus began to shift. Terrorist attacks on Madrid's Atocha railway station killed 191 people. Spain's then-prime minister, José María Aznar, the leader of the centre-right People's Party (PP), which had become home to the old members of Franco's government, had been a member of George W Bush and Tony Blair's coalition in Iraq a year earlier. He immediately blamed the Basque terrorist group, Eta, for the attack.
Instead it was proved that the bombings were carried out by Islamists: Spaniards, accusing Mr Aznar of lying to them, voted him out of office.
"The PP under Aznar was full of the sons and grandsons of Franco's men," said Mr Martínez Soler, who was sacked as a television news presenter days after Mr Aznar won power in 1996. "That government reintroduced divisions – it was their country, they believed. They restored rancour and hate in Spain."
José Luis Zapatero, in one of his first speeches after succeeding Mr Aznar as prime minister, blew away the post-dictatorship conspiracy of silence by quoting from a letter written by his grandfather who, garrisoned outside Madrid, had stayed loyal to the Republic in 1936 and refused to join Franco's uprising.
The letter was the last he wrote to his family before he was executed. It asked his family to "clear my name when the time is right". Mr Zapatero's leftist government introduced some radical legislation to address the Franco era. The most important was the Historical Memory Law, which gave rights to families of the victims and specifically condemned the dictatorship.
"Only in the past 10 years have Spaniards really addressed the dictatorship," says Dr Mathieson. "It was from 2004 that Zapatero's government felt confident enough to deal with the issue. But for 30 years before that, it was as though Spain was frozen in time."
The financial crisis, which hit Spain severely and ended Mr Zapatero's hopes of a second term, also scuppered any further plans for reform. A new PP government was elected in 2011, and much funding for projects under the Historical Memory Law dried up.
Spaniards go to the polls next month in elections that could lead to the first post-dictatorship coalition. Mr Martínez Soler thinks this result would be an opportunity to end the division at last.
As a critic and a survivor of Franco's brutal reign, he sees the potential for a bright future, despite the country's preference to forget its difficult and divided past. "I would like to see a grand coalition of left and right," he says. "If that happens, maybe at last we can have unity in Spain."
Register for free to continue reading
Registration is a free and easy way to support our truly independent journalism
By registering, you will also enjoy limited access to Premium articles, exclusive newsletters, commenting, and virtual events with our leading journalists
Already have an account? sign in
Join our new commenting forum
Join thought-provoking conversations, follow other Independent readers and see their replies