Spain to dig up Franco's body after government passes decree
The dictator's remains are to be removed from a monument to the victims of the Spanish Civil War
Peter Stubley
Friday 24 August 2018 17:34 Comments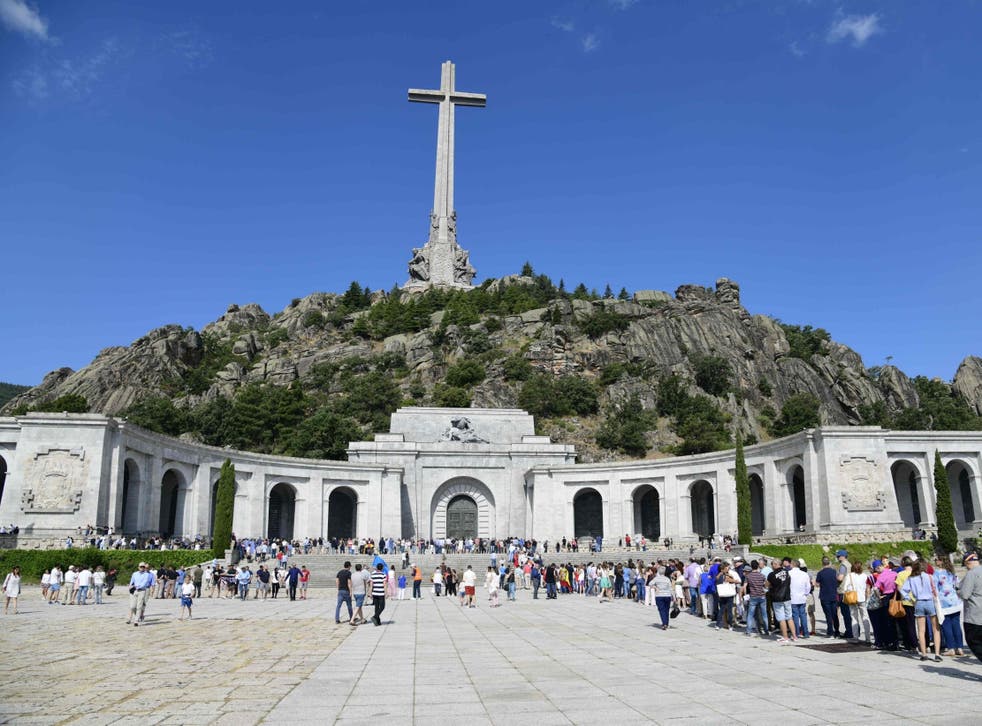 The remains of former military dictator General Francisco Franco will be dug up from a controversial memorial, after a decree was passed by Spain's socialist government.
Franco, who ruled for nearly 40 years, was buried at the Valley of the Fallen monument to the victims of the Spanish Civil War following his death in 1975.
Proposals to remove his body from the site – which is marked by a 152m cross on a mountainside near Madrid – have been discussed for years but faced opposition from his descendants and supporters.
The decree, which amends Spain's Historical Memory Law of 2007 to grant the government power to dig up Franco's body, was passed during a cabinet meeting on Friday.
"Having Franco's tomb there [at the Valley of the Fallen complex] shows a lack of respect ... for the victims buried there," deputy prime minister Carmen Calvo said.
"Only the mortal remains of people who died as a result of the Spanish Civil War will lie in the Valley of the Fallen."
The decree still needs to be approved by a parliament in which prime minister Pedro Sanchez holds only a quarter of the seats, but the government says it is certain the amendments will be endorsed.
Plans to turn the mausoleum into "a place of commemoration, remembrance and homage to the victims of the war" should be finished by the end of the year, Ms Calvo said.
The government also aims to establish a "truth commission" and identify the 114,000 victims of the 1936-39 civil war and Franco's dictatorship.
Some 34,000 people from both sides are buried at the Valley of the Fallen complex, most of them unidentified.
Last year the conservative People's Party, then leaders of the ruling coalition, argued removing Franco's remains would "stress and divide the nation".
Franco's descendants also refused to move his body to a family vault in Galicia, and planned a legal challenge to any exhumation.
His descendants will now have 15 days to say where they would like the remains to be placed after exhumation. If they do not reply, the government will choose a "dignified place", Ms Calvo said.
Francisco Martinez-Bordiu, a grandson of Franco, described the exhumation plans as "barbaric", and told Spanish TV the dictator's descendants would assess legal options for halting the process.
Briton who fought against Franco's fascists dies, aged 94

Show all 2
Political events at the Valley of the Fallen were banned under the 2007 Memory Law, which formally condemned the dictatorship under Franco.
The monument, ordered by Franco, took nearly 20 years to complete, and was officially opened in 1959.
Register for free to continue reading
Registration is a free and easy way to support our truly independent journalism
By registering, you will also enjoy limited access to Premium articles, exclusive newsletters, commenting, and virtual events with our leading journalists
Already have an account? sign in
Join our new commenting forum
Join thought-provoking conversations, follow other Independent readers and see their replies