CCTV footage shows Genoa bridge collapse
Cars and pedestrians pass beneath bridge moments before it crashes down
CCTV captures moment of deadly Genoa bridge collapse
Footage has emerged of the moment a motorway bridge in Genoa collapsed last week, killing 43 people.
In CCTV footage released by Italy's Finance Police, several cars and a truck can be seen driving underneath the bridge moments before it collapses.
Video from another angle shows a man walking by seconds before rubble from the bridge crashes down nearby.
A man can then be seen running through the rubble and later a cat makes its way through the debris.
Italian bridge collapses: part of highway gives way in Genoa

Show all 50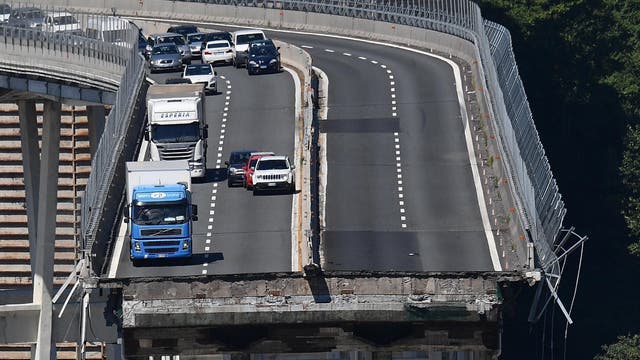 It comes after it was revealed that in February engineering experts had determined corrosion of the metal cables supporting the bridge had reduced its strength by 20 per cent.
Despite the findings, Italian magazine Espresso said "'neither the ministry, nor the highway company, ever considered it necessary to limit traffic, divert heavy trucks, reduce the roadway from two to one lanes or reduce the speed" of vehicles on the key artery for the northern port city.
A huge section of the Morandi Bridge collapsed on 14 August during heavy rains, killing 43 people and forcing the evacuation of more than 600 living in houses beneath remaining sections of the bridge.
The residents were ordered to stop retrieving their belongings on Monday after workers heard breaking noises coming from remaining parts of the structure.
Prosecutors investigating the bridge's collapse have said, among other things, they are looking at possible faulty maintenance or design flaws.
Clean up operation continues at site of Genoa bridge collapse
On Monday, prosecutor Francesco Cozzi said they were also looking for any possible weakness in oversight. He said he could not say yet whether the presence of a moveable maintenance platform weighing several tons on the bridge's underside contributed to the collapse.
He repeated that the investigation will take time but said "certainly it will be done in a reasonable time frame."
It also emerged the engineer who designed the bridge, Riccardo Morandi, warned it would require constant maintenance to remove rust in a report written 12 years after it was inaugurated in his name.
Mr Morandi said although the reinforced concrete bridge was technically sound, there was a "well known loss of superficial chemical resistance of the concrete" due to sea air and pollution from a nearby steel plant.
State funeral for Genoa bridge collapse victims
Roberto Ferrazza, the head of the government team, said a preliminary survey conducted on Sunday suggested a series of possible causes and not just a simple collapse of the bridge support.
"We have to look at the positioning of the rubble, considering that there was a break that provoked an imbalanced movement of the structure," Mr Ferrazza was quoted as saying by the ANSA news agency.
Additional reporting by agencies
Join our new commenting forum
Join thought-provoking conversations, follow other Independent readers and see their replies